Disney Plus is the newest player in the digital streaming marketplace. Keen to subscribe but not sure what's on offer? Monzi has put together a complete guide covering all you need to know. Let's go!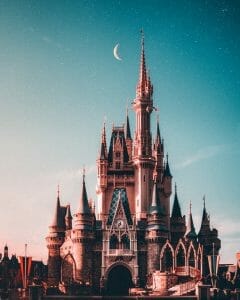 What is Disney Plus?
Ask someone for their favourite childhood movie and there's a good chance their answer will be a Disney movie. The Lion King, Aladdin, The Jungle Book and a host of others are childhood staples that are universally beloved.
Almost from birth, children around the world are introduced to the magic of Disney. Up until now though, there's been no way to access all their movies in one place. That's where Disney Plus comes in.
Disney Plus is Disney's new digital streaming service. You can watch your favourite Disney shows and movies, on-demand across a range of different devices.
It's not just for kids however. Disney Plus combines all your favourite Disney classics with a range of original series, National Geographic documentaries and recent Hollywood blockbusters. In other words, it's perfect for all ages.
Disney Plus: how did we get here?
Disney Plus was inevitable. As the single largest entertainment company in the world, possessing an unending supply of movies and TV shows, Disney was never going to be content with sitting back and watching.
While Netflix has always been the dominant force, the market for online streaming has exploded and competition is increasing. Worldwide, the digital streaming marketplace is expected to be worth an estimated $125 billion USD by 2025. Disney Plus is simply Disney's attempt to get a slice of the pie.
While it has been a few years in the making, it's now here. Supplementing it's already considerable back-catalogue with acquisitions of Pixar, LucasFilm, Marvel Studios and Fox over the last two decades, Disney Plus is able to offer something for everyone.
Disney Plus Australia release date
The good news is that Disney Plus has already been released in Australia. You can subscribe right now and begin watching your favourite movies and TV shows.
While the grand launch and initial Disney plus release date occurred on the 12th of November in the USA, Canada and the Netherlands, Australia was next on the list. Disney Plus launched in Australia and New Zealand on the 19th of November.
As you'd expect, the launch was a raging success. In the USA alone, more than 10 million subscribers signed up within the first week. While it remains to be seen if Disney Plus can maintain its subscribers over the long term, there's no doubt Disney succeeded in creating significant initial excitement.
Disney Plus price
When you sign-up, you will receive a seven-day free trial. After that, Disney Plus will set you back $8.99 per month or $89.99 for a year.
While the Disney Plus Australia cost is similar to both Netflix and Stan, there is one key difference.
Every feature is included in the Disney Plus Australia price. You can stream simultaneously on up to four devices and watch in HD and 4K Ultra HD. You can also download your favourite shows giving you the option to watch offline. With Disney Plus, there are no price-tiers or premium subscriptions, it's simply one-size fits all.
By comparison, a basic Netflix or Stan subscription offered at a similar price allows streaming on only one device with no 4K streaming options. In order to unlock the additional features, users must subscribe to Standard or Premium packages.
This is one way that Disney has been able to separate itself in the marketplace.
Disney Plus: what can I watch?
Unlike Netflix and Stan, Disney's content is limited to only what it owns. This sounds like a deal breaker, but trust us, it's not. While most companies couldn't pull this off, Disney is the exception.
Disney's collection of content is vast. Not only do they have a back-catalogue of films dating back almost 100 years, they own almost every film ever made by Pixar, Lucasfilm (Star Wars), Marvel Studios and Fox.
All-in-all, Disney Plus provides access to over 600 movies and 7000 television episodes.
Not only that, Disney has committed to creating a range of original movies and TV shows for you to enjoy.
Put simply, there will always be something for you to watch.
Disney Plus features
To complement its wide-range of content, Disney has designed a simple and easy-to-use service packed with a number of handy features. While it's by no means a game-changer, it's got everything you need.
Key features include:
A user-friendly interface
If you've subscribed to Netflix or Stan in the past, navigating Disney Plus shouldn't be an issue. Content is laid out in a straightforward manner and it is separated into categories making it easy to find what you're looking for.
Up to four profiles
You can create up to four profiles allowing everyone the freedom to create their own watchlist and keep track of their favourite content. Not only that, you can stream on all four profiles simultaneously across different devices.
You also have the option to set your favourite Disney character as your profile picture. Whether it's Darth Vader, Elsa from Frozen or Aladdin, you can personalise your profile.
Download your favourite shows: watch offline
If you're on the go and don't want to use your mobile data, Disney Plus has you covered. You can download your favourite TV shows and movies onto your device to watch whenever and wherever you like.
4K ultra HD streaming
Disney Plus offers 4K ultra HD streaming. You can watch your favourite movies and TV shows in the highest quality available.
Do keep in mind though that not all content is available to stream in 4K. This will typically be limited to more recent releases.
What devices can I use to stream Disney Plus?
As with most streaming services, Disney Plus can be accessed on a range of different platforms. You can stream using whatever device suits you best.
Options include:
Laptops and desktop computers
iOS (iPad and iPhone)
Apple TV
Android devices (phones and tablets)
Chromecast
Smart TVs
Xbox One
PlayStation 4
Disney Plus content is here to stay
Given that Disney owns all the content available on its platform, there's no need to worry about anything disappearing. Movies and TV shows that are available now, will almost certainly be available in the future.
If you've ever subscribed to Netflix, Stan or any other streaming service, you'll notice that content is often turned-over regularly. Movies and TV shows may be offered for a period of months or years before being removed.
This is due to third-party licencing. Put simply, streaming services will buy the rights to offer content for a limited time. Should the licence expire, the content will be removed from the service.
Obviously, with Disney Plus there are no such concerns. As Disney own all their own content, there is no need for third-party agreements.
There's more to come
While there's plenty to watch right now, Disney Plus is far from complete. Over the coming months and years a number of movies and TV shows will be added. Why?
Well, it has to do with third-party licencing agreements. Currently, Disney has a number of pre-existing arrangements in place with various streaming services, allowing these services to offer Disney's content.
As a result, Disney is unable to offer this content until these agreements expire or lapse. Over the coming years as these agreements expire, Disney will slowly but surely add more content to Disney Plus giving you more to enjoy.
How do I subscribe?
Joining Disney Plus in Australia is as easy as it gets. From start to finish, it will take just a few minutes.
To begin, head to the Disney Plus website and create an account. You'll need to provide an email address, a few personal details as well as a credit or debit card.
Given all new customers receive a free seven-day trial, you will not be charged for your subscription until your trial is complete.
If, during the seven day period, you decide Disney Plus isn't right for you, ensure you cancel your subscription. You will be charged the subscription fee if you fail to cancel your subscription prior to the trial ending.
Is Disney Plus available worldwide?
Not yet.
In Australia, we're part of the lucky few able to access Disney Plus today. Currently, just five countries have access: Australia and New Zealand, the USA, Canada and curiously, the Netherlands.
Over time, the service will be progressively rolled out around the world, although it is estimated that this will take up to two years. The next stage of the rollout involves France, Italy, Spain and the UK in March 2020.
Is Disney Plus just for kids?
Not at all.
Firstly, you're never too old to enjoy a Disney film. Whether you are five, fifteen or fifty, a classic is still a classic.
Secondly, Disney Plus' range of content goes so far beyond just children's content. While it will undoubtedly be a godsend for parents of young children, there will be something for you no matter your age.
To illustrate the range of content on offer, we've put together a guide of what you can watch. See below.
Disney favourites
Get ready to re-live your childhood. Disney Plus is home to so many of your all-time favourites with plenty more on the way. These films provide the base upon which the service is built, the undeniable classics. Highlights include:
The Lion King (original and re-make)
The Little Mermaid
Beauty and the Beast
Frozen
Moana
Tangled
The Jungle Book
The best of Pixar
Pixar was acquired by Disney in 2006 for approximately $7.4 billion. With it, came the rights to some of the most successful animated films of all-time. Between them Pixar's films have won 19 Academy Awards and 8 Golden Globes. Now, 13 years later, you can stream them on Disney Plus.
Some of the best include:
Toy Story 1, 2 and 3
The Incredibles + The Incredibles 2
Monsters Inc.
Finding Nemo
Disney Plus Marvel shows and movies
To say that Disney's $4.24 billion acquisition of Marvel Entertainment was a bargain is a monumental understatement. In the 10 years following the deal, Disney has netted close to $20 billion on the back of box-office juggernauts including Iron Man, Captain America and The Avengers.
Disney Plus brings your favourite Marvel titles into the one place. You can stream Iron Man, Thor, Captain America or the Avengers at your leisure.
There are also original Marvel shows on the way too. Keep an eye out in 2020 and 2021 for titles including Hawkeye, She Hulk and Ms Marvel.
Star Wars
Disney Plus makes it possible to watch your favourite films based in a galaxy far, far away. The rights to the Star Wars franchise was purchased by Disney through its 2012 acquisition of Lucasfilm. Disney Plus gives you access to the complete Star Wars series, episodes one to seven, as well as recent hits Rogue One and Solo.
Original content: Disney Plus shows and movies
As you'd expect with the world's largest entertainment company, there are no half-measures or short-cuts. Disney has poured significant resources into creating a range of original content to not only provide a unique selling point but to match their main competitor, Netflix, too.
The main drawcard is undoubtedly "The Mandalorian", a live-action series, set in the Star Wars universe. If you love Star Wars, Disney Plus is a no-brainer.
Alternatively, if Star Wars isn't your thing, that's OK too. Maybe check out the re-imagined High School Musical TV series or the "Lady and the Tramp" live-action remake.
One interesting thing to note is that unlike Netflix, Disney Plus has opted to release its TV originals one episode at a time. A curious strategy given the on-demand nature of the society we live in.
Disney Channel favourites
While this won't appeal to everyone, there are a range of Disney Channel TV classics that will transport 90's and 00's kids straight back to their childhood. Catch up on "Kim Possible", "Hannah Montana" or "Phineas and Ferb" among a host of others.
National Geographic
This probably seems out of place. In any case, National Geographic came to be owned by Disney through its acquisition of Fox Studios. You can stream fascinating documentaries covering animals, nature and people. If nothing else, it's a nice change of pace after you've been binge watching movies for a week.
A few other Disney Plus highlights
While we've covered most of what's available, there are a few other notable yet miscellaneous movies and TV series worth mentioning.
The Home Alone series
Remember the Titans
The Parent Trap
The Princess Diaries
The Chronicles of Narnia
The Simpsons (29 Seasons!!!)
How do I compare Disney Plus to its competitors?
The digital streaming marketplace is highly competitive. With so many choices, it can be tricky to decide which one is right for you.
While you could subscribe to them all, this can get expensive. Not only that, how much content do you really need?
For most people, one to two monthly subscriptions will be enough.
In order to compare streaming services, consider a few of the following factors:
Price
Content (TV shows + movies, range of original content, compatibility with your interests)
Features: Can you stream offline? What streaming quality is available?
Subscription options: are there price tiers? Which subscription and its associated features works best for you?
Free trials
Ease of use, app quality and user interface: is it simple to use?
Are there ads on Disney Plus?
No.
As with Netflix, Stan and Amazon Prime, when you subscribe you get to watch ad-free. That means there will be no interruptions while you watch your favourite movies and TV shows.
Who should subscribe to Disney Plus?
While Disney Plus may be for everyone, there are three particular categories of people who should consider signing up.
Parents of young children: this is a no-brainer. You get access to a ton of the greatest children's movies of all-time so you can keep the kids entertained for weeks.
Sci-fi lovers: Star Wars and the Marvel Comic Universe in one place. How could you beat that?
Disney fanatics: If you love Disney, you'll love Disney Plus. It really is that simple. Watch your favourite Disney titles from the last 90 years!
Disney Plus: is it right for me?
At the end of the day, it's up to you. If, based on your interests, you feel that Disney Plus is right for you, go ahead and subscribe. There's plenty to watch so we're sure you won't be disappointed.
Descend into the depths of nostalgia by watching your favourite childhood classics, learn more about nature watching a National Geographic documentary, catch-up on the most recent Hollywood blockbusters or discover an original series.
Before getting started though, make sure it fits your budget. Subscription-based services are fast becoming part of everyone's budget but they must still be affordable for you. For more information, the ASIC's Moneysmart website provides a handy breakdown of how Aussies spend their money.
In any case, paying by the month means you're not locked in. Keep your subscription for a month, a year or however long you please. It's in your hands.