If you are new to the world of home loans, one of the most important aspects to understand is the home loan deposit. The large majority of people in the market to buy a home will need to put down some money upfront. This sum is called your home loan deposit.
Deposits come in all sizes and they may be impacted by a range of factors. Therefore, understanding how they work may potentially save you a lot of money. It will also help to ensure you don't wander blindly into the world of real estate. Read on to learn more.
Please note, specific ideas and products presented in this article may not be on offer by Monzi nor the lenders we work with. This article presents only general information. Consider seeking professional financial, taxation, legal or other advice to check how the information and ideas presented on this website relate to your unique circumstances.
What is a home loan deposit?
A home loan deposit is a percentage of your property's value that you must pay upfront. Doing so will mean that the bank will lend you the remaining portion of the property's value.
Typically, you should be seeking to put forward at least 20% of the purchase price to avoid extra fees. However, depending on where you're seeking to buy, this may not always be possible. As a result, some lenders may accept lower deposits; however, there are always pros and cons to all options.
For this reason, you must understand variable rate home loans and the deposit requirements to ensure you select the option that's best for you.
Why do you need a home loan deposit?
While it seems like you're about to be throwing away a large portion of your savings, a deposit signifies you partially own your home.
This can potentially be quite exciting. Consider viewing this deposit as confirmation that you are on the path to true homeownership. However, there are also practical reasons why deposits are required. Placing a deposit means that you officially have a stake in the property. This provides peace of mind for your lender.
In addition to this, you may be less likely to default on your home loan if you already have a significant portion of your cash invested. Hence, most banks and lenders prefer a 20% deposit as it lowers your risk level.
How much of a deposit do you need for a home loan?
Typically, the standard home loan deposit equal to 20% of the property's value. Depending on the value of your desired home, 20% may be a significant sum. For example, 20% of a $500,000 home is $100,000 of your savings.
Saving a bigger deposit can have its advantages. Doing so will allow you to avoid extra fees and possibly extend to lower repayments further down the line. However, this isn't necessarily viable for everyone, particularly if you are unable to save money quickly.
In this instance, you may be able to place apply for a home loan with a low deposit. With this, your deposit may be as little as 5%. This would mean you would have a Loan-to-Value Ratio (LVR) of 95% and the bank would be covering a very high percentage of your property's value. Through alternate means, such as using a guarantor, you may even be able to to avoid a deposit altogether. However, this comes with significant risk and may not be a good option for you.
Can you get a home loan with no deposit?
In some situations, it may be possible to access a no-deposit home loan in Australia. It is a reasonably rare transaction, and you are more likely to find a low-deposit home loan than a no-deposit one.
In any case, mortgages with no deposit still require some form of down payment. However, the difference is that it is not your cash. Some examples of deposit alternatives include:
A guarantor
A monetary gift
Pre-existing property equity
To qualify for such a loan, you will need an excellent credit history and score as well as a stable income. Otherwise, you may instead have to opt for a low-deposit alternative.
What does 'borrowing power' mean?
Borrowing power, or borrowing capacity, is the maximum amount you can borrow. This figure is based on your income and expenses, along with your credit history. Your borrowing power can increase or decrease depending on your financial choices.
If you seek to expand your borrowing capacity, there are several possible steps you can take. Taking the appropriate measures to improve your personal finances, or switching to a different lender, are the most common options. Credit repair and seeking a raise can take longer and may be far more difficult.
For more details and to determine what your borrowing power may be, find one of the many borrowing power calculators offered by lenders online.
What are the home loan deposit requirements?
We cannot speak on behalf of every bank and lender out there. The requirements for your home loan deposit will vary depending on the type of loan, your cash flow, and your credit report.
Generally, you must meet your LVR requirements and have a strong financial profile. If you don't meet the LVR, you will have to agree to incur the additional lenders mortgage insurance (LMI) fees as an alternative.
If you are not putting down your cash, you will be required to have the appropriate documentation for your deposit alternative. Whether this is a legal guarantor agreement, or a letter stating your deposit is composed of a gift.
Is a deposit the only upfront cost?
No. There are often many additional fees that follow your deposit, so you must still have money to finalise the process. Besides the loan application and building inspection costs, you can also expect to fork out cash for conveyancing and government costs.
Stamp duty, property transfer fees, and mortgage registration fees can be forgotten, especially by first homeowners. Before completing the home loan process, it may be wise to work out roughly what these extras may cost you. The reasoning for this is to prevent you from putting down all your money as a home loan deposit. Thereby, potentially saving you a lot of stress.
Are you ready for a home loan?
Embarking down the path to homeownership is a big decision that you shouldn't take lightly. Most people have 'owning a home' written down as a goal for the future. However, you should look inward and evaluate whether you are truly ready for this obligation.
Firstly, reflect on your lifestyle and whether you will be able to make the necessary sacrifices. You may need to take a big step back to evaluate your way of lifestyle. Can you identify any expenses or habits you could easily cut back on to improve the condition of your finances?
Finances and fees come next. You may need to write out exactly what your income and expenses are and then see if you can work mortgage costs into this budget. If you can't, you may need to consider whether you are needlessly spending, or whether you need to save more. Identify all the costs, not just the home loan deposit, as accurately as possible.
Finally, you may need to look at the type of property you intend to purchase to see if it is worthwhile. Is the home you are looking at in a flood zone? Maybe you're looking at a loan to buy a farm? Is the property type beyond your borrowing capacity? Once you have considered all the key factors, you can then move onto applying.
Stamp duty calculator
When you are working out what the additional fees might cost you, it may be easier to employ an online calculator. You may be able to find a specific stamp duty calculator, however, try and find one that will also calculate your mortgage and transfer fees.
You will have to enter your desired property's value and select your state. From there, the calculator should quickly identify the relevant additional costs. This will take some of the stress off of your shoulders when you are trying to budget for these expenses.
Home loan deposit calculator
Following on from the stamp duty calculator, you can also find a home loan deposit calculator. This calculator works well for anyone considering buying a home in the future, who wants to gain an understanding of what they may need to save.
You will most likely need to enter information about your desired property, and yourself. This may include the location, cost and type of home you're seeking. You might also need to select whether you are eligible for the first homeowner's grant, along with how much you currently have saved.
This will then give you a reasonable estimate of the required deposit. However, keep in mind that these figures are provided as a guide and your true costs may vary.
The influence of LVR and LMI
Loan-to-value ratio (LVR) and lenders mortgage insurance (LMI) are two highly relevant terms in the home loan industry. As a result, it is beneficial for you to understand these two terms before placing your loan application.
LVR is the percentage of the property value that the bank will lend to you. The average LVR is 80%, meaning that you will be required to put down 20% of the property's value as a home loan deposit. Doing so means you may be able to forgo paying LMI.
LMI is the additional fee you will have to pay if your deposit is less than 20%. The lower your home loan deposit is, the higher your LMI will be. LMI is a one-time fee that may be paid upfront or added to your loan's sum and gradually paid off. LMI protects lenders if you default on your loan.
Is it worth paying the LMI?
While most people try to avoid paying extra fees, there are occasions where it may be worth paying the LMI. However, it will be up to you to decide if this applies to your situation.
For example, perhaps you want to buy a $600,000 house, yet you only have a deposit of $50,000. Rather than trying to save up another $70,000, you could pay the lenders mortgage insurance, outright. Hence, you may only end up needing to save another $20,000.
In turn, this may get you into a house faster. As a result, you can begin to repay your loan sooner. Naturally, it depends on your situation as to which approach you should take. If you require further assistance, consider seeking qualified financial advice.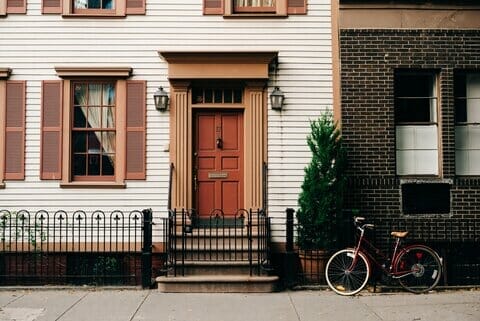 Can LMI be waived?
There may be some instances where you can successfully have your LMI waived. However, this is often only permitted for the extremely reliable borrower. One of the most common reasons people bypass the LMI is because they work in reliable industries.
If you are a professional in the medical, legal, or (some) financial fields, your job may be considered stable enough to warrant a waived LMI. However, you will also have to prove that you have exceptional credit history and money management skills.
If you are looking to waive the LMI and don't fall into one of these professional categories, a few other options are available. You can potentially use a gift, a guarantor, or you may even qualify for the First Home Loan Deposit Scheme.
First home loan deposit scheme
In Australia, the government makes it easier for first home buyers to obtain home loans by offering specific grants. The First Home Loan Deposit Scheme (FHLDS) is the most prominent. The FHLDS may allow buyers to purchase a property with up to a five per cent deposit, while also waiving the LMI.
If you're after that $600,000 house, you could have a deposit as low as $30,000, while skipping the LMI fee. The government, in this instance, is acting as a guarantor for your loan. They are stepping forward to guarantee the difference between your deposit and the 20% standard requirement, to ensure your LVR is still equivalent to 80%.
Investigate all the government grants available to you. You may also have the option to apply for stamp duty concessions in certain circumstances.
First home loan deposit scheme lenders
Not all lenders and banks can offer out the FHLDS. Beyond this, there are only a limited number of grants available. As a result, if you miss out on obtaining one of these grants, you may have to wait for the following financial year for more places to be released.
There is a list of eligibility requirements, and you need to apply with the right lender to be considered. The Commonwealth Government's National Housing Finance and Investment Corporation (NHFIC) administers the scheme. However, you do not apply through them. Do your research to find a lender who may be able to assist you.
First home loan deposit scheme eligibility
Before applying, you will need to verify your eligibility; this will require you to provide the appropriate documentation. Firstly, you must be over 18 years of age, with proof of identification, and proof of Australian citizenship. If you are applying as a couple, you will need to be de facto or married.
Beyond this, you cannot have owned any existing property, and you must be earning less than the stated income threshold. The deposit you put forward will need to be between five and twenty per cent of the property's value. Finally, your desired property must be within the bounds of the price threshold for its postcode.
When beginning your application, you should also gather all the typical documentation you would give to your lender. This may include your expenses, spending habits, income history, any outstanding debts (e.g. cash loans or credit card debt) and employment status details.
First home loan deposit scheme application
You cannot apply for this scheme through the NHFIC. Instead, you will have to contact a participating lender or contact a mortgage broker. When you place your application, your lender will evaluate you against the eligibility criteria.
Once the FHLDS is in place, the loan process will resume usually, with a waived LMI and lower deposit. If you don't qualify, there may still be other schemes to make your life easier. Do your research to determine what may be available for you.
State influence on the first home loan deposit scheme
The FHLDS changes depending on the state you live in. For example, the First Home Loan Deposit Scheme QLD is capped at $475,000. Whereas, the First Home Loan Deposit Scheme NSW is $700,000. Housing affordability by location is the reason for this. As homes are far more costly in New South Wales, you will need more cash to become a homeowner successfully.
Not only does this depend on the state you live in, but also your proximity to a capital city. Within Queensland, people residing near Brisbane may get $475,000. However, people living in the rest of the state may only be entitled to $400,000. The same goes for all states. This is as it is usually more expensive to live near a capital city.
If you intend to buy a new home, these figures increase accordingly, as these homes are more expensive than pre-existing homes.
Using a guarantor for your deposit
If you don't work in a stable profession and don't qualify for FHLDS, you may be able to minimise your home loan deposit with a guarantor. A guarantor is essentially a co-signer on your home loan. Often they are a parent or immediate family member. A guarantor will put some of their own home's equity down, to fill out your deposit.
Your guarantor won't need to hand over any cash. There may be some lenders that will allow your guarantor to put down the equivalent equity of almost your total home loan deposit. Generally though, you must still pay a deposit of at least 5%.
The guarantor is not obligated to make any repayments, that is up to you. Should you fail to make your repayments, however, then your guarantor will have to take over. Given this, being a guarantor may be risky. As a result, before co-signing a loan or asking a family member to do this for you, ensure you weigh up the pros and cons to determine if it's best for you.
Can you get a loan from your parents as a deposit?
While, in some instances, you can get a loan from your parents, you typically cannot use this for a home loan deposit. Your lender may see this second loan as a commitment that may disqualify you from applying.
Instead, rather than a loan, your parents may need to offer to pay the deposit as a gift. In other words, there is no obligation for you to repay that money. However, this is a large financial commitment and may not always be possible for your parents.
In any case, even if your parents do cover your deposit, lenders will still assess your financial situation to determine if you can afford the mortgage loan that you are applying for.
Can you use a gift for your deposit?
The other option available to you is receiving your home loan deposit as a gift. If your parents wish to help you with your split rate home loan without requiring you to pay them back, this is considered a gift.
Giving a gift is accompanied by the absence of legal structure and some tax consequences. The disadvantage of a gift is that, unlike a loan, your parents won't be able to recover their money. When you apply, most lenders will request that you have proof that the money is a gift and not a loan. This may be able to come in the form of a signed letter from your parents.
Can you get a home loan with a 5% deposit?
Yes, in some cases, you may. However, the catch is that you may need to pay lenders mortgage insurance to compensate for this. You will also need a good credit history and a well-managed budget for this to be possible.
Outside of this, if you qualify for the FHLDS, you may be able to put down a 5% deposit without paying the LMI. Doing so can be extremely beneficial for young people, increasing their chances of becoming a homeowner. However, whether or not a 5% deposit is acceptable depends on your circumstances.
How should you approach saving for a home?
Saving for a home is a big commitment and can be quite tedious. You're going to want to begin by laying out a strict but fair budget. You will need to have an accurate understanding of what money comes in and where it goes out. This will help you to see where you can cut back on your spending. If you intend to buy with a partner, budget with them.
It may be wise to follow this up with automated, high-interest savings accounts. Putting your savings into a high-interest account is going to make your money work for you. Automatic savings allows for a portion of your paycheck to be automatically deposited into your savings as soon as you receive your salary. You are thereby removing your temptation to overspend and save yourself from worrying about doing it manually.
Finally, if viable, investing could be a good option for growing your savings over the upcoming years. A good place to start may be Moneysmart's guide covering 'How to Invest'.
Monzi can't help with home loans, however…
Unfortunately, Monzi can't help with your home loan deposit. If you need a personal loan of $300 to $10,000, however, we may be able to find the lender for you. We're a 100% online Australian lender-finder. Apply for fast cash loans now and we may be able to match you to a lender in as little as 60 minutes.
If you don't need a loan right now, you can be our friend in the meantime. Check us out on Facebook, Instagram, Twitter and Pinterest. Alternatively, for more home loan information, read our guide to finding the best mortgage loan rates.
Finally, if you have a question that you need answered, don't hesitate to get in contact with our friendly team at hello@monzi.com.au. Our customer service will do what they can to get back to you as soon as possible.