Keen to learn more about mini caravans Australia? Monzi's here to help. We've put together a comprehensive guide covering key tips, unmissable destinations and everything in between. You'll be an expert in no time. Let's go.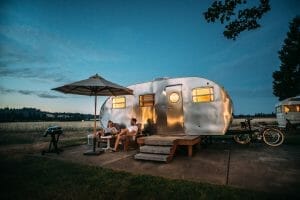 Mini caravans Australia
Sick of towing a large caravan? Keen to make your first foray into the world of caravan adventures? Mini caravans Australia might be the right choice for you.
While large caravans can weigh up to two tonnes, mini caravans typically clock in well under a tonne making them far easier to tow.
While you will have to sacrifice the luxury of sitting areas as well as built-in bathrooms and toilets, mini caravans come with all the essentials that you actually need. In other words, you'll have a comfortable place to sleep on each night of your holiday.
To give you the low-down on mini caravans, Monzi's here. We've compiled all the key information to provide you with everything you need to know. So, let's get started.
Can I afford to buy a caravan?
In short, it will depend on your financial situation.
Caravans come in a range of different sizes meaning costs can vary significantly.
Should you find that you don't quite have the required cash-on-hand to afford your dream caravan, one potential finance option could be to find a lender offering caravan loans.
At Monzi, we work with a range of lenders who can potentially offer these loans for amounts up to $10,000. Apply today and we may be able to pair you with one such lender in just one hour.
Mini caravans for sale Australia: when's the best time to buy?
Weather is a crucial variable to consider for any caravanner. If it's too hot or too cold, your trip likely won't be all that comfortable.
So, put some thought into when you want to leave. An autumn or spring trip can be the perfect balance between warm and cool, however, it will vary between locations. Which means you need to understand the climate and conditions before you leave.
For instance, if you're heading to the tropics, the wet season can wreak havoc with your plans. Closed or flooded roads can stop you in your tracks and leave you stranded.
In terms of price, look to buy around December or January. You can potentially score a bargain as dealers are looking to clear stock to make room for new models which typically arrive in March and April.
Can my car pull a caravan?
In simple terms, it depends.
The one thing you will need to take note of is your car's towing capacity. This is the maximum weight that your car is able to tow safely as outlined by the manufacturer. It will be listed in the owner's manual, however, you should be able to find it with a quick visit to the manufacturer's website too.
Obviously, as a general rule, the bigger your car is, the more it will be able to tow. Furthermore, manual cars may be able to tow greater weights than their automatic counterparts. However, most medium and large cars should have no issue towing mini caravans Australia.
When looking for your car's towing capacity, you'll notice it comes in two forms: braked and unbraked. This relates to what you are towing. Some trailers and caravans are unbraked while others have brakes.
Cars will be able to tow greater weights for trailers that are braked than unbraked.
Do I need insurance to tow mini caravans Australia?
Strictly speaking, you don't need caravan insurance. However, being covered for theft and damage is never a bad idea.
If you do plan to tow a caravan, car insurance is a legal requirement. In the event that you damage someone's property or injure them while towing a caravan, your insurance may pay out.
However, this cover does not extend to cover the caravan itself. Instead, you require separate insurance. If your uninsured caravan is damaged or stolen, you'll have to foot the bill.
If you're seeking caravan insurance make sure you shop around. There are plenty of great policies offered online that can provide you with the cover that you need.
The advantages of mini caravans Australia
Given their relatively small size compared to their full-size counterparts, there are a number of advantages that come with buying mini caravans Australia.
Firstly, their relatively light weight means that unlike caravans, they can be towed by most cars (e.g. hatchbacks), quad bikes or even motorcycles.
Second, the teardrop shape is a significant aerodynamic advantage. With the reduced drag, the increase in fuel consumption that comes with towing a caravan can be minimised.
Finally, the compact design means the space you take up is kept to a minimum. You have all the essentials in a fraction of the space.
Mini caravans Australia: what's the downside?
The reality is that mini caravans won't be for everyone.
The obvious issue and sticking point for most people comes with its main advantage. Mini caravans are compact, minimalistic and are equipped with only the necessary features.
For some, this is perfect. For others, however, this presents a major problem.
If you're seeking a roomy caravan with all the modern trappings and features, then quite simply, a mini caravan won't be for you. You'll be in the market for something bigger and that's OK.
Like with most products, caravans come in a range of shapes, sizes and comfort levels. If a mini caravan is not for you, do your research to find the one that best suits your needs.
How much do mini caravans Australia weigh?
Depending on the model that you buy, the weight of a caravan can differ significantly.
For starters, if you look at your basic camper trailer or mini caravan, you're looking at a weight of only up to about 750kg.
Moving on up, small caravans typically range from 900kg to 1300kg.
Finally, large caravans can weigh anywhere from 1300kg all the way up to the mammoth mass of 2000kg.
This is simply a rough guide. Weights will depend on the make, model and age as well as the additional features included. Understand your car's towing capacity before making the decision to purchase any caravan.
Best mini caravans Australia destinations: plan your trip today
So, you've got your caravan, now it's time to get out and explore.
In Australia, you are blessed with some of the world's most beautiful beaches, coastlines and landscapes. Best of all, you can explore much of it with your trusty caravan in tow.
To help you get started, Monzi has put together a list of some of the most picturesque and perfect regional holiday destinations to explore on your next caravan adventure.
The Great Ocean Road (VIC)
The Great Ocean Road is the number one, undisputed driving holiday in Australia. The 243km road stretches from Torquay to Allansford and is dotted with remarkable landscapes and quaint villages along the way.
The main attraction though is undoubtedly the Twelve Apostles. A series of rugged, limestone stacks located just off the shores of the Port Campbell National Park.
Curiously, while they were named the Twelve Apostles, there were only ever nine stacks. Following the collapse of one, there now stands only eight.
There are numerous caravan parks along the way, so if you're looking to settle in for the night, you won't be short of options.
The Kimberley (WA)
The Kimberley is Western Australia's northern most region and covers over 420,000 square kilometers. For reference, that's three times the size of England.
Along the way you'll encounter breathtaking natural beauty and landscapes on par with those you'd find anywhere in the world. While you're there, fly over the Bungle Bungle Range, have a dip in Lake Argyle or experience the magnificence of the Horizontal Falls.
Keep in mind that you may not be able to take your caravan everywhere (unsealed roads etc.). However, there are plenty of top notch caravan parks for you to leave your caravan at for the day while you're out exploring.
While its extreme isolation means that it can be difficult to access for many (particularly for those on the east coast), the Kimberley should be on any adventurer's bucket list. Trust us, it's worth it.
Cairns to Cape York (QLD)
Set out from the shores of the Great Barrier Reef and head approximately 1000 kilometers north to Australia's northernmost point.
Along the way you'll encounter dense, tropical rainforest, red dirt roads and crocodile-infested waterways and crossings. At the very least, it will be an adventure.
As always, if you're heading to the tropics, consider the weather. During the wet season (Nov-April) roads are often closed which can put an end to your holiday in a hurry.
May through October is typically the best time to visit not only because of the limited rain but also the reduced humidity and cooler temperatures too.
Discover Tasmania
The Apple Isle may be one of Australia's most underrated holiday destinations. If you've got a caravan, it's a must-see.
You'll discover untouched natural beauty headlined by stunning national parks and wild coastlines, learn more about Australia's convict history and indulge in some of the best wine, cheese and food this country has to offer.
If you're heading across from the mainland, you will have two options. You can either hire a car and caravan once you arrive or you can take your own car down on the Spirit of Tasmania ferry which leaves daily from Melbourne.
Mini caravans Australia: tips to ensure you have the best trip possible
Whether you're a caravanning novice or an old hand at the caper, there's always plenty to learn. If you're just starting out though, it's worth taking you through the basics.
To give you a hand, we've assembled a quick list of some of our favourite (and often overlooked) caravan tips that will help make your trip one to remember while also keeping your stress levels down.
Make a list
We're going to start with the absolute basics.
First of all, when you're in the midst of planning your caravan holiday: create a checklist. Trust us, it will make your life so much easier.
As with all things in life, planning and organisation is vital. If you're a novice caravanner, you'll be shocked by the amount of things you need. Creating a checklist and ticking off items one by one is a no-brainer. It'll make your packing easier too as you won't need to hunt around to try and find things you might need.
Best of all, you won't experience the gut-wrenching feeling that comes with realising you've forgotten an item of vital importance. It just makes sense.
Hit the road early
In the caravanning world, there's no such thing as a sleep in.
Hitting the road early means you can pack up during the coolest time of the day while simultaneously ensuring you beat the traffic. And when you're towing a two-tonne caravan, quieter roads are never a bad thing.
There's also the added benefit of reaching your next destination earlier. That will give you more time to explore or experience the area which is always a plus. Especially if you're only staying for a night or two.
Take it slow with your mini caravans Australia
At the end of the day, getting home safely is the ultimate goal. However, towing a caravan can be tricky and fraught with danger, especially for first timers.
So, take it slow. While you may end up creating frustration for the drivers behind you, it's always better to be cautious when towing a caravan behind you. A steady pace will also help improve your fuel economy.
However, if you do notice that traffic is backed up behind you maybe pull over to allow the quicker vehicles to pass.
From a more macro perspective, take your whole holiday steady. Make sure you don't have to rush between destinations. Limit your daily driving and plan for plenty of stops along the way. In other words, take your time and move at a leisurely pace.
Caravans aren't designed to be speedy. Slow and steady is always a better option.
Work together
Many hands make light work. When you arrive at your destination ensure that everyone contributes to setting up. Have defined roles and procedures to ensure everything runs smoothly. If everyone pitches in you'll be kicking back, relaxing in your camp chairs in no time.
While many hands may make light work, practice makes perfect.
If you're a newbie, a great tip is to have a few practice runs before you leave. Try to develop a pattern and plan to ensure you can work efficiently during set-up and pack-up.
Maybe plan for a local, weekend getaway in the lead up to your major driving holidays to iron out any kinks that exist in the process.
Ask for advice
If you're new to caravanning there is absolutely no shame in asking for advice. In fact, we actively encourage it. After all, there's always someone out there who knows more than you.
Before you set out or even as you go about your travels, seek out more experienced caravanners. They should be able to supply you with a handful of practical tips as well as a collection of must-see locations.
If you're looking for something more professional, there are plenty of comprehensive caravan training courses that will have you feeling like an expert before you know it.
At the same time though, don't just assume that all the advice you get is accurate. Try to confirm any information you receive either online or through multiple sources. You don't want to end up lost or in a pickle because you blindly followed a stranger's advice.
Pick the right company
With mini caravans Australia, privacy is a thing of the past. You'll constantly be in close quarters with your partner, friends or family and there's no getting around it. So, be sure you can handle it.
Our advice is to try and give each other space where possible. Not only that, anticipate potential issues and come up with ways of dealing with them.
For instance, if your partner is known to snore, then make sure you pack your earplugs.
Alternatively, maybe they get bored easily and get on your nerves when they do. If this is the case, make sure you pack plenty of entertainment whether it's books, board games or a few downloaded movies from your favourite digital streaming site.
Have fun
Your holiday should be fun and relaxing. While it's easy to get caught up in the stress of driving, unpacking, the inevitable breakdowns and issues, don't lose sight of what's important.
In life, things will inevitably go wrong and it's impossible to plan for every possible contingency. So, go with the flow. If something goes awry, take a deep breath and accept it, especially if it's out of your control.
At the end of the day, focus on having fun. Enjoy your company, laugh, joke, play games and tell stories. In other words, have the best time possible.
Have a place to store your mini caravans Australia
Once your adventure is over, your caravan is going to need to go somewhere. Sure you could leave it parked in your driveway but that means it's probably going to be exposed to the elements.
If you're lucky, you might have a garage or shed to park it in. However, if you don't, that's OK.
Luckily, there are a range of long-term storage facilities where you can store your caravan during the months you don't need it. It will be kept undercover and best of all, it's relatively cost-effective. Do your research and find one near you.
What do I need to pack on my mini caravans Australia holiday?
There are a ton of things you're going to need. For starters, here's an extensive list of items to pack.
While you may not need everything on the list, it's a great place to start.
Food
Safety and maintenance equipment: fire extinguisher, spare tyre, additional car parts.
First aid kit
Tool box
Clothes: consider the weather and try to pack light.
Resources: water containers, fuel, gas bottles, batteries.
Kitchen essentials: cups, cutlery, plates, bowls.
Things to keep you occupied: books, board games, technology.
Cleaning supplies: detergent, garbage bags, hand sanitizers.
Outdoor equipment: shades, camping chairs, esky, tables.
How much does it cost to caravan around Australia?
In short, it will depend on the length of your trip.
If you plan to go coast to coast exploring every possible destination that Australia has to offer then obviously the costs will be considerable. On the other hand, a small, local trip will be much more affordable.
Typical costs you encounter will include:
Fuel
Site hire: can range from $20 to $100 per night. May depend on site type (unpowered vs powered), season or location.
Food and drinks.
Equipment
Permits (may be necessary in some areas).
Maintenance (car or caravan): if something goes wrong.
Budgeting for you mini caravans Australia holiday
As you can see, the costs of your caravan holiday can quickly add up. In order to ensure your holiday is affordable, creating a budget is a great first step.
The ASIC's Moneysmart budget planner makes your life easy. You simply enter your income and expenses and you'll get a breakdown of where your money is going each month.
From there, you can work out how much you need to save as well as how much you can afford to spend. It's the best place to start before you even think about planning your trip.
Mini caravans Australia: get out there and explore
Australia is a vast land with so much to discover. We've given you a range of handy tips but now it's up to you. Hitch up the caravan and start exploring today!