Moving house can be incredibly stressful. However, it doesn't need to be. Monzi's ultimate guide to moving house is here to help. Learn more about finding the right home and how you can ensure your next move runs smoothly. It's quick, easy and you may feel like an expert in no time. Let's go.
I'm moving house: where do I start?
Whether you're moving out of your parents' home for the first time or simply relocating for work, moving house is always a headache. From organising removalists to updating your address details, the process can drag on for weeks without ever providing a break.
Generally speaking, most of us will move many times in our life. While it may get easier over time, if you're embarking on your first big move, you may not know where to begin. Luckily, that's what Monzi's here to cover. Through our guide to moving house, we'll address many of the details you need to know to ensure your move goes off without a hitch. Let's get into it.
How do I find the right house to move into?
Before you begin moving house, you have to find somewhere to live. While it may seem relatively straightforward, there are many considerations you must take into account. See below as Monzi outlines some of the key factors:
Location
You want to find the best place to live for you. So, consider what you value. For many of us, we have to live in the city for career opportunities. However, maybe you're looking for a tree change or a sleepy sea-side town. Once you decide on your ideal location, you can search for home and apartments in the area.
Size
A family of five will likely need much more space than an individual. So, think about the number of bedrooms you need. Moreover, consider whether you'd like to live in a house or an apartment. Ultimately, everyone will be different. As a result, aim to find something that fits your personal needs.
Pets
If you own a dog, cat or other pet and are a renter, this will factor into finding the right home. In short, not every landlord will allow pets. As a result, you must do your research to find one that will. While this may shrink the number of homes available, you want to provide your pet with a safe and happy home.
Health care, education and other services
Amenities and facilities will usually be better in the city. However, if you are looking to get out of the hustle and bustle, ensure you are moving to a location that can provide adequate healthcare (e.g. medical, dental, etc.). In addition to this, as a parent, you must investigate the quality of schools in the area. After all, you want to give your kids the best possible chance to succeed.
Transport
Is there adequate public transport available (e.g. train, bus, ferry) or is driving your online option? Moreover, consider how the traffic would affect your commute. Nobody wants to be stuck in gridlock for an hour each day.
Affordability
Arguably the most important factor, you must set a budget and stick to it. For instance, if you are looking to rent and can afford to spend $500 per week, then look at houses at this price or below. If you cannot find a suitable option, look at different locations or broaden your search rather than overextending your bugdet. One option could be to look for an apartment rather than a house.
Monzi's moving house checklist
Once you've secured your new address, it's time to move. Unfortunately, it's not as simple as loading your items into a van and sending them to your next home. Instead, there are several steps that you must follow to ensure your move goes to plan.
See below as Monzi provides a quick checklist for moving house. Hopefully, it will make things a little easier for you:
Declutter
Moving is the perfect time to get rid of that stuff you know longer need. After all, there's no reason to cart it to your new address. That would be a waste of space.
On the one hand, if the items have value, then it may be worth organising a garage sale or posting an ad on one of the prominent buy, swap and sell platforms. That way, you could earn a few extra bucks to help cover the cost of your move.
On the other hand, if the items are old, damaged or broken beyond repair, you may need to organise a trip to your local dump. Alternatively, hire a skip bin and offload whatever you no longer need.
In addition to this, avoid a hoarding mindset. While you may want to keep everything, unless you need it or use it regularly, it's usually best to get rid of it. Be ruthless to ensure your next home remains free of clutter.
Find a removalist
If you are about to undertake a full-scale move, then it's usually best to book removalists. After all, they're professionals and have done it plenty of times before. Moreover, they should have plenty of space to transport your fridges, washing machines and moving boxes to your new home. Note that the price you pay may vary based on how far you are moving as well as how much stuff you have to move.
Pack, pack, pack
First, you must acquire moving boxes, tape and markers. Once that job is complete, begin to pack your belongings. As a guide, aim to pack items by room. In other words, keep your kitchen utensils in one box and your living room ornaments in another. Moreover, keep your marker close by and label each box. That will save you plenty of time when it comes time to unpack.
Think about what you've got and where you're going
Removalists may not always be necessary. If you are moving across the country and have your life's possessions to transport, then, yes, you will need removalists. However, if all you own is a bed and a few other possessions and you're moving to a nearby suburb, you can potentially do it yourself. Just hire a ute or enlist some friends to help you. In some cases, you could have the work done in just a few hours.
Contact your utility provider
Gas, water, electricity and internet must all be cancelled at your old residence and connected at your new residence. To do this, you must contact your provider directly. They should outline the process to you. In some cases, they may require access to your new property to establish your connection. Keep this in mind and aim to have all the necessary services connected before you move in.
Book your cleaner
If you are moving out of a rental property, then you typically must book bond cleaners. In short, they will go over the entire house to ensure that it looks as good as new. Moreover, it may be worth getting your new home professionally cleaned before you move in too. That way, you know that everything will be in perfect order for your arrival.
Update your address
You must update your details with a number of organisations, service providers, businesses and government departments. Not only is this key for communication reasons (e.g. mail), but it could have implications for your voting electorate or insurance premiums.
Therefore, when you move, update your address with the following:
Australian Taxation Office
Superfund
Healthcare and health insurance providers
Australian Electoral Commission
Banks
Power, water or other utility providers
Educational institutions (e.g. schools, universities)
Relevant transport authority that issues your driver's licence.
Any subscription or online shopping businesses.
Note that there may be other organisations that you must inform too. This is simply a basic guide that will be relevant to most Australians.
Sort out your insurance
If you have home insurance, contents insurance or some combination thereof, you may need to alert your insurer that you have moved house. From there, you must update your policy and your insurer will evaluate your new residence to determine what your premiums may be. If you do not update your policy and submit a claim, you may find that you are not covered. This could have disastrous financial implications if your new house suffers significant damage.
Consider your mail
While updating your address should take care of most of your mail, it's often a good idea to redirect or hold your mail for the first six to twelve months after you move house. That way, you won't miss out on any important correspondence because a certain business or organisation slipped your mind when you were updating your address. Note, however, that a mail redirect will set you back about $100 for six months.
What costs do I need to consider when moving house?
Moving house isn't cheap. While paying the removalists is an obvious cost, there are many other hidden expenses that you may not anticipate. As a result, not only is it stressful, but it can put a hole in your budget too.
To give you an idea, costs associated with moving house include:
Removalist fees
Cleaning
Rental bond
Transport, travel and temporary accommodation
Storage costs
Pest inspections or fumigation
Renovations and maintenance
Connection or termination fees from your utility providers
Packing supplies (e.g. moving boxes, tape, markers)
New furniture or appliances to suit your new home.
Ultimately, the costs of moving house can quite easily range into the thousands. However, the final total will vary based on the size of your home, the number of possessions you own and the distance you are moving. As a result, aim to budget for this before you find your next dream home.
I need to move house: should I rent or buy?
This is a problem that many Aussies face. However, often the answer will depend on your financial situation.
On the one hand, if you are earning a consistent income and can pay a home loan deposit of 20%, then you may be looking to buy your own home. As a result, you'll have much more freedom and flexibility, given that the house is yours. All you need to do is ensure you keep up with your loan repayments.
On the other hand, if you are unable to make this substantial financial commitment, then renting will be the only option. This is the reality that most of us live in. As a guide, your rent should not exceed 30% of your take-home pay. So, do what you can to find a house or apartment that fits your needs without overextending your budget.
If you would like to purchase a home but are unsure if you can afford it, then it may be best to contact a mortgage broker. Find out more today with Moneysmart's guide to using a mortgage broker.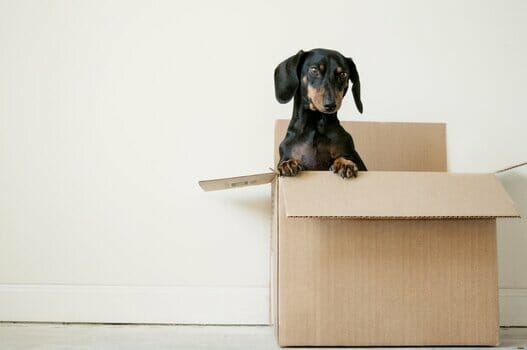 Are there any house moving services?
Yes.
These days, you don't have to do it all by yourself. Instead, there are many dedicated services that will come to your home and assist with everything from decluttering to packaging your belongings.
While it will come at a cost, the ease and convenience is often hard to turn down. After all, many hands make light work. Moreover, they've been there and done it many times before. As a result, they could make your next move a breeze.
Keen to learn more? Do your research to find a great moving service in your local area. In some cases, you can hire them to help you unpack too. That way, you won't be left alone with a house full of heavy moving boxes.
Does Centrelink provide assistance when I'm moving house?
If you are a Centrelink benefit payment recipient, there may be assistance available when you need to relocate. However, it may depend on the payment-type you receive. As a result, you may need to visit the Services Australia website or visit your nearest Centrelink location.
As a guide, one option may be to apply for a Centrelink advance. In short, this involves receiving a portion of your future payments early as a lump sum. However, this amount is then deducted from your payments going forward. So, while it may help cover some moving costs today, you may need to consider how it will affect your budget in the future. That said, the benefit of an advance is that it is interest-free.
Ultimately, if Centrelink benefits account for a portion or all of your income, do your research to determine what support may be available. Moreover, note that you may be eligible for rental assistance, depending on the payment you receive.
Moving house with pets: what do I need to do?
Moving house isn't just stressful for you. Often, it can create a lot of stress and anxiety for your pets too. Luckily, there are a few things that you can do to help ensure a smooth transition.
Firstly, before you move, take your cat or dog to your new home. Allow them some time to get familiar with their new surroundings. For instance, allow your dog to roam the backyard and take in all the new smells. While you're there, reward them with treats to encourage this behaviour.
After your move, aim to keep your past routine intact. In other words, feed and exercise your pet at similar times. Moreover, don't leave them home alone for the first few days. Over time, your pet should adjust to their unfamiliar surroundings. Just keep an eye on them to ensure there are no signs of excessive stress or anxiety.
Is there any way to avoid stress when moving house?
Yes and no.
Being proactive can make your move a breeze. With this, book your removalists early and pack up whatever you can yourself. That way, the movers can put your belongings straight into the truck when the day arrives. Moreover, update your address and redirect your mail. If you leave it to the last minute, that's when things get stressful.
That said, nobody can predict the future. Even the best-laid plans often go awry. As a result, while you may have everything planned, sometimes things go wrong. For instance, maybe some of your items get damaged or it rains on the day of the move. In these situations, there is little you can do.
Given this, while there are certain things you can do to prepare yourself for moving house, try to roll with the punches. Things don't always go to plan. Adapt whenever possible and you should be able to get through the day without too much stress.
I'm moving out for the first time!
One of the first big steps in any adult's life is moving out of your parents' home. While it's always exciting, it can also be a time of trepidation too. After all, you're on your own now. That's why it's essential to develop a plan when you move out of home for the first time.
Firstly, you must create a budget. With this, think about your current income and compare this to your expenses. As a guide, you may need to pay for food, rent, water, electricity, internet and much more. Given this, you must ensure that you can afford it. A great place to start could be Moneysmart's free online budget planner.
Next, decide who you're going to live with. While the freedom of living alone would be nice, you would assume sole responsibility for the costs. As a result, it may be best to find a friend willing to be your flatmate. Alternatively, there are many websites now that can match you with people in your local area with a room for rent.
At the end of the day, moving out of home is often the first step towards adulthood. So, make sure you're ready. If you develop a good plan and manage your expenses well, you could enjoy the freedom that living on your own provides.
Can I get a loan to cover my moving costs?
You bet.
When you're on the move, Monzi could match you with lenders offering relocation loans from $300 to $10,000. It doesn't matter whether you're moving down the street or across the country, a little additional cash may help take the weight off. As a guide, relocation loans may be used to cover anything from removalist costs to travel expenses when you move to your new location.
Ultimately, these loans are a form of personal loan. As a result, you may use them to cover almost any legitimate personal expense that you encounter. Just remember that lenders charge interest on money you borrow, so consider the costs before applying.
What about to pay my rental bond?
Absolutely!
Aussies moving from one rental property to another probably understand the need for a rental bond. In short, landlords require you to pay approximately four weeks worth of rent as a bond. They hold onto this money until you move out as a form of protection in case you breach your tenancy agreement or cause any damage.
At Monzi, we work with lenders who may offer bond loans across the country from $300 to $10,000. So, it doesn't matter whether you need to pay your bond in Victoria or apply for a bond loan in Queensland, we could be there to help you.
Apply today!
Am I able to get a loan for home improvements?
Is your new home not up to standard? Maybe it's just a work in progress.
Whatever the case may be, if you buy a new home and need to complete some renovations, a personal loan could be one option to help you pay for it. As you might expect, you can apply with Monzi for home improvement loans now from $300 to $10,000.
If approved, you can use these funds to pay for painting, plumbing, plastering and so much more. You could turn your house into a home in no time.
That said, keep in mind that if you already have a home loan, then taking out a personal loan too may put some strain on your budget. As a result, it might be wise to investigate whether you can roll the costs of your renovations into your existing loan. Contact your lender today to determine your options.
How can I buy new furniture when I move house?
Sometimes when you move house, you'll find that your existing furniture doesn't quite match the new set-up. As a result, you may be looking to purchase a new TV cabinet, dining room table or lounge set. In these situations, you may have a few options.
Firstly, if you're after a bargain, you could try to buy some second-hand furniture via Facebook Marketplace, Gumtree or other similar platforms. While these items may come with some wear and tear, you'll typically get a great price.
Next, if you'd prefer something new, it could be wise to check out your Buy Now Pay Later (BNPL) or lay-by options. In short, BNPL allows you to purchase items today and divide the costs into a series of interest-free instalments. That way, you don't have to pay a significant amount upfront.
Finally, you could apply for a furniture loan up to $10,000 with Monzi. Just remember that any money you borrow must be repaid with interest.
What can Monzi do for me?
Monzi is a lender-finder. So, if you're in the market for a cash loan, we're here to help. As a lender-finder, our job is to connect Aussies like you with some of the nation's most innovative lenders. Best of all, we work fast, meaning you could receive an outcome in just 60 minutes.
At Monzi, we work with lenders who offer fast loans from $300 to $10,000. If you just need a small cash injection, then you may apply for unsecured loans up to $2,000. On the other hand, if you must borrow a more substantial amount, you can apply for secured loans up to $10,000.
Ultimately, these loans may be a manageable option if your budget is looking a little worse for wear. Borrow cash today and your lender will divide your costs into even repayments over terms ranging from 12 to 24 months. Moreover, these loans are 100% online, meaning there's no need to leave the comfort of your own home when you apply.
Does Monzi offer home loans?
No.
Monzi is not a lender. As a result, for online home loans, you must look elsewhere.
With this, ensure you do your research. These days, there is an abundance of lenders who may be able to offer competitive home loans that could make your dreams a reality. While banks have long been the primary source of mortgage loans, you may find a great online lender.
At the end of the day, if you want to buy a house, it pays to find the best deal. A slightly lower interest rate may not seem like much today, however, the savings can add up over time. Moreover, features such as offset accounts can make your life easier too.
I have questions: who can I talk to?
At Monzi, we're always happy to hear from you. So, if you need an instant cash loan to help cover the cost of your next move, we'd love to help. You can email any questions that you have through to hello@monzi.com.au. From there, our dedicated customer service team will do their best to respond ASAP.
However, as we've touched on, Monzi is not a lender. As a result, we may not be able to answer specific questions regarding the loans you may be offered. Instead, you may need to contact a lender directly.
Finally, for more advice on moving house efficiently, it could be wise to reach out to one of the many home moving companies. They may guide you through the process so that you can move into your new home with minimal stress.
Moving house? Monzi may help make it a breeze
With fast cash loans available from $300 to $10,000, Monzi may connect you with lenders offering the cash you need for your next move. Whether you have to cover the cost of removalists or short-term accommodation, there could be a loan for you. Submit one easy application today and we may provide you with an outcome in just 60 minutes.
Ready to apply? Scroll up and use Monzi's loan slider to select your ideal loan amount and repayment term. From there, complete the online application form and your journey with Monzi is underway. Let's go.
Have you enjoyed Monzi's ultimate guide to moving house? You can follow us on Facebook, Instagram, Twitter and Pinterest.