PayWave, PayPass, and contactless payments are all names given to the concept of touching your card to a Point of Service (POS) machine and paying without requiring your PIN.
In recent years the use of contactless payment methods has risen as cash decreases in popularity. Perhaps you currently don't use any of the contactless payment options and would like to understand the hype. Or maybe you want some further information surrounding just what makes that chip in your card work. Monzi is here to shed some light on the booming industry of contactless payments, no matter your motivator.
Please note, specific ideas and products presented in this article may not be on offer by Monzi nor the lenders we work with. This article presents only general information. Consider seeking professional financial, taxation, legal or other advice to check how the information and ideas presented on this website relate to your unique circumstances.
What is contactless payment?
So, what are PayWave, PayPass and the likes? These payment methods are specific contactless payment options created by various brands. For example, PayWave belongs to Visa and is available to Visa cardholders. PayPass belongs to Mastercard. There is an increasing number of options available for contactless payment; however, PayWave is often the form most referred to.
Essentially, contactless payment removes the hassle of digging around in your purse or wallet, looking for cash and waiting to receive change. It also cuts out the need to select what account you want to pay with and the requirement to enter your PIN to see approval. Typically this option is only for payments worth less than $100. Anything more significant, and you will require your PIN. You have the opportunity to use contactless payment via your card, your phone, a smartwatch, keyfob, or a sticker.
Not all Point of Sale (POS) machines will accept contactless payment. However, this is rare. Nobody must use contactless payments, although due to the way life has changed because of the pandemic, it seems a cashless society may be closer than we thought. Utilising PayWave or other contactless payment methods may make the checkout process smoother.
How does PayWave work?
One of the common questions asked is how does PayWave technology work? Whether you use PayWave, ApplePay, or your bank's designated chip card, you will need to tap your card or phone to the POS machine to engage contactless payment. Once you tap your chosen technology to the machine, the chip in this technology will emit radio waves for the reader. There is an antenna built into the chip that allows this connection. This is called radio frequency identification (RFID) technology.
Don't be afraid of this technology. It is highly secure and the same tech as that in security passes at workplaces and hotels. Typically, contactless payments are just as safe as using your card like usual and entering your PIN. It is also improbable that you will be charged twice for a transaction. Payment terminals apply the appropriate technology to avoid charging a customer twice. If you are worried about card safety, you also have the option of a virtual credit card for online shopping.
How to use PayWave?
Provided you haven't exceeded the transaction limit, once you tap your chip to the reader, your transaction will have concluded. If you are using PayWave and have gone over your transaction limit, you will simply have to enter your PIN to complete the transaction. Whilst this isn't highly inconvenient if you have a lot in your hands and are hoping to simply tap and go, be mindful to avoid exceeding your limit.
If you are paying via any method besides the card itself, it may be wise to carry the card on your person in case something goes wrong with the technology. This is possible, whether a result of the condition of the POS machine or your phone. Carrying the card allows you to fall back on it if required. However, this technology usually works consistently, and you may never encounter this problem.
Is PayWave free?
To get a card with PayWave, it is typically free for you. You usually obtain one of these cards from your bank. However, some businesses may put small surcharges on the use of contactless payment. Whilst it costs the banks less to process these transactions than it would for a credit card purchase, small businesses must pay extra to offer the service to their customers. For this reason, they try to earn some of this cost back by adding a small surcharge.
However, big chain retailers like grocery stores can afford to not add surcharges onto their transactions for contactless payments. This surcharge may be as little as ten cents, yet there are some ways to avoid PayWave fees if you feel the need. These are paying by cash or the traditional method of swiping your card and inputting the information. Please note that the government has regulations in place to ban excessive surcharge prices. These regulations prevent businesses from charging the customer more than the cost of supplying the contactless payment option.
Does PayWave require a PIN?
If you don't exceed the set account limit, you won't need to enter your PIN. Keep in mind that you can still tap your card if you are making a more significant purchase. You will simply need to input your PIN to finalise the transaction.
PayWave limit
Generally, the PayWave limit is $100; this also goes for any other contactless payment method. Can you PayWave over $100? In some instances, this is possible. Various countries offer different maximum tap and go amounts. However, in Australia, banks increased the limit to $200 to avoid spreading the virus during the peak of COVID-19. This happened across multiple providers and may still be permitted, depending on the service you use.
Generally, if you are using a bank-owned card for contactless payment, the limit will be set by the bank. Having a limit in place is helpful for security. If you lose your card or someone steals it, provided this user does not know your PIN, they won't be able to access more than $100 worth of the money in your account.
Is PayWave like a credit card?
PayWave isn't like a credit card. Instead, you can get credit cards that support PayWave. Contactless payment is a card feature, not a source of money for your expenses. If your credit card uses PayWave or has a contactless payment chip, you will be able to tap and go on credit. However, the $100 limit will still apply. So, can a debit card use PayWave?
Yes, debit cards can also come with the contactless payment option. It's likely you won't even need to ask for a card with this feature; you may simply receive one. However, to reiterate, any contactless payment you make will be paid either with money from your account or on credit. It is merely a method of moving money.
Are PayWave cards safe?
In this day and age of rapidly developing financial technology, security is more important than ever. For this reason, there are several measures in place to ensure your accounts and purchases are protected. PayWave cards and all other methods of contactless payments should defend you against any fraudulent activity you may encounter.
The chip, embedded in whatever contactless payment option you choose, operates through a unique system of electronic signatures and codes. This works to decrease the likelihood that your details will be intercepted or replicated. Your bank also monitors your card usage closely and will contact you if they believe something is amiss. In some instances, your card may potentially even ask you to input your PIN if you have made a series of payments. This ensures you are the owner of the card. You can rest easy knowing that PayWave security issues are very unlikely.
How do contactless payments show up on your statement?
Contactless payments may not make themselves immediately available on your bank statements. If you have a banking app that allows you to view your statement, you may notice a delay between the payment and the indication of a transaction on your statement.
This is as contactless payments can take place offline. Therefore, the signed amount in your account decreases, but your statement will not make an entry regarding where the money went. Your account notifies your bank of this purchase at a later date, usually between two to four working days after your purchase. This will vary from bank to bank, however. If you, for whatever reason, need a transaction to display on your bank statement immediately, then you may be better off paying the regular way and entering your PIN.
How to disable PayWave on your card
One of the questions that you may have is how do you stop PayWave? Generally, as the chip is a part of your card, it cannot be disabled. This goes for the card of any contactless payment provider. If you don't like the tap and go feature of the card or would prefer purchases to show on your statement straight away, you can elect to pay usually with your chip and PIN.
If you seek to disable this feature due to security concerns, there are other steps you can take. For example, you can invest in an RFID shield sleeve. Sliding your card into one of these protective pockets will give you an extra layer of protection from criminal scanning. You will need to remove the card from the sleeve to pay. However, utilising one of these sleeves may give you extra peace of mind.
What are the advantages and disadvantages of contactless payment?
If you are tossing up whether or not to request a contactless payment option for your next card, there are a few pros and cons to keep in mind. The pros revolve around convenience. Contactless payments remove the need to insert or swipe your card, select your account, and enter your PIN. It also eliminates the need to dig around for the correct cash or wait for your cashier to count out your change. The service is also quite secure. Transactions are limited to avoid overdrawing your account should your card fall into the wrong hands.
However, this risk is a disadvantage of contactless payment. Should your card end up in somebody else's possession, they will be able to access a small portion of your account without requiring a PIN. This makes it even more necessary to report your card as lost or stolen as soon as it happens so that it can be shut down and made useless to however finds it. However, being cautious and responsible with the whereabouts of your debit and credit cards can ensure you won't need to do so.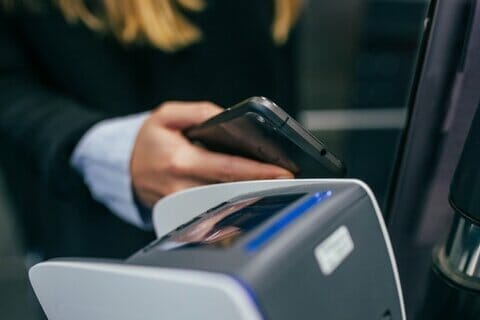 PayWave vs PayPass
PayWave is Visa's take on contactless payment, whereas PayPass is the MasterCard version. However, these are not the only companies offering customers the tap and go option. You will also find providers like ApplePay, GooglePay, Eftpos and Samsung pay that provide contactless payment options. However, these providers often only offer digital wallets that allow you to pay via your phone. If you are looking for a physical card, you can get a card with a contactless payment chip from most of the big banks.
Monzi cannot decide which providers offer a better service or which form of contactless payment you should opt for. To make a decision about this, consider your personal needs and spending habits. For example, if you often wear a smartwatch, this may be a convenient option for making payments for you. Whereas if you prefer paying by credit, you may want to obtain a physical card through whoever your credit provider is.
Phone PayWave and other methods
iPhone PayWave and Samsung PayWave are two prominent contactless payment options. More specifically, using your phone to make your purchases is very convenient for some people. By opening a digital wallet, you can use your phone much the same way as you tap your card. A phone may also scan your finger or your face for payment verification.
Similar to using your phone, you also have the option to use a smartwatch that supports contactless payments. This can be useful if you head out for a morning walk to get a coffee and want to leave the card at home. Another option you can use is a keyfob. This can easily be attached to your car keys for your convenience. Some providers may also offer the option of using a sticker. Stickers are thin plastic that you can stick to an object, such as your phone. This then means you won't have to carry your wallet with you. Most people these days have their phones on them, meaning you will have placed the sticker conveniently.
PayWave app
PayWave itself does not have an app that you can use. You may, however, encounter a digital wallet. Digital wallets allow you to store a digital version of your cards on your phone. You can then access contactless payment by tapping your phone.
Again, the contactless payment limits will still apply. You can have your debit or credit cards loaded into your digital wallet. You will still need to go into your banking app to see any transactions you have made. Digital wallets do not record any of this information.
Paying via your phone is also a convenient way to transfer money from small cash loans in exchange for the goods you are seeking.
Can you get cash out with PayWave?
No, for security reasons, you will not be able to withdraw cash without entering your PIN. This is so that if someone steals your card, your bank account cannot have money directly taken from it. If your card is stolen and used to purchase goods or services, the bank can track these purchases to help you locate your card.
You won't be able to tap your card either. If you are taking money out, you will have to insert your card and enter the PIN. This is not just with ATMs either. If you want to take cash out at a grocery store, you should keep this in mind.
PayWave cashback
PayWave and other contactless payment methods do allow you to get cash back on debit cards. This is dependent on the store, however. Some businesses may cater to contactless; others may require you to swipe or insert your card.
If you return something to a store for a refund, you may require the contactless cashback feature. For example, if you mistakenly pay an incorrect amount for a transaction you may need to receive cashback. It is rare that there will be other circumstances that will require you to utilise contactless cashback.
Where is the PayWave chip?
If you have a physical PayWave or contactless payment card, the chip is relatively easy to locate. It is usually a silver or gold square on one side of the card. If you can use the card for contactless payment, then you will usually see the contactless payment symbol somewhere on the card. This symbol typically looks like the wifi symbol except rotated to the right. It consists of four slightly curved lines.
This chip should make contact with either the POS machine's screen or the pad on the side or top of the machine that has the same 'contactless payment' symbol displayed on it. If you are unsure about where you should be tapping your card, simply ask the cashier where to tap. Each POS machine works slightly different; there is no shame in asking for directions if you encounter an unfamiliar device.
Can you get loans with PayWave?
PayWave is not a bank but rather a service that allows you to make payments. You cannot get a personal loan or any other type of loan through PayWave. One alternative is to use a credit card that accepts contactless payments. This way, if you need to get some shopping done but are between paychecks, you can access the bank's money via contactless payment.
Keep in mind that any of the bank's money that you borrow you will need to repay. If you are already in quite a bit of debt, it may not be worth paying by credit and increasing the amount you owe. If you need help managing your debts, look for further information on the government's MoneySmart page. Or consider what aid you may qualify for via Centrelink.
How soon is Australia likely to move to a cashless society?
Currently, analysts are predicting that Australian society may be mostly cashless by 2024. The likelihood of this has risen due to the pandemic's impact on Australia and the world. So, what might a cashless society mean for you?
Hypothetically, of course, it means you're going to have to move with the times. Currently, this means embracing the convenience of cashless payments and acquainting yourself with debit and credit cards. It's hard to find a person in this modern age that isn't already in possession of at least one card. However, it may be worth looking into other places you can store your cashless payment options. For example, most of the newer model Apple phones will allow you to keep your debit or credit card in their digital wallet. This then gives you the option of leaving the house with only your phone, should you wish to.
Whilst no one can know for sure how soon the country may turn cashless, you may be able to experiment with what this would be like. Certain stores nationwide are currently trialling cashless stores, even going as far as removing the checkout process. It seems that contactless payment will be necessary for the future, so looking into PayWave may be worthwhile.
Can you use contactless payment with small vendors?
This depends entirely on the vendor. Portable POS machines are growing in popularity among small vendors such as market stalls. However, not every vendor is willing to make the switch.
If you are considering heading down to your local markets, school events, or other community festivities, consider bringing both cash and a card. You may encounter various salespeople who have an EFTPOS machine set up for you to use, allowing them to increase their sales in the current climate. However, card and contactless payments may not be necessary for specific vendors. Some stalls may simply be selling their goods as a hobby and aren't interested in anything more than this. Respect their decision. Currently, no one has to make the switch to PayWave.
Point of Service (POS) machines
If you are considered a small vendor and do like to operate at markets, you may have considered investing in a POS machine. Buying your point of service machine will bring you up to date with the current state of financial technology, allowing you to cater to everyone.
For a couple of hundred dollars, you can easily purchase and set up one of these machines. They typically allow all forms of card payments, including contactless payments like PayWave. Some small vendors may elect to set a minimum transaction fee. This is as processing electronic payments will come with surcharges, particularly for companies like American Express. By placing a minimum purchase fee, you will ensure that you will still make a profit after subtracting the surcharge cost. This typical minimum cost is often five dollars.
If the goods you are selling are priced very cheaply, it may make more sense for you to continue operating in cash.
Other options for making payments
Of course, there are many ways to pay for goods and services these days aside from cash and PayWave. You could consider credit, cheque, or a buy-now-pay-later service (BNPL).
Buy now pay later is rapidly increasing in popularity as it allows you to receive your goods immediately and then repay them over a series of small instalments. This means you can buy what you need – or want – without putting a dent in your bank account. As with credit, however, BNPL's like Afterpay can make it feel like you aren't spending a lot of money. In reality, this is a fast way to stack up debt.
This doesn't mean you shouldn't utilise these services. Instead, it means you need to be aware of the money you spend and how you will manage it. If you are currently struggling with debt of any kind, you can call the national debt helpline on 1800 007 007.
Another good alternate to buy-now-pay-later is layby. By engaging with a stores layby function, you can slowly pay off your purchase without any debt or interest.
Contactless payments and Monzi?
Monzi will not charge you a cent to use our lender-finder service. However, if we did, it would be contactless as we are 100% online.
This means you can potentially be matched to a lender any place and anytime – provided you have access to an internet connection – for free. If you apply within business hours, we will do our best to match you to a lender in as little as 60 minutes. Should we be successful, your lender will contact you shortly after to begin the loan process. It's that easy! All you need to do next is click the 'apply now' button to start your application.
If you are unsure how to start or have any questions about our lender-finder service, don't hesitate to reach out. You can reach our friendly team at hello@monzi.com.au.
Check out our socials!
Want to stay in the loop? We don't blame you. Why not be our friends across our Facebook, Instagram, Twitter and Pinterest?
This way, we can keep in touch, and if you ever need a lender for a personal loan, you'll remember we're here and waiting to help. The Monzi team monitor all our inboxes, meaning if you'd prefer to contact us there, we'll be around to say hello.