Keen to cool off? Got a thirst for adventure? Australia is home to some of the world's finest natural swimming holes. Chances are there's one near you. To help you out, Monzi has put together a comprehensive swimming hole guide covering everything you need to know. Let's go.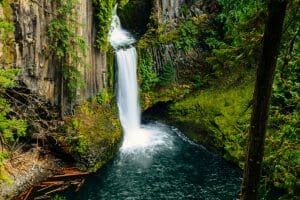 Swimming holes near me
In summer, you need to beat the heat. Sure you could get a loan out to install a pool, but there's something captivating and wondrous about a natural swimming hole.
Often buried in the rainforest or hidden by rocky surrounds, swimming holes take many forms. They can be rivers, streams, springs, lakes, creeks or rock pools. One thing they typically have in common though is that they're usually off the beaten track.
While some are more popular than others and can become a little crowded, if you do your research there are plenty of stunning options for you if you're seeking a quiet swim in a beautiful location.
To get you started, Monzi has put together this guide covering a few of our favourite swimming spots, some safety tips and a handful of other useful tidbits. So, let's begin.
What to pack?
If you're planning a day trip then the inevitable question is what do you need to take with you. Most swimming holes are isolated meaning access to amenities and shops may be limited. This will no doubt affect what you pack.
Some common examples include:
Hat, SunSmart clothes, sunglasses
Towel and togs (swimmers or bathers or whatever you call them)
Food: take a picnic
Water: pack plenty. If it's hot you'll be thirsty and dehydration is always a risk.
Enclosed shoes
A change of clothes
A rope
Picnic blanket
Minor medical supplies: a few bandaids etc. in case of minor cuts or grazes.
Our guide to Australia's best swimming holes
Australia is home to well over 1,000 natural water holes. However, for the sake of brevity, we're not going to mention them all.
Instead, we've put together a list of our 10 favourites across a number of different states and territories. Therefore, you're sure to find one that is a short drive away. In other words, you certainly won't need to take out a loan to cover the travel costs!
In any case, let's get stuck into the list.
Swimming holes in Far North Queensland
Search for swimming holes Cairns and you'll come away thinking Far North Queensland is the mecca for swimming hole enthusiasts. Both in the number of options and the sheer natural beauty, far North Queensland is as good as it gets.
Our favourite places to cool off include:
Millaa Millaa Falls
Location: Atherton Tablelands
Approx. 90 min drive from Cairns
When a place is known as "Australia's most photographed falls" you know it must be beautiful. Millaa Millaa Falls features an 18m waterfall surrounded by lush, green rainforest. The falls cascade down into a pure, cool waterhole below. You can have a refreshing swim to cool off and escape the stifling North-Queensland heat and humidity.
BBQ and picnic facilities are available, making it one of Australia's most beautiful lunch locations. Keep an eye out and you might even spot a platypus too.
Josephine Falls
Location: Wooroonooran National Park
Approx. 90 min drive from Cairns
To give you an idea of the natural beauty, Josephine Falls has been featured in numerous television commercials. With large flat rocks, crystal clear water and a sandy beach, it's an absolute must to visit. Take a hike along the walking track and you can see the falls up close providing the perfect opportunity to take some photos.
For more information on Far North Queensland, head over to their tourism website.
Swimming holes Brisbane and surrounds
Whether it's swimming Gold Coast or Sunshine Coast, south-east Queensland is home to some of the most picturesque nature in the country.
Cedar Creek Falls
Location: Tamborine National Park
Approx. One hour drive from Brisbane
Located at the base of Mt Tamborine, Cedar Creek swimming hole flows down into three rock pools. From the carpark, a track leads to a lookout which provides views of the gorge, waterfall and the rock pools below.
Another windy track then takes you down to the rockpools if you're keen for a swim. It's approximately 900m and can be quite steep so prepared for some exercise.
In terms of freshwater swimming pools Brisbane, Cedar Creek Falls is one of the most popular meaning parking spaces are limited so get in early.
Swimming holes Sydney
While you might not find any water holes in Sydney itself, a quick search of 'swimming holes Blue Mountains' should bring up some great results.
Our pick of the bunch? It's gotta be Jellybean. Check below for our review.
Jellybean Pool
Location: Blue Mountains National Park
Approx. 70 min drive from Sydney CBD
A relatively quick drive from Sydney, the Jellybean Pool features a white river beach, surrounded by rugged cliffs and dense bushland. It's the perfect place for Sydney residents to cool off in a stunning natural environment.
It is an extremely popular location though so aim to arrive early to secure your spot. On the other hand, spend the night camping in one of the nearby caravan parks and experience sunrise or sunset at the pools.
Swimming holes Victoria
There's no doubt that if you're looking for water holes to swim in Melbourne, your options will be limited. Not only that, the water's probably going to be pretty chilly too.
However, if you look hard enough, you might be able to find a swimming hole or two that are perfect for a dip.
Turpin Falls
Location: Langley, Victoria.
Approx 90 mins north of Melbourne.
We'll start with a warning, more often than not the swimming hole at Turpin Falls is quite chilly. So, if you're looking for a refreshing swim it might be for you. As a guide, the best time to visit is between November and April as outside of these times the water can be quite icy.
Bordered on three sides by 20m high rocky cliffs, the deep billabong is a popular swimming location for locals. Within driving distance of Melbourne, it's a great escape from the hustle and bustle of the city and is undoubtedly one of the best water holes in Victoria.
Swimming holes in Western Australia
While the number of water holes in Perth is limited, the rest of Western Australia really makes up for it. The best thing about W.A though is its diversity.
While there is plenty of your classic, freshwater swimming locations, there's at least one ocean swimming hole that should be on everyone's bucket list. Let's take a closer look.
Python Pool
Location: Millstream (WA), Millstream Chichester National Park in the Pilbara region of Western Australia.
Approx. 1,200km north of Perth.
Python Pool is located in the Millstream Chichester National Park in the Pilbara region which has been described by Western Australian Parks and Wildlife Service as "oasis in the desert, nestled within the chocolate brown rocks of the Chichester Range." High praise.
The Python Pool features a seasonal waterfall (i.e. only when it rains) and is surrounded by steep, orange-red cliffs. The water is deep and can be quite chilly so be prepared for a little bit of a shock.
Fern Pool
Location: Karijini National Park.
Approx. 1400km north of Perth.
The Karijini National Park sits in the prime iron ore mining country. While it's undoubtedly isolated, the unrivalled natural beauty and "diamond in the rough" quality make it a must-see.
The Fern Pool is arguably the jewel in the crown. Nestled between cliffs on either side, the light blue water and small waterfalls are a sight to see. Best of all, Fern Pool is the most accessible pool in the park and one of the deepest too.
Greens Pool
Location: William Bay National Park
Approx. 500km south-east of Perth
Greens Pool is a little bit different to the others listed here. Rather than being located in a tropical rainforest, it's a tranquil ocean pool.
Greens Pool features a pure, white sand beach sheltered by a ring of enormous granite boulders which protect the beach from the ocean swell. The still water creates the perfect place for swimming and snorkelling.
The calm waters provide the perfect place for young kids to swim in a safe and manageable environment.
The Top End
Keen to head further afield? The Northern Territory may be Australia's home of the natural swimming hole. You'll be spoilt for choice but watch out for crocodiles while you're there.
Gunlom Plunge Pool
Location: Kakadu National Park
Approx. Two hours drive south-east of Darwin
Kakadu National Park is home to a host of Australia's best swimming spots. For the purposes of this list though we've chosen Gunlom Plunge Pool as our favourite.
Located on Waterfall Creek in the south of the national park, Gunlom Plunge Pool sits at the top of a steep cliff. The views from the pool stretch as far as the eye can see, made up of a sweeping woodland landscape. Shady areas are available too so you can have a picnic lunch after your relaxing swim.
Florence Falls
Location: Litchfield National Park
Just under two hours drive from Darwin
The swimming hole at Florence Falls is home to not one, but two waterfalls! That's right, a double waterfall. With cliffs all around, the plunge pool at the base of the falls is a sight to behold and will no doubt feature prominently on your Instagram profiles.
To access the pool you'll need to navigate a 160 step staircase while there's also a lookout at the top if you're keen to get some snaps of the falls.
Are swimming holes dangerous?
Water holes are a great place to relax, swim and cool down. However, they can be rife with hidden dangers and risks.
While this is not meant to scare you, it's important to be realistic and upfront about the potential perils and pitfalls you might encounter. Every year, many people are injured and some even drown.
Natural water holes are unsupervised and lack adequate safety equipment. In addition to this, other risks and hazards include:
Slippery or loose rocks
Strong currents
Submerged debris (e.g. rocks and logs)
Variable depths
Ever-changing conditions.
Swimming holes: staying safe
While swimming can be risky, there are plenty of things you can do to stay safe. At the end of the day, we want to ensure you have a great day out and return home safe and sound.
With a bit of planning and responsible decision making, you can avoid many of the key pitfalls people encounter when they visit natural swimming locations.
Key tips include:
Take a friend
We have to start with the first (and most important) rule of swimming: "Never Swim Alone."
Almost all natural holes are unsupervised, so if you get in trouble there likely won't be anyone around to get you out of it.
By taking a swim buddy, you will always have someone there who can assist you. Even if they cannot help you, they may be able to alert someone who may be able to.
With the multitude of potential risks present at any natural swimming hole, going it alone is rarely a good idea. Share the enjoyment of the day with a friend and most importantly, stay safe.
Observe the environment and know the conditions
When you arrive, don't dive in straight away. Take a few minutes to assess the environment. Look where others are swimming, check the depths and work out the best paths to take.
In addition to this, make sure you keep in mind what the weather has been doing recently. Recent heavy rains can create swollen banks and deceptively strong currents. These dangerous conditions can even linger for days after a major rain event.
By knowing what you're dealing with you can stay safe and exercise good judgment.
Stay Sober
Don't swim drunk because it's a really bad idea. Impaired judgment combined with slow response times and poor motor control is a lethal cocktail that can have deadly consequences.
Sober swimming is safe swimming.
Don't swim above or below waterfalls
While beautiful and alluring, waterfalls can be extremely dangerous. Fast currents can sweep swimmers over the falls while the strong undertows can trap you underwater. Throw in some slippery rocks and waterfalls can be hazardous as it gets.
Watch out for slippery rocks
Most natural swimming holes are lined by rocky shores. Algae, moss and erosion can make these rocks loose, slippery and almost impossible to navigate.
So, take it slow. Ensure you have a firm footing before hopping from one rock to the next. The last thing you want to do is fall because you'll end up cut, bruised, grazed or broken.
Pack a rope
Many natural swimming places won't have defined entrances or exits. If you have trouble climbing over rocks to exit the water then having a rope to hold onto can be extremely useful.
In addition to this, most locations don't have safety equipment. If someone gets in trouble, your trusty rope could be a lifesaver. Just throw them the rope and pull them safely to shore.
Don't overestimate your abilities
Be realistic about your swimming abilities. Know your limits and don't put others at risk by getting yourself into trouble. Moreover, there won't always be someone there to rescue you.
All too often those with little to no swimming ability get caught up in the moment and take reckless risks endangering themselves and others.
So, if you're not a strong swimmer, stick to the shallows. Recognise your own limitations and stay safe.
Slip, slop, slap
This isn't a water safety tip but it's no less relevant. If you're going to spend a day out in the sun then be smart.
Pack your sunscreen, sunnies, a hat and SunSmart clothing. As anyone who has dealt with sunburn will tell you, it's not fun.
Sun safety is simple but all too often it gets lost in the shuffle so make it a priority.
Pack food and water
If you're heading to a swimming hole in the middle of the roasting Australian summer, heatstroke and dehydration are always a concern. In addition to this, swimming all day uses plenty of energy too.
Eat regularly and drink plenty of water. Dehydration can sneak up on you and it's easy to forget about. Be vigilant and always pack extra.
Don't trust the water
Natural swimming spots can be a great place to cool off on a scorching summer's day but don't get complacent. The depth, current, underwater structures and overall safety of many natural holes change regularly.
A bout of heavy rain or even long periods of heat or drought can turn your placid, local oasis into a minefield of potential danger. Floating logs, loose debris, rapid currents or previously submerged rocks are all risks to your safety.
Ultimately, the key takeaway is don't take anything for granted. Each time you visit, take a few minutes to observe your surroundings to ensure you have the lay of the land and can avoid any lurking hazards.
Swimming holes: beat the crowds
If you've ever tried to visit the beach in the middle of summer, during the peak of school holidays, you know it can be hectic.
First, you have to find a park, then you have to run across the burning sand and finally, you have to find somewhere for your towel.
Visiting a swimming hole could be your stress-free solution. There's no doubt some are extremely popular and you'll run into crowds. However, if you do some research, you might be able to uncover a hidden gem.
If you're up for an adventure, you can have a swim in a stunning natural pool, free from the crowds. Although, you won't be able to catch a wave.
Pick up your rubbish
Leave it how you found it. There's nothing for infuriating than seeing a pristine natural environment being overrun by litter left behind by those who are too lazy to clean up after themselves.
Whether it's wrappers or bottles, it's not that hard to clean up after yourself. Pack a rubbish bag and before you leave to make sure you haven't left anything lying around.
The environment and local wildlife will thank you.
Swimming holes and cliff jumping
If you're looking for a truly exhilarating experience, nothing beats launching yourself from a rocky cliff into the cool waters of the swimming hole below. In short, for many it is the single most alluring drawcard that a swimming hole can offer.
While it's fun and you'll want to try it over and over again, make sure that it's safe before you take the leap. Observe where others are jumping from and ensure the water is deep enough for you to land safely.
Finally, only jump from a height that you feel comfortable with. While some nerves are normal if you are fearful, then things can potentially go wrong. Don't let anyone pressure you into something you don't want to do.
Can I take my dog to a swimming hole?
Humans aren't the only ones who enjoy cooling off in a beautiful natural spring. Our four-legged friends do too. Luckily there are a few dog-friendly locations near Brisbane.
Our tip: check out Bunya Crossing Reserve in Albany Creek or head out to Kedron Brook. If you're keen on an adventure there may be a few swimming holes near Ipswich QLD that may be worth a look.
Swimming is about fun
At the end of the day, we want you to have the best day possible. We've tried to give you some of our best tips and our favourite places but now it's up to you.
Do your research, plan your day and most importantly, stay safe.
Finally, if this article has sparked an interest in seeing more of Australia, check out our piece on holidaying in regional Australia.