Joint personal loan explained. Monzi may be able to help you with a personal loan instead up to $15,000. Learn more about joint loan & Monzi.
What is a joint personal loan?
If you take a joint personal loan, you will be splitting the debt between yourself and a second person. This can be extremely useful for several reasons. Although generally speaking, a joint personal loan may either improve your approval chances or increase the amount you can qualify for.
Typically you might take a joint personal loan with someone you are close with. Such as a spouse, friend, partner, or sibling. In some cases, maybe even a parent. Your lender may like to see that you have a strong relationship with the other person before approval. This is as you may be more likely to meet your commitments if you value your relationship.
This second person is known as a co-borrower, and you will carry equal responsibility for the repayments unless decided otherwise. Therefore, if one of you cannot meet your obligations, your lender will hold the other liable for the repayments. When it comes to joint personal loans or any joint loans, you'll want a trustworthy and reliable co-borrower. Learn more about best personal loan rates Australia here.
Why would you want a joint loan?
There are several reasons a joint personal loan or another type of joint loan can be worthwhile. Here is a compilation of some of the most common reasons you may consider a joint loan:
One person has a poor credit history. If you have bad credit, partnering with better credit can increase your chances of approval. In some instances, it may even allow you to borrow more than you could on your own.
You want to share an asset with someone. This is relatively common, especially among married and de facto couples. You may already share the financial load in other areas and want to tackle a mortgage together.
Jointly consolidating debts could save you money. If your family member or partner and yourself have multiple individual debts, taking a new loan to consolidate could save you money. This is because you'd be reducing multiple repayments into one.
A joint personal loan or any joint loan is not always one size fits all. Your life circumstances will decide why you may want to take a loan like this. However, knowing that this is an option may give you access to more opportunities or a helping hand.
Where can you get a joint personal loan?
Many of the mainstream banks will offer joint personal loans. As will some private lenders if you are seeking private loans. Monzi cannot say who offers joint personal loans, each of the lenders in the Monzi network operate slightly differently, and we cannot speak on their behalf.
However, when it comes to larger loans, most mainstream lenders will give you the option to apply with a partner. As the next step for many newlyweds – and freshly de facto partners – is to settle down and own a home or a car together.
If you are unsure where to start looking for a joint loan, several free comparison tools are available to you. These tools allow you to gather a basic understanding of the loans on the market. They generally show you the accompanying interest rates, minimum loan amounts, terms, and repayments. However, if it's individual personal loans that you are looking for, Monzi has got you covered.
Who can you apply for a joint loan with?
Firstly, note that a joint personal loan, and most other joint loans, can only be between two people. You may be able to get multiparty loans in some circumstances. However, this is less common. When you apply for a loan, there are four types of people who may be able to be your co-borrower. These include:
Your partner: a loan with your husband/wife or de facto partner is the most common joint loan.
A parent: taking a loan with a parent can be handy for getting a foot into the property market. You also have the option of a guarantor loan here.
A sibling: you could take large personal loans with a sibling to travel together or even a joint mortgage to move out and share the financial load.
Friends: if you want to take a loan with a close friend, you can. However, ask yourself those tough questions first to avoid friendship strain.
There may be other people you can take a loan with, such as business partners. However, this moves away from joint loans into the multiparty and commercial loans categories. Speak with your lender if you are unsure what your next move may be.
Pros and cons of joint loans
As with any financial decision, pros and cons apply to joint personal loans. Here is an outline of things to think about before you begin a joint loan application.
Advantages
Increased approval chances
Shared repayment responsibilities
You may be eligible to borrow more significant amounts.
Can potentially jointly consolidate multiple debts
Disadvantages
You could end up liable for both repayments.
Your lender can pursue one person for legal action should your loan go awry.
You will be reliant on a second person.
Naturally, however, the success of the joint loan relies on how you are as a borrower and what faith you have in your partner. Don't skip over the warning signs that this venture could go wrong. Mistakes here could negatively affect your credit score.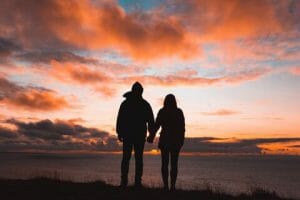 Joint loan for debt consolidation
One reason that you may be interested in a joint loan is for debt consolidation. This is most common amongst couples looking to combine their expenses and potentially save money in the long run. Debt consolidation involves taking a larger loan that will encompass all the existing debts you already have. This will then mean that you use this loan to pay off everything else and only focus on one interest rate and term rather than multiple.
This can be very handy if the pair of you have been struggling to keep track of your expenses and want to clean the slate and focus on one, more considerable, cost. You can then tackle it together and share the burden. Debt consolidation via a joint personal loan is essentially the same as when you refinance a personal loan.
Loans with a partner outside of de facto
The success of a loan with a romantic partner outside of a marriage or de facto relationship is possible with some loan types. You may simply apply for a joint personal loan as friends, considering you don't align with the other relationship options. However, when it comes to big loans like mortgages, you may struggle.
This is because mortgage lenders like you to be either married or de facto. Particularly if you are looking to apply for government grants for first home buyers. However, as you have the option to apply as friends, you could get away with doing so. A mortgage broker may be helpful if you are struggling to get loan approval outside of a legally recognised relationship. Once you get settled and live together long enough to be considered 'de facto', you could consider refinancing to have your relationship status upgraded on your contract. However, this is entirely up to you, and you should consider speaking with a broker or lender before making such a decision.
Loans for married couples
If you have just gotten married, the government will legally recognise your relationship, and you can select the married box on your loan application. With a joint personal loan, you may have the option to choose 'married and paying bills together'. Otherwise, the other choice is 'married and paying bills separately'. The only bearing this has is to help your lender gauge how responsible you are with your repayments.
Aside from this, being married can be pretty advantageous for home loans. This is because it has the potential to double your chances of receiving home loan approval.
Joint personal loan bad credit
A joint personal loan can be excellent if you have a bad credit history. This is because it allows you to redeem your chances with your co-borrowers better credit score. However, if we turn the tables and you have a better credit score, you will need to do some thinking. Why? Because if your co-borrower reverts to their old ways and cannot finish their loan repayments, then you will be expected to pay off what's left solely.
If the pair of you took small personal loans together, this might not be so bad as you may be able to cover it on your own without going into debt. However, if you are stuck with a large personal loan that you cannot repay, it will damage your credit score and your relationship. Hence, joint loan ventures should always be well thought out.
How can you get out of a joint loan?
Ideally, you won't need to walk from a joint loan, and your relationships will remain steady. However, this is not always the case. Due to this, there are ways to split from your joint loan. If your partner wants to leave due to divorce or separation, or a family disagreement, you can have them removed from the loan. To do so, you will need to qualify to cover the remaining loan value on your own. You can then refinance individually to have your co-borrowers name removed. Consider using a refinance calculator when deciding your next move.
Another option that you have available to you is to buy your partner out. This means that you both agree on a reasonable selling price for the property and seek the appropriate legal advice. You then buy your partners share and thereby remove them from the mortgage. The final option you have available to you is to both agree to walk and sell the property entirely. Once you've done this, you can pay out your loan and leave the relationship in the past. It's always best to first try and avoid this, however. If you are looking for advice on relationships and money, MoneySmart has an excellent page worth the read.