The buy now pay later services – Monzi discuss the best pay later services. For cash loans instead, borrow from $2,100 to $15,000 with Monzi!
Buy-now-pay-later, also known as pay later services or BNPLs, are currently revolutionising the ways goods are purchased. There are a lot of consumers looking to utilise this payment method. Many of which are looking to sign up with the best pay later services.
Ultimately, the decision of what constitutes the best pay later services needs to be an independent one. However, Monzi will try and provide you with the information you should know regarding BNPLs. Helping to set you on the track to make the best decision possible.
Please note, specific ideas and products presented in this article may not be on offer by Monzi nor the lenders we work with. This article presents only general information. Consider seeking professional financial, taxation, legal or other advice to check how the information and ideas presented on this website relate to your unique circumstances.
What are the best pay later services?
Unfortunately, it is not up to Monzi to decide which services are the best pay later services. We endorse freedom of thought and your right to make up your mind. Instead, we seek to provide our customers and readers with as much information as we can.
This article won't be comparing the best pay later services. However, it may be worth noting that various free sites serve the purpose of making comparisons. If you are looking for a categorical comparison of BNPLs, start there. However, if you are newer to the topic, this article will help shed some light on all things buy-now-pay-later. Why not use us as a starting point for your research. We will be the first stepping stone in your journey to picking the best pay later services for your needs.
Why can't Monzi say who the best pay later services are?
You wouldn't want to hear which retailer offers the best scuba gear from a motorbike salesperson. So, Monzi has no right to tell you which buy-now-pay-later service to utilise. However, if it is anything related to personal loans, we can (biasedly) tell you the Monzi lender-finder might be one of the best services.
Whether it's small cash loans, no credit check loans, or online payday loans, Monzi may be able to help. Our network of lenders are lenient and may be willing to help you get the cash you need. Monzi is 100% online, so whenever you are ready to place your application, you can do it from the comfort of your own home. Or on a road trip, or even in the bush, if your internet connection reaches, we'll do our best to help.
Read more about buy now pay later no credit check Australia here.
What may make a service one of the best pay later services?
When comparing the various services on the market, the main selling point of pay later services is their charges. There are four main charges you may encounter when operating through one of these services. These may be late fees, account-keeping fees, processing fees, and establishment fees.
Establishment fees are the first payment you might encounter. This is a fee to set the account up. It is a one-off fee; however, it can be pretty expensive. Expect to pay anything up to $100. The next is payment processing fees. Expect to pay this every time you make an instalment payment; often, it is a couple of extra dollars for each instalment. Account keeping fees may be around the $10 mark and accrue on top of your set repayment. You will only pay a late fee if you miss a payment; expect this to be approximately $15.
As for other details that may influence your interest in a service, look for features such as caps on late payment fees per order. The industry is competitive. Shopping around may be your ally.
Buy now pay later bad credit Australia
In some instances, pay later services may not require a credit check for you to make an account. If you have bad credit, this may be good news. However, having any form of pay later payment in progress is a form of debt. It is simple to end up in a lot of debt when utilising services like these.
Consider your financial position and whether you can afford the potential debt you could slide into, before opening an account. If you are already in pay later debt, the government's MoneySmart buy-now-pay-later page has some helpful information available.
Not everyone who has bad credit, however, is currently bad at managing their finances. Lousy credit may simply be an indicator of some past troubles. This provides people with bad credit an equal opportunity to interact with a service that can be immensely useful. As long as pay later users keep the risks in mind when doing their shopping.
Buy now pay later no credit check
Most pay later services will not conduct a credit check. You may be able to get a buy now pay later no credit check instant approval Australia. The definition of 'instant' here may vary from platform to platform. Typically, instant means 'within the hour' or 'within the day'. However, in terms of credit checks, it is dependent on the service provider as to whether you will have to undergo one before establishing your account.
In this instance, conducting a credit check may benefit you in the long run if your money management skills are not strong. However, if you have made some past mistakes but are doing much better now, it is understandable why you may want to avoid a credit check. Carry out your research into the service you think you would like to sign up with. You should be able to find credit check information on their website before applying.
Buy now pay later no deposit Australia
BNPLs are not like mortgages. You won't need to pay an outright deposit. Establishment fees are different from deposits in the sense that you simply pay the set fee, and the account is all yours. Deposits often influence how much you can borrow. Pay later services typically come with a spending limit that is the same for every user. Again, this is dependent on the company; however, this limit is usually around the $2,000 mark.
The limit is there to prevent you from getting into more severe debt. If you reach this transaction limit and feel the need to sign up with a second service to continue shopping, this could be a problem. Consider seeking help from the National Debt Helpline if you feel your spending habits are getting out of hand. There will most likely be a minimum limit on your pay later purchases as well. This is often because the amount is too small to warrant repaying in instalments.
Buy online pay later
Pay later services for online purchases are frequent. If you consider yourself an avid online shopper, you can utilise the best pay later services as an alternate payment option. Doing so means that your item/s will be on the way as soon as you checkout, and you won't have to pay the total upfront. This can be particularly handy if you are a busy person who doesn't have time to get to the shops. The option to pay in instalments is also quite useful. If you are between paychecks but need to make a purchase, the cost won't put a dent in your savings.
You can also use the best pay later services in-store. The process for this is simple. All you will need to do is download the mobile app for the service you use and set up the card in a digital wallet. From there, you will need to utilise either Google or Apple pay to make a contactless payment. Ensure that you have the latest version of the app for a smooth transaction process. Keep in mind that not all stores cater to BNPLs. If you frequent certain stores, it may be best to check that these stores permit the service, so you don't establish an account you won't use.
Pay now vs pay later
One issue you may be unsure about is when to use pay later and when to pay upfront. You aren't alone; here is a list of situations where each payment may be better-suited:
Pay now
The purchase price is too low to warrant a pay later service. That quick trip to the shops to pick up dinner is probably better paid for upfront.
The store doesn't cater to BNPLs. You can't use the service if it isn't on offer.
You foresee the potential for missing a future payment. Don't put yourself in the position where you need to pay late fees.
Pay later
Use it if you are between paychecks and know you will be able to repay the instalments on payday.
You live a busy lifestyle and won't have the time to get to the shops. Pay later is available for many online stores.
You make a big purchase and don't want to dip into your savings to cover the costs.
These are just some examples of instances where these respective payment methods may be helpful. Always reflect on your circumstances before making any financial decisions.
Shop now pay later Australia
You may have also heard BNPLs referred to as 'shop now pay later'; this is simply a title for the same feature. You may see it used on in-store advertisements when they sign on with a pay later service.
BNPLs in Australia may function slightly differently from the way they operate in other countries. When deciding about the best pay later services, ensure you are looking at Australian company pages; as with anything financial, you should thoroughly understand all the information so that you know what the service is offering and how it can benefit you. Again, visiting the government pages that discuss pay later services is a great way to understand the information applicable to this payment method. It also offers insight into what to do if you feel like your spending habits are becoming unmanageable.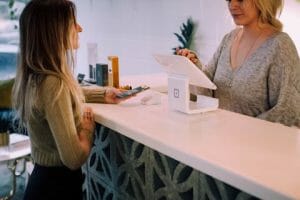 Buy now pay later easy approval
Generally, it can be pretty easy to get approval for a buy-now-pay-later account. Particularly if a credit check is not required. The most common information you will be required to present when applying for an account includes:
Your email address or phone number
Billing information and your address
The details on either your credit or debit card – it's up to you which you'd like to link.
Identification to prove you are over 18
Assembling all of this information before you apply may speed up your approval process. Essentially, however, pay later providers are looking to ensure they can legally work with you and that you have funds available to pay any instalments. Keep in mind that, as with Monzi's services, the services of most businesses will not take place outside office hours. This means that if you apply for an account on Friday afternoon, you may not get a response until Monday morning.
Buy now pay later no interest
If you are prompt with your instalment repayments, buy-now-pay-later can be interest-free. However, this is not the case if you are paying by credit and are late with your payments. Most pay later services won't charge you interest, only late payment fees. However, if you choose to link your credit card to your pay later account rather than your debit card, your credit provider can charge you interest on the outstanding balance.
This is simply how credit providers operate. Choosing to pay via BNPLs will not alter this. If you choose to link your debit card to your account instead, interest may never be an issue for you. Keep in mind that if you miss a payment, you won't get off scot-free. Late payments still have a consequence. And, whilst the fees might not seem very high, you should remember that this may be an extra $10 to the total cost of your purchase, not just to that week's payment.
Buy now pay later apps Australia
Most of the best pay later services have accompanying apps to make utilising the services more straightforward. These apps are mainly for setting up the card in a digital wallet and making the payments in-store. Some of the most popular apps and brands in the pay later field include AfterPay, Zip Pay, LatitudePay and Klarna.
These are just a few of the buy-now-pay-later companies that you can choose from. If you would like a side by side comparison of all the companies in the Australian market, you can find a free comparison tool online. These tools often give you a background on each company, alongside how to sign up, affiliated stores, and associated fees. Once you narrow down your decision to the best pay later services, you can visit their websites individually to narrow your decision down to one.
Can you have multiple accounts with the best pay later services?
Technically, yes. You can have multiple accounts across multiple services. However, financial institutions don't suggest this. You may be far better off choosing the best account for you and only using that one account. This is because managing multiple weekly instalments across several accounts is an excellent way to set yourself up for failure. The limits are there to protect you from yourself and any potential debt you may get into.
If you have found that you have already relied too heavily on a pay later service, it may be wise to close your account until you are back under control again. If you successfully manage this, but foresee your payments getting out of control again if you reopen your account, it may be best to avoid doing so. There is always financial help available for any kind of debt, whether it is a smaller BNPL debt, a mortgage loan or a personal loan debt.
Do the best pay later services hurt your credit?
Whether utilising a BNPL will affect your credit is dependent on the provider you operate through and whether you get yourself into serious debt as a result. Although some companies may do a credit check, which will show on your credit report, it shouldn't affect your score. These companies try their best to limit the number of requests they have to make to view your credit report. You may also encounter a credit check if you request to raise the maximum spending limit on your account.
, if you start consistently missing repayments, this could potentially result in a default on your report. Although, there are some transparency issues within the industry. These issues do pose risks when using these services. When doing your research, it is best to develop a strong understanding of the terms and conditions before engaging with the service. If you would like more direct answers, reaching out to the company via email or phone may find you the answers you seek.
Best pay later services vs layby
Before there were BNPLs, there was layby. However, layby isn't dead. In many larger retailers and some small ones, utilising layby is a great alternative to pay later services. This is because it lacks some of the associated risks that BNPLs come with. If you didn't already know, taking a layby on a product works essentially in reverse of the pay later service. Layby holds your goods until you have finished making your weekly or bi-weekly repayments and then allows you to take them home.
Operating by withholding the product encourages you to be prompt with your payments without the requirement of late fees. You can pay your layby by debit or credit. Rather than incurring late charges, your product will simply go back into circulation. A layby commonly gains popularity in advance of big holidays such as Christmas. This is so that, rather than paying for hundreds of presents in one go and digging into your savings account, you can slowly pay for the goods in advance. If you are struggling with money and need to make purchases, but don't trust yourself with a pay later service, ask your local stores about the possibility of taking a layby instead.
What's the maximum limit on the best pay later services?
Across most of the best pay later services on the market, you usually start with a base limit on your purchases of around $2,000. This isn't the case with all providers; however, a lower limit allows you to safely explore BNPL usage without the chance of putting yourself into a large amount of debt. Particular pay later services may decide your initial limit on the bank details and credit report information that you supplied for review when opening your account.
However, if this initial limit isn't as high as you had hoped, you don't have to fret. You can apply to have the amount increased, should you wish. Some providers may require you to engage with the service for a certain amount of time to demonstrate responsible use. If for whatever reason, you can't afford to spend the time proving you are worthy of a larger limit, there may be some things you can do. Some providers may allow you to 'boost' your limit by providing extra documentation to prove you can manage your money well.
While you have existing payments to be made, you can only spend whatever remains within the limit. Once all your payments are complete and you have nothing outstanding, your limit will reset itself to the total amount.
What's the minimum limit on the best pay later services?
Whilst less common, the minimum amount is usually around $40. This is to deter you from wanting to make multiple microtransactions when you could pay upfront instead. Ideally, you should be using your pay later service to cover higher costs. Furniture, for example, is a good use for buy-now-pay-later as it would allow you to make the price of a couch more manageable. In contrast, multiple little costs may signal that you are not very good with managing your cash and may, in turn, restrict you from increasing your limit.
If you are hesitant due to the potential for overspending that the pay later services may offer you, you could consider small same day loans instead. If you match with one of the lenders in Monzi's network, you could get a small or medium loan to cover the cost. Interest will apply; however, you only have a set amount of cash to spend if you do it this way.
Why was my buy now pay later service declined?
There are two ways your buy now pay later can decline. Your provider either denies your account application or your transaction request. If your provider refuses your application, it may be because you don't currently meet the provider's standards. As with any credit providers, BNPL providers have a duty and a government-issued requirement to provide users with credit, responsibly. They cannot allow you to use their service if they feel it might put you into debt.
If your transaction is declined, it could be for one of two reasons. The first is that you have reached your limit and still have outstanding instalments that need repaying. The second is that you have too much debt associated with your pay later account. At a certain point, your provider may have to cut you off. If this does happen, it may be wise to seek help repairing this damage so that you can start fresh again without repayment worries.
How frequently are buy now pay later instalments charged?
Instalments usually take place either weekly or fortnightly. Before you make your purchase, if you are shopping online in particular, the store should show you what your payment may be split into. Usually, this split is into quarters. This allows you to potentially finish repaying your instalments in a maximum of two months.
Not every provider operates the same. Some may offer you the option of a different split. However, keep in mind that the sooner you make all the payments, the sooner you can use your pay later service to its full potential again.
Monzi isn't one of the best pay later services, however…
Here at Monzi, we are not a pay later service. Our specialty is finding you a lender for your personal loan needs. If you meet our criteria and are ready to use our lender-finder, all you have to do is click 'apply now' or scroll up to our slider at the top of the page.
From there you just have to give us a few details about yourself. Then, we will do our best to find you a lender in as little as 60 minutes. If you aren't ready to apply right now or have some questions to ask first, email our friendly team at [email protected]. We will do our best to help you out and clear up anything you don't understand.
Want to be friends?
If you liked this page and want more information like it or just to keep in touch, why not be our friends? Check out our Facebook, Instagram, Twitter and Pinterest.We look forward to seeing you there!
Alternatively, why not read about the next up and coming payment method? Check out access your pay early Australia and on demand pay.