Buy now pay later services are becoming increasingly popular in Australia. Moreover, more and more Australian consumers are choosing these services when they shop. Not sure how they all work? No stress – Monzi can explain it all.
Please note, certain ideas and products presented in this article may not be offered by Monzi nor the lenders we work with. This article presents only general information. Consider seeking professional financial, taxation, legal or other advice to check how the information and ideas presented on this website relate to your unique circumstances.
What is buy now pay later?
Buy now pay later services, also known as interest-free finance, allow you to repay a purchase over a period of time, without paying any interest. These services may be offered by a number of credit providers, including Afterpay, Zip, Onepay, as well as by retailers and other companies.
Keep in mind, interest-free finance does not function like a typical loan. While you do not repay interest, there may still be costs involved. Monzi explores all of this and more later.
Book now pay later flights
If you spy a red hot deal on flights but don't have the money in your savings account, you may not have to miss out. In short, a number of travel agents and airlines may allow you to book a future flight for free, or with a small fee attached.
Generally, the agent or airline will not charge you interest if you repay your loan by the deadline.
Examples of companies potentially able to let you book now and pay later may include:
Flight Centre
Virgin Australia
Qantas
Student Flights
etc.
Clothes
Fashion waits for nobody – not even your bank balance. If you find a pair of shoes you can't live without, you may be able to purchase it now and then make interest-free repayments over the coming weeks or months.
Luckily, the range of clothing companies that offer interest-free repayments is immense. In short, a quick search online will show you the sheer number of potential options.
Moreover, you may be able to buy the clothes you want now and pay later online as well as in-store.
Mobile phones
Looking for interest-free instalments on mobile phones and other electronic devices? Luckily, there is a heap of telecommunication providers, as well as electronics retailers that may be able to accommodate interest-free payment platforms.
Get in contact with your service provider for more information.
Buy now pay later gift cards Australia
Can't quite find the perfect gift?
You could always just purchase a gift card. That way, they can buy whatever they want from their favourite store and you don't have to deal with the stress of trying to find the right present.
The good news is that there may be BNPL services that allow you to purchase gift cards through their website. As a result, you can send that special someone the gift card today and spread the costs evenly over the coming months. It's a win-win.
Unfortunately, though, Monzi is unable to provide specific details as to what gift cards may be available. As a result, you must do your research if you would like to make a purchase.
What are some buy now pay later companies?
As we mention above, Aussies are spoilt for choice when it comes to interest-free payment services. There are now more options than ever.
To give you a better idea, we'll outline a few of the major players in Australia, as well as a very brief description on how they work.
Afterpay. Use online or in-store; repayments made over four fortnightly instalments.
Zip Money. Line of credit between $1,000 and $30,000 that can be used at any participating retailer.
Zip Pay. Use at any participating retailer; limit up to $1,000. Minimum monthly repayment of $40.
Humm. Use Humm for purchases up to $30,000; repayment terms up to 60 months.
Openpay. Choose Openpay in-store or online. Repayments made in fortnightly instalments.
How do I sign up for interest-free finance?
There is a range of BNPL service providers in Australia. Moreover, you apply directly with the provider. Once you have made your decision, you can apply directly via the buy now pay later app or through the provider's website.
Bear in mind, instant approval is not guaranteed. While the eligibility criteria for these services is relatively easy, providers will still assess your application.
The provider may decline your application if they feel you to be unsuitable.
Buy now pay later no credit check Australia
Most interest-free finance platforms will conduct a "soft credit check" when you apply. Moreover, lenders will confirm your details, as well as whether your credit report has any bankruptcies or debt agreements. Despite this, a soft check won't affect your credit score like a hard credit check would.
You may not be eligible if you have major defaults or other bad credit listings on your report.
Confirm with the service provider whether or not they credit check you.
Is it a good idea to use these services?
Whether or not using a BNPL service is a good idea will depend on your personal situation and preferences. Therefore, we've included a list of pros and cons to better equip you to make that decision.
Pros
Convenient. These services are readily available online or in-store.
Easy sign up. Setting up your account is generally simple and may only take a few minutes.
Interest. Obviously, credit providers offer an interest-free period. This is ideal if you make repayments on time.
Credit card alternative. May be a cheaper alternative to a credit card.
Cons
Encourages spending. One criticism of these services is that they encourage poor spending habits. After all, you now have the power to take purchases home without spending a cent.
Late fees. Providers charge fees for late or missing payments. These costs can quickly add up.
Hard to manage. It may be difficult to keep track of your payments if you sign up to multiple services.
Future loan applications. Credit providers now consider these transactions when they assess your mortgage or car loan application. Moreover, lenders may not look on these transactions favourably.
Credit report. Late or missed payments may be listed on your credit report.
Weigh up the above information. Moreover, consider whether these services are for you. Finally, any credit product should meet your needs and objectives and is also reasonably affordable.
Are there any alternatives to these services?
As we have established, buy now pay later services may not be for everybody. If you are looking for alternative interest-free financing options, consider the following.
Lay-by
A lay-by agreement allows you to purchase a product over two or more instalments before taking it home. Therefore, lay-by may function quite similar to BNPL services, except you take the product home after finish paying it off.
In addition, there are no account keeping or late fees for lay by.
No interest loans
If you earn a low income you may be eligible for the No Interest Loan Scheme (NILS). These interest-free loans from community initiatives allow you to borrow credit to cover the cost of essential items.
The NILS site shows you how to apply. Alternatively, call NILS on 13 64 57.
Savings
Yes, we understand that using your savings defeats the purpose of BNPL; however, there is a lot to be said for knuckling down to reach your savings goals. If you aren't sure where to begin, MoneySmart has a free savings goal calculator.
Can you buy now pay later on amazon?
Yes! Consumers are able to make purchases on amazon now and pay at their pace with Zip.
You first need to have a Zip account and then link it to your amazon account. From there, Zip pays amazon on your behalf when you make a purchase. Next, you pay Zip back over instalments.
Before applying
There's no doubt interest-free financing can be tempting. After all, with the click of a few buttons you could have that new TV without paying a cent! Despite this, however, there are a number of factors worth considering before you apply:
Fees. There will always be some sort of fee or charged applied to your line of credit. Moreover, most fees are associated with withdrawing cash or missing repayments. Confirm the payable fees and charges before applying.
Interest. You will be charged interest if you fail to repay your loan within the interest-free period. Depending on the provider, rates may be as high as 29%.
Minimum repayments. Making the minimum repayments is unlikely to repay your loan within the allotted interest-free period. Therefore, if you do not make bigger payments you'll be charged interest.
Credit history. Failing to make repayments can affect your credit score. Stay on top of your repayments and do not over use these products.
Struggling with debt
While these services may seem relatively benign, consumers should still be cautious about racking up debt. After all, according ASIC's MoneySmart site, a 2018 study into pay later services found that in order to meet their repayments, one in six Australians either:
became overdrawn on their linked account;
delayed other bill payments;
borrowed money from their friends or family.
As you can see, BNPL services may encourage over-spending. Moreover, many consumers may fail to consider whether they can afford their upcoming repayments. Before long, you may find yourself struggling with debt.
Get in contact with the National Debt Helpline for free and impartial financial advise. Moreover, you may receive tips to managing and reducing your debt.
You can get in contact by visiting their website or by calling 1800 007 007 bettwen 9:30am and 4:30pm Monday to Friday.
What are the best buy now pay later websites?
In short, we cannot say.
While we've listed some of the most popular BNPL websites earlier, it will be up to you to decide which one is right for you.
To do this, you'll need to compare your options. Consider the costs, terms and conditions, repayments as well as any other relevant factors to determine which organisation offers the terms that suit you the best.
At the end of the day, the best BNPL service for you may not be the best for someone else. As a result, it's totally up to you.
How can I manage my buy now pay later accounts effectively?
Managing your account isn't that difficult as long as you implement a few relatively simple measures. However, all too often, Aussies just like you get complacent. As a result, they can find themselves in trouble or with more debt than they can handle.
So, before you make your first purchase, consider utilising the following strategies:
Make a budget and stick to it
As with all spending, it's crucial to set a limit. While it's easy to throw purchases on BNPL and forget about them, this is the quickest route to disaster. As a result, before you sign up, you should consider your current budget and determine a hard limit that your outstanding amounts should not exceed.
An easy way to do this is to use an online budget planner. As an example, check out the Moneysmart planner where you can enter and categorise your expenses so that you know exactly how much you can afford to spend.
Set payment reminders
Yes, you can make payments automatically. However, you still need to keep track of them. As a guide, set a reminder for the day before your payment is due. Then, check your online bank account to ensure that you have sufficient funds in there to cover it.
Keep a record of your current payments
When you log in, you'll be able to check what you currently owe and when your payments will be. With this, monitor it regularly and after each new purchase check it to ensure that you haven't exceeded your budget.
You only need one account
Yes, there are a host of BNPL companies. However, you only need one account. That way, you can keep all your current payments in one place. In short, it makes it much easier to track.
Read the terms and conditions
Yes, we understand that they are long and boring. However, it's important to understand what you are signing up to. Check out their policies as well as any fees or rates that may be charged. It could potentially save you in the short-term and the long-run.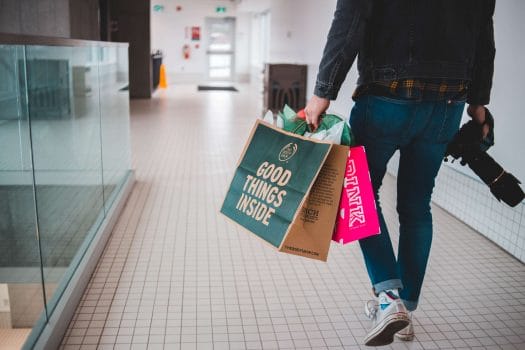 Buy now pay later no deposit no credit check Australia
The major selling point of BNPL later is that you pay nothing up-front. As a result, you can make your purchase and have it shipped to you today with nothing leaving your account.
While this seems great, it's important to remember that you will have to make your repayments eventually. As a result, don't let your costs add up. Monitor your current expenses and make sure that it never exceeds your budget.
The other selling point comes from the fact that there's usually no credit check. While BNPL services may retain the right to do so, typically they will only conduct a soft credit inquiry. As a result, this usually won't be listed on your credit report.
Buy now pay later bad credit
Have you got a few credit mistakes in your past?
The goods news is that you may still be able to buy now and pay later. That's because these organisations are not strictly lenders. As a result, while they retain the right to conduct a credit check, typically it will only be a soft inquiry. That means that, as long as you meet the general eligibility criteria, your account may be opened.
Having said this, if you have had trouble in the past managing your debts or repaying bad credit loans, think long and hard about whether buying now and paying later is the right choice for you. After all, you will need to manage your repayments effectively. Otherwise, there may be ramifications for your credit report and budget.
Is buy now pay later bad?
It's difficult to say.
Whether the best pay later services are right for you depends on your unique financial situation, as well as how you manage your accounts.
On the positive side, if you make your repayments on time and stick to a budget, then BNPL companies can provide an easy and manageable option to help spread your expenses out over a long period. Moreover, given that that little to no interest is charged, they are often a better choice than making your purchases on a credit card.
On a negative side though, if you over-extend your budget or miss your repayments, then issues can arise. You may need to pay late fees and your missed repayments may be listed on your credit report. As a result, it may be more difficult to access credit in the future.
Ultimately, though, in most cases, whether it's good or bad will come down to you. If you manage it correctly, then it can be a useful financial tool. However, if you manage it poorly, then you may find yourself in hot water.
Will buy now pay later affect my credit score?
In short, it may.
Typically, when you apply, only a soft credit inquiry will be conducted. As a result, this usually will not be listed on your credit report and your score will remain unaffected.
Your credit score may be affected though if you fail to make your repayments. This information may be included in your repayment history that is listed on your credit report. As a result, your credit score may take a hit.
Finally, note that while buy now pay later purchases may not always impact your credit directly, if you apply for a fast loan then lenders may consider your transaction history. As a result, it may affect whether or not you are approved for a loan in the future.
What information is added to my credit report if I use buy now pay later services?
In most cases, information regarding your buy now, pay later purchases will only be listed on your credit report if things go wrong. While soft credit inquiries usually will not be listed, BNPL companies may report any late payments or defaults to credit reporting agencies. As a result, this is the information that reporting agencies may add to your credit report.
I'm struggling to manage my buy now pay later accounts: what can I do?
If you find yourself over-extended or you suffer a change in circumstances that leaves you unable to make your payments then there are options for you. Most BNPL companies will have dedicated financial hardship departments in place to help you manage these situations.
Given this, you must contact them and they will guide you through the process. If your application is approved, then your current repayments may be modified or certain fees may be waived. However, BNPL organisations assess applications on a case-by-case basis meaning that we cannot guarantee if changes will be implemented.
Is Monzi a buy now pay later service?
No, Monzi is not a BNPL service. Instead, we are a lender-finder service for consumers looking for personal loans.
In short, you can apply in minutes with us and we'll do our best to match you with a potential lender. The following loans are potentially available from Monzi's panel of lenders:
| | | | |
| --- | --- | --- | --- |
| Small personal loan | $300 to $2,000 | over 12 months | unsecured |
| Medium personal loan | $2,001 to $4,600 | 13 to 24 months | secured |
| Large personal loan | $5,000 to $10,000 | 13 to 24 months | secured |
The above table is just a guide. The actual terms of your loan may vary.
Am I eligible for Monzi?
You are eligible for Monzi if you meet the below criteria:
18 years of age
Australian Citizen or Permanent Resident
Have a personal email address and mobile phone number
Have a personal bank account with online banking active.
You're free to apply if you meet the above. Bear in mind, however, qualifying to apply with Monzi does not guarantee you being offered a loan. After all, each lender in our network is an independent company with their own criteria and processes.
How do I apply with Monzi?
If you think that Monzi's lender-finder service is right for you then that's great! You're ready to begin your application.
At Monzi, we've ensured that applying is easy so that you can potentially have it completed before you know. As a result, you can get on with your day sooner. All you need to do is follow these easy steps:
Step one: apply
First things first, you'll need to select your loan amount and preferred repayment term. You'll then need to complete Monzi's application form. Just enter the necessary personal and financial details then hit submit.
Step two: wait
Once you've submitted your application, you can relax. Our automated system will take over and will attempt to pair you with an available lender from our network who is willing to assess your application.
Step three: outcome
We'll contact you to let you know the results of our search. If you apply during business hours, then we aim to have an outcome for you in just 60 minutes. If we successfully match you with an available lender, then they will be in touch to conduct an assessment.
What information do I need to provide?
If you submit an application with Monzi, you'll notice that you must provide us with a range of personal and financial details. In short, lenders will use this information to assess your application to get an idea of your profile as a borrower. Based on their findings, they'll be able to provide you with an outcome.
Given this, before you apply, make sure that you can supply the following:
General personal information (e.g. name, address, date of birth)
Online banking details
Estimates of your current expenses
Centrelink payment details (if applicable)
Your preferred loan amount and reason for applying
Any other information that may be relevant
Note that failure to provide any of the above details may result in your application being delayed or potentially even denied.
Why do I need to provide my bank details?
When you apply, you must provide Monzi with your online banking details. In short, we use this information to access read-only copies of your bank statements. These can then be passed onto lenders allowing them to get an idea of your current relationship with money (i.e. your income vs expenses). Thereby, they can determine whether or not they'd be willing to consider your loan application.
If you are hesitant to share this information, keep in mind that, at Monzi, we value your privacy and security highly. Once we've accessed the information we need, we'll clear your details from our system. In addition to this, the details of your application will only be viewed by those people that need to see it. As a result, you've got nothing to worry about when you apply with Monzi.
What will lenders assess?
In short, lenders must assess all applications that they receive. The goal of these assessments is to determine whether or not the loan that you've applied for is suitable and affordable for your current financial situation.
Given this, lenders will typically base their assessments on the following factors:
Your credit history: via a credit check, lenders can determine your creditworthiness. That is, how reliable are you as a borrower? This allows credit providers to determine the risk associated with lending you money and the likelihood that you will repay it.
Your current budget: what does the current balance look like between your income and expenses? Are you currently earning sufficient income to cover your regular expenses and what do your spending habits look like?
The loan you want: how would the repayments on your preferred quick loan fit with your current budget? Lenders may alter your repayment term or limit the amount you can borrow based on what you can afford.
Is there interest on personal loans?
Yes! All lenders within our network charge interest on their personal loans. Moreover, each repayment you make will include the principal amount as well as any interest and fees. As a result, personal loans are not the same as buy now pay later services.
If you are looking for interest-free personal loans, you will need to look elsewhere. In short, any loan you're approved for through our service will charge interest as well as other fees.
The advertised comparison rate on your personal loan will include the interest rate plus most of the fees and charges. As a result, the comparison rate may be a truer reflection of the total cost of your personal loan.
Moreover, read through your loan agreement carefully before making a decision. In short, your contract includes all the payable rates, fees and charges associated with your loan. In particular, confirm you understand the following:
Interest. Interest is expressed as an annual percentage of the principal amount.
Fees & charges. Confirm what upfront and ongoing fees apply to your loan. Moreover, confirm what happens if you miss payments.
Term. Your term is the length of time you're given to repay your loan in full. In addition, remember that loans are interest-based. For example, a longer repayment term may result in lower repayments but more paid in overall interest.
Do not sign your contract unless you understand everything. Get in contact with your lender directly if you are confused or unsatisfied with your contract.
How do I make repayments on personal loans?
Repaying your personal loan is straightforward. After all, lenders set up a direct debit from your account. Therefore, your repayments are automatically deducted.
Moreover, you may be able to choose between a weekly, fortnightly or monthly repayment schedule.
Get in contact with your lender if you cannot afford an upcoming repayment. If you give your lender enough notice they may be able to reschedule or cancel your payment for a fee.
Finally, consumers can apply for hardship if their circumstances change. For example, if you lose your job or encounter an injury you may no longer be able to make your repayments. Lenders may offer you a payment plan if they approve your hardship application.
Can I contact Monzi?
Yes, if you have any further questions about Monzi or our lender-finder service then you're welcome to get in touch. Email us at hello@monzi.com.au and one of our customer service team members will respond when they can.
However, note that we can only answer questions about Monzi and our service. As a result, if you have questions about buy now, pay later services or cash loans that you have taken out then you must contact the relevant companies directly.
Buy now pay later and Monzi
While we can't help with interest-free finance, we do know a thing or two about personal loans. Consider Monzi if you're looking for a lender offering loans between $300 to $10,000. We might be able to match you up in no time.
Bear in mind, all personal loans available through Monzi's network of lenders incur interest.
Finally, to learn more, consider reading our guide to layby. It may be a buy now pay later alternative.