Book now pay later – will it change the way you holiday? Monzi explains all. After an alternative? Holiday loans from $2,100 to $15,000. Apply.
Please note, certain ideas and products presented in this article may not be offered by Monzi nor the lenders we work with. This article presents only general information. Consider seeking professional financial, taxation, legal or other advice to check how the information and ideas presented on this website relate to your unique circumstances.
Book now pay later: what is it and how does it work?
We all know about buy now pay later and how it has changed the way Aussies shop. Rather than following the old layby system, you can now purchase an item and pay nothing upfront. Instead, your costs are divided into interest-free instalments that you pay over the course of a few months. But, do you know about book now pay later?
Can I book accommodation now and pay later?
Yes.
Pay later accommodation might be one way to secure your hotel room before your next trip. Wondering how it will work? Allow Monzi to explain.
In most cases, booking now means that you can reserve a room at a set rate. From there, you may need to provide your credit or debit card details. This acts as security, but no money will be charged. When you arrive at your hotel, motel or accommodation, that's when you'll have to pay.
That said, note that this is a general overview of how books now pay later accommodation might work. Different sites and organisations will have different policies. Therefore, you must read the terms and conditions before you complete any transaction. Learn more about buy now pay later no credit check australia here. Learn more about last minute loans here.
Which airlines offer pay later flights?
Born out of the popularity of buy now pay later companies, Australian airlines have begun to offer their own pay later options when you are keen to reserve a ticket for your next adventure.
Beginning with the most straightforward, Jetstar has partnered with Afterpay allowing for a traditional buy now pay later option. You can book your flight today and pay for it via four fortnightly instalments. That said, you may need to pay a small fee. Moreover, this option may only be offered up to a certain amount (e.g. $2,100).
Australia's national carrier, Qantas, offers a different option. You can book now and pay a holding deposit of $25 to secure your seat. You'll then need to make the full payment before your flight leaves. However, the exact payment deadline may depend on the flight you have booked.
Finally, Virgin may allow you to reserve a seat and pay a holding deposit of up to $15. That way, you can lock in the best price. However, you may not be able to defer payment over the long term. Instead, you'll need to pay for your ticket to confirm your booking before the holding period elapses.
At the end of the day, some pay later flights are possible. However, you'll need to confirm the terms and conditions of the options offered by each airline.
Can I combine pay later flights and accommodation?
Pay later accommodation packages sound like a dream. You can lock in your next trip today and worry about making your payment at a later date. With this, you'll need to find participating travel agents or companies who can help.
While airlines and accommodation providers may each offer their own book now best pay later services, to combine the two, you will likely need to go through a third party. For instance, WebJet, might allow you to package flights and accommodation.
With this, though, it's important to note that policies do vary. In other words, these options will only be offered by participating organisations. In some cases, you may need to pay a deposit or a portion of your costs upfront. As a result, Monzi cannot provide any guarantees.
Pay later rental cars
Holidaying without a car can be incredibly inconvenient. If you must constantly hire taxis, the costs can add up. If you are always waiting for the bus or train, you might feel like you're wasting your time off. That's where renting a car might come into the equations.
Generally speaking, rental car companies may offer two options. Firstly, you can book now and pay now. By prepaying for your rental, you might be offered a discount. However, the downside is that you have to pay cash upfront when you make the reservation. The second option may be to reserve now and pay on arrival. That means that you can defer your payment with no deposit until your holiday.
While both options may be viable, consider your budget. If you can take advantage of a prepaid discount, this might be worthwhile. Beyond this, ensure you factor in any security deposits that the rental agency might charge.
Can I book accommodation now and pay later in NZ?
You may.
While it was put on hold due to the COVID-19 pandemic, travel to New Zealand is a common pastime for many Aussies tourists. With this, if you would like to reserve your accommodation and pay when you arrive, this option may be offered by participating hotels. However, you'll need to read the terms and conditions before completing the transaction. In addition to this, you may be able to access pay later NZ deals through various travel companies.
As travel becomes more accessible and feasible, booking now and paying later might be one way to cover the cost of your New Zealand holiday.
Pay later flights to New Zealand
Whether you can book now and pay later for flights to New Zealand will depend on the airline that you are travelling with. With this, each may do things slightly differently.
As a guide, under the new travel bubble arrangements, the three airlines travelling back and forth between the two nations will be Jetstar, Qantas and Air New Zealand. As we've touched on, Jetstar is partnered with Afterpay, allowing you to pay for your airfares in four fortnightly instalments. Similarly, Qantas allows you to book now and pay later, as long as you pay a holding guarantee of approximately $25. Finally, Air New Zealand might allow you to place a fare hold for up to three days.
Ultimately, it will take a while for flights to return to their pre-pandemic prices. As a result, you may need to pay top-dollar for your trans-Tasman getaway. With this, pay later travel might be one way to fit the costs into your budget. Just ensure you read all of the terms and conditions before you book. In the current world, things can change at the drop of a hat.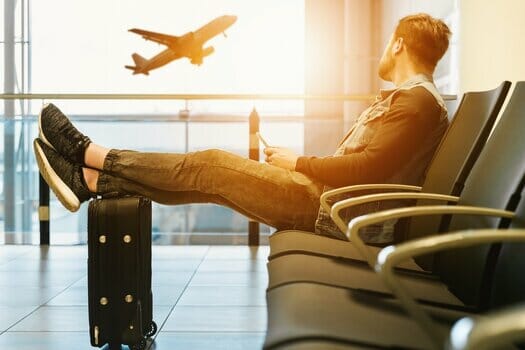 What are the benefits of booking now and paying later?
Commonly cited benefits of pay later holidays include:
You won't miss out: if you've got a holiday planned, you don't want to miss out on flights or accommodation. By making a reservation today, you can ensure that you have a seat on the plane and a hotel room waiting. You might find a lack of options if you book at the last minute.
Save up over time: by booking your holiday today, you can establish realistic savings goals to help you earn the necessary cash to pay for your flights and accommodation. With this, don't overextend yourself.
Manage your budget: we've all got expenses to pay. A holiday might be another one to add to the mix. By booking now, you'll know how much your holiday will cost. From there, you can factor this into your budget going forward.
Travel loans with Monzi – apply from $2,100 to $15,000
At Monzi, we're a lender-finder service. So, if you're looking to borrow money fast to get from Point A to Point B, we can potentially help you get started. All it takes is one application and we'll do our best to match you with one of the great Aussie lenders from our network.
Travel and holiday loans take a standard principal and interest form. In other words, if approved, you receive your entire loan amount upfront. From there, you can pay for your holiday in instalments. After all, lenders will divide your costs into even, regular repayments over terms ranging from $2,100 to $15,000.
Ultimately, travel loans through Monzi's lender-finder service might be one way to cover the cost of your next trip.