Jet ski loan – apply for a personal loan from $2,100 to $15,000. Personal loans for jet skis. Easy online application. Fast outcomes. Apply.
Personal loans available through Monzi may not function as typical boat finance. In other words, you cannot use the jet ski you intend to buy as security. Instead, you must use one of your existing assets as collateral.
How do you finance a jet ski?
There may be a number of ways to finance the purchase of your next jet ski. For example, you may be able to finance it at the dealership or though a credit provider.
You may be able to finance a jet ski through Monzi's lender-finder service. Specifically, we may be able to match you with a lender potentially offering personal loans up to $15,000. You can, therefore, use your funds to cover the cost of a jet ski.
After you apply on our site, Monzi tries to match you with a potential lender. Bear in mind, each lender in our network may vary in terms of their assessment policies and criteria. Therefore, approval is never guaranteed.
Can Monzi offer me a jet ski loan?
We are unable to offer you a jet ski loan ourselves. This is because we are a lender-finder service. However, we work with a wide network of lenders that may be able to help.
Specifically, we aim to match you with a lender offering personal loans. Moreover, lenders may be able to offer loans up to $15,000. The loans potentially available from Monzi's panel of lenders are listed below:
| Personal loan | Amount (AUD) | Term | Security |
| --- | --- | --- | --- |
| Small loan | $2,100 to $2,000 | Up to 12 months | Unsecured |
| Medium loan | $2,001 to $4,600 | 13 to 24 months | Secured |
| Large loan | $5,000 to $15,000 | 13 to 24 months | Secured |
Please note, the above table is only a guide. Lenders may vary in the terms they offer.
How do I apply for a jet ski loan?
Before applying, confirm you meet the following requirements:
18 years of age
Australian Citizen or Permanent Resident
Have a personal bank account
Have a personal contact number and email address.
Meet everything listed above? Awesome! Here's how you apply:
Use the loan slider to select the amount and loan term you'd like to apply for.
Click 'Apply Now' once you're happy with your selection.
Complete the submission form.
Wait while we work.
We'll provide you with an outcome. If you match with a lender, they'll get in contact to complete the application.
Remember, lenders need to conduct their own assessment of your application. Therefore, if you match with a lender, you are not guaranteed approval.
How long can you finance a jet ski for?
Your repayment term is the length of time you're given to repay your loan in full. Moreover, your repayment term will often depend on:
what kind of jet ski loan you apply for;
your lender's policies; and
your own preferences.
Just bear in mind, personal loans are interest-based. Therefore, a longer loan term means your regular repayments are lower, but you pay more in overall interest. On the other hand, the reverse is true for short term loans.
With the lenders in Monzi's network, your repayment terms may range anywhere from a few months to several years, depending on your loan.
What is the best jet ski?
Unfortunately, we cannot say which jet ski is the best. After all, jet skis are available at a wide range of price points. Moreover, different types of jet skis fulfill different roles.
Here's Monzi's simple guide to finding the right jet ski:
Budget. Set a budget before you start shopping around. As we mentioned, jet skis can range anywhere from $2,000 to $15,000. Moreover, factor in additional costs like a trailer, tow bar, registration, insurance and licence.
Passengers. How many people do you see riding your jet ski? Some vehicles may only fit the driver, while others may accommodate multiple passengers.
Intended use. You can do more than riding around on jet skis. If you are keen to tow things like inflatable tubes, consider a machine with decent horsepower.
Inspection. Just as you would with any vehicle purchase, inspect the jet ski before you buy. Look for chips and cracks along the hull and, if possible, see if you can take it out for a test drive.
Finally, don't be afraid to ask for help. Moreover, there is a heap of helpful online resources in Australia. Short of that, you could consider visiting your local water craft dealership to ask for advice.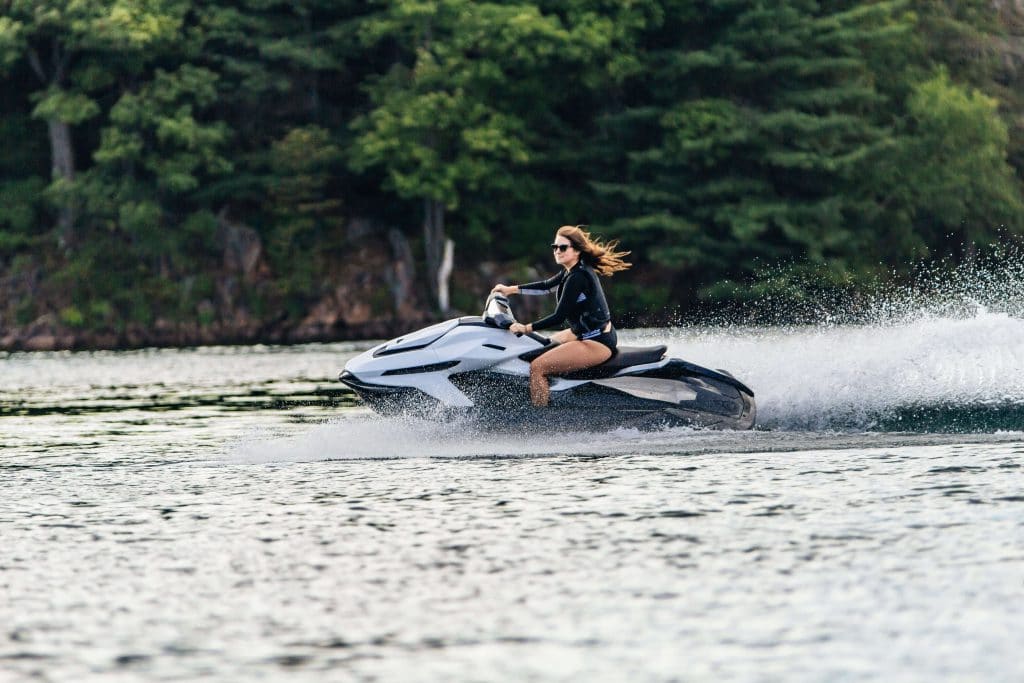 Can I get a secured jet ski loan?
In general, loans over $2,000 require security. However, the personal loans available from Monzi's network may not be typical boat loans. Specifically, you cannot use the jet ski you intend to buy as security. Instead, you must be the owner of one of the following:
If you fail to repay your secured loan, the lender may repossess the vehicle you use as security. Ultimately, repossession is the last resort for credit providers.
Specifically, lenders can only begin repossession if:
you owe more than $15,000; or
25% of your loan.
Moreover, lenders send you a notice giving you 30 days to settle your debt or negotiate a resolution.
You can find more information here.
Can I get a loan without a credit check?
A credit check may or may not be part of the lender's assessment policy. Moreover, Monzi has no way to guarantee which lender you pair with. Therefore, you may not be offered a no credit check loan.
If you are looking to avoid a credit check all together, you may want to consider your options outside of Monzi.
If you do apply with Monzi, however, you may still be considered for approval. This is because Monzi works with lenders that are potentially able to offer bad credit loans. Moreover, lenders may be able to focus on your current:
income
expenses
repayment history with other lenders.
As you can see, lenders may consider you for approval, even if they do check your application.
Can I apply for a jet ski loan online?
Absolutely! In fact, Monzi's lender-finder service is 100% online. From start to finish, there's no paperwork. It's fast, convenient and easy.
In short, it doesn't matter if you're daydreaming on the bus home from work, or relaxing pool-side one weekend. As long as you have a device and a connection, you're free to apply with Monzi.
The best part? You can apply online 24/7. Just keep in mind, you may not receive an outcome until the following business day if you apply outside normal hours.
How long does it take to see my cash?
Outcome times will vary between lenders. Moreover, the nature of your application may also affect when you get an outcome. After all, each application is assessed on a case-by-case basis.
Lenders send you a digital loan contract if they can make you an offer. Your funds are transferred after you approve your contract.
Generally, if you approve your contract within normal business hours, you may receive your cash the same day. Alternatively, your funds should appear in your account by the following business day.
Finally, lenders generally do not process funds over the weekend or on public holidays.
How do I make repayments?
If you thought using our lender-finder service was easy, wait until you hear about making repayments.
Generally, lenders set up a direct debit from your account. Your repayments are, as a result, automatically deducted.
Therefore, all you need to worry about is having enough cash in your account each week, fortnight or month. Moreover, consider lining your direct debt date up with your normal pay cycle. This may make things a little easier.
Ultimately, everybody's situation is different. Weigh up your situation and objectives before making a decision.
I can't afford repayments
If your circumstances change, you may be unable to afford your repayments. More specifically, losing your job or splitting up with your partner may drastically reduce your ability to repay your loan. Luckily, you aren't left in the lurch.
In short, you may be eligible for a hardship adjustment. Here's how you can apply for hardship:
Get in contact with your lender directly and let them know you wish to apply for hardship.
Provide evidence of hardship (e.g. bank statements, medical certificate, separation certificate).
Lenders assess your claim.
Lenders may offer reduced repayments if your application is approved.
If you are struggling with debt, or are not sure where to seek help, consider getting in contact with the National Debt Helpline. Australian consumers can access free financial advice by visiting their website or by calling 1800 007 007 between 9:30am and 4:30pm, Monday through Friday.
Jet ski loans and Monzi
Are you ready to start with Monzi's lender-finder service? Excellent!
Scroll up to the loan slider to begin. All applications happen online.