Boat loans approved online up to $15,000. Easy secured and unsecured loans available. New or used boat purchases. Apply online now.
Personal loans available through Monzi may not function as typical boat finance. In other words, you cannot use the vessel you intend to buy as security. Instead, you must use one of your existing assets as collateral.
What are boat loans in Australia?
Boat loans Australia are personal loans used to cover the cost of a boat. These loans may be secured and potentially valued up to $15,000.
More specifically, these loans are personal loans that can be used to cover the cost of a boat or jetski. Consumers can apply in minutes and may be able to receive a same day loan; you could be skipping across the big blue before you know it.
Bear in mind, the personal loans potentially available through Monzi's lender-finder service may not function like traditional boat finance. Specifically, you cannot use the boat you intend to buy as security. In other words, you will need to use one of your existing assets as collateral against the loan.
Bad credit boat loans
Bad credit history doesn't have to stand in the way of your fishing and boating adventures. At Monzi, we know more than a handful of lenders who may be willing to offer the bad credit personal loans you need.
While in the past bad credit was a red flag for lenders, things have changed. Now, lenders dig deeper. Rather than simply looking at your credit score, they'll examine your complete financial situation. Learn more about loan against my car that is paid off now.
Lenders can use your income and expenses to calculate your current budget. Subsequently, if the repayments on your potential loan fit comfortably, you may still be considered for a same day loan despite your bad credit history.
You could be towing your brand new vessel to the boat ramp before you know it.
Can I get a boat loan with no credit check?
In short, it's unlikely. However, Monzi cannot provide any guarantees.
When you're looking for a loan to purchase a new fishing boat, most lenders will conduct a credit check. This is simply so that they can assess your past borrowing behaviours. In other words, are your reliable or do you have a history of missing repayments?
Having said this, some lenders may offer no credit check loans. However, this is usually on a limited basis and will only be at the lender's discretion.
In any case, a credit check may not necessarily be the end of your personal loan assessment. As we've mentioned, Monzi works with some lenders who may consider bad credit applicants. As a result, lenders may be willing to look past your credit if you demonstrate that you are in a secure financial position. However, approval is not certain.
Loans for boats in Brisbane
If you're ready to cruise through the crystal clear waters of the beautiful Moreton Bay, then we're here to help.
At Monzi, we know a few lenders that are always ready to try to help the residents of the great city of Brisbane. You can potentially borrow up to $15,000 to put towards the purchase of your new boat.
Pack your fishing rods, tackle box and esky and get out on the water today.
Boat loans in Perth
Boaties in Perth are spoiled for choice. The beautiful bays and abundance of offshore islands mean there's always plenty to do. Anchor at Rottnest Island and visit the quokkas or get up close to the penguins of the appropriately named Penguin Island.
If you're a Perth resident looking to purchase a new boat, Monzi's might be able to help. We can potentially match you with lenders offering loans up to $15,000. Explore the pristine ocean environment today.
Secured boat loans
Loans over $2,000 are generally secured. Therefore, you will need to attach an asset of adequate value against the loan. Lenders can accept the following assets as collateral:
Finally, you cannot use the boat you intend to buy as security if you apply with one of Monzi's lenders. You will already need to own an asset of adequate value.
However, you may be able to use your purchased boat as security if you apply with a traditional marine lender or dealer. Although you must do your own research to determine your options.
New boat vs used boat loans
Buy new or buy used?
That's the big question when it comes to purchasing a car, boat or any kind of vehicle. While both have their pros and cons, ultimately, the decision is in your hands.
On the one hand, a new boat is just that. New! As a result, there's no need to worry about damage, wear and tear or the milage. However, new assets depreciate as soon as you drive them away.
On the other hand, a used boat will be cheaper. As a result, buying used can often be a great way to score a bargain. However, it's understandable to worry about what kind of state the vessel may be in.
Are there any boat motor loans?
Have you got a boat but need a motor?
Maybe your old motor's packed it in or you're looking to add a few more horsepower. Whatever it is you're looking for, Monzi can potentially help.
In short, if you apply with us today, we'll do what we can to match you with a lender offering cash loans up to $15,000. In most cases, these loans may be used to cover a range of expenses. This may even include the purchase of a new motor for your pride and joy.
All you need to do is provide the exact reason why you need a loan when you apply. If a lender discovers that you have lied on your application, then your application may be denied. Moreover, lenders may be reluctant to offer you credit in the future.
Can I use my boat as security for a loan?
Yes.
If you already own a boat and would like to apply for a secured loan online, then one way that you could guarantee the loan could be to use your boat. With this, your boat becomes the security, meaning that if you default on your loan, then it is potentially at risk of being repossessed. So, ensure you understand the possible consequences before applying.
Having said this, if you manage your loan well and make your repayments on time, then you shouldn't face any issues. Moreover, you'll be able to borrow the money you need today.
Ultimately, Monzi can potentially match you with a lender willing to accept your boat as security on a loan. Apply today for cash loans from $2,100 to $15,000.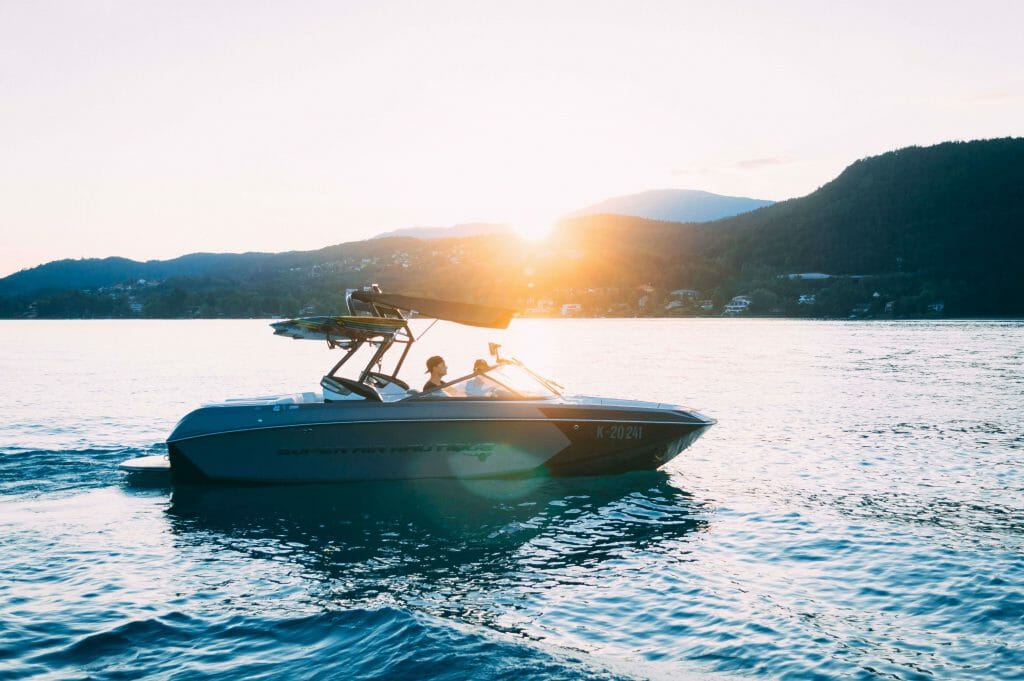 How long can you get a boat loan for?
At Monzi, we work with lenders who offer short repayment terms, potentially ranging from 12 to 24 months.
If you are borrowing less than $2,000 then typically your loan term will be anywhere up to 12 months.
On the other hand, for loans over $2,000, the choice will be yours. You'll have to decide on a repayment period with options ranging from 13 to 24 months.
While a shorter repayment period will mean you get your loan paid off sooner, it will mean your regular repayments are higher. Conversely, a longer repayment period equals a longer commitment but comes with the benefit of lower repayments.
In short, it's your decision. You must decide which option is best for your budget.
Where can I get a loan for a boat?
You may want to consider Monzi if you are looking for a loan for a boat. We do not offer loans ourselves, but we might be able to put you in touch with a lender ASAP.
With Monzi, all it takes is one simple application. After that, we'll work to pair you with one of our trusted lenders who is available and willing to assess your personal loans application.
They'll always stick to their responsible lending practices and will make sure all the rates, fees and charges attached to your loan are clearly detailed in your contract.
In short, Monzi is the hassle-free way to find easy loans approved online.
However, if you would prefer a different option, there may be financing available through a range of marine lenders and financial institutions. You will need to consider your options to determine which is best for you.
Which lenders offer the best boat loans?
There are many great lenders who potentially offer loans for both new and used boats. In short, it's nearly impossible for us to say which one is the best.
When you apply with Monzi, you can potentially be paired with one of the many lenders that we trust.
Most importantly, all the lenders in our network take their responsible lending obligations seriously. Your application will be thoroughly assessed to ensure it's affordable for you.
At the end of the day, a great loan is one that works for your situation. Monzi knows plenty of lenders who may help deliver this. Apply today.
Can I apply for a boat loan if I'm self-employed?
Yes.
At Monzi, we work with lenders who may offer loans to those who are self-employed or own their own business. In short, this can be a huge relief, given that it can often be difficult to access credit if you fit this criterion.
So, when you're looking to purchase a boat and you're self-employed, turn to Monzi. We'll do what we can to pair you with a lender who may offer the personal loan you can use to purchase a vessel today. However, remember that you must prove that you are earning sufficient income to cover the cost of your repayments.
Is financing a boat a good idea?
In short, it will come down to your unique financial situation. As a result, Monzi is unable to provide you with a definitive answer.
So, before you apply for easy personal loans, make sure you have a clear idea of your finances. Consider your income, expenses and savings as well as the purchase price of the boat you have your eye on.
Next, try to work out what repayments would suit your budget.
If you're not sure where to begin then a great first step is to create a budget using one of the many free, online budgeting tools. For example, the Moneysmart budget planner makes it easy to enter your income and expenses, so you know exactly where your money is going each month.
Can I apply for marine loans?
Of course.
Freshwater or saltwater? It doesn't matter with Monzi.
In fact, you can access finance for a range of different boat-types through Monzi. Borrow from as little as $2,100 up to $15,000 to finance your purchase of any of the following:
Catamarans
Dinghies
Sailboats and yachts
Houseboats
Runabouts and other fishing boats
Ski boats
Any other boat you could think of.
How to compare loans
Finding the right loans gives you the best chance to manage it effectively. So, when you apply, keep these factors in mind:
Secured or unsecured loan?
How much can I borrow?
What repayment periods are offered?
What fees, rates and charges are included?
Check the lender's reviews online: ensure that past user experiences have been positive.
Boat ownership: what are the costs?
While cheap boat loans might make it possible for you to cover the cost of your new boat purchase, there are a host of other costs you need to consider too.
Purchases and costs you'll encounter as a boat owner may include:
Fuel
Insurance (may cost more than $100 per year)
Equipment (ropes, anchor, electronics, safety equipment)
Maintenance and repairs
Storage (if you've got no room in your driveway).
Are no-doc boat loans possible?
No.
In the past, lending regulations were more relaxed. As a result, it was possible for lenders to offer no or low-doc loan options. In other words, you could potentially be offered a loan without providing documents related to your financial situation.
However, those days have passed. Lenders are now bound by a series of regulations that mean no doc loans cannot be offered. Instead, lenders will always require a range of personal and financial details. They will then use this information to determine if you should be offered a loan.
While this may seem inconvenient, remember that loan assessments are about ensuring you can afford the boat loan you take out.