Cash loans Brisbane up to $15,000. Apply from Bald Hills to Bulimba and everywhere in between. Most outcomes within 60 minutes*. Apply now!
Monzi is a lender-finding service. We do not offer financial advice. Consider seeking independent legal, financial, taxation or other advice to check how the information and ideas presented on this website relate to your unique circumstances.
What are cash loans Brisbane?
If you live in Brisbane, you've probably heard 'beautiful one day, perfect the next' to describe life in the city. While this may be true, it doesn't mean Brisbanites are free from financial stress.
Monzi works with a team of credit providers potentially offering quick cash loans from $2,100 all the way to $15,000! As a result, Monzi might just be your next one-stop-shop for accessing lenders online. Learn more about boat loans here. Learn more about loan against my car that is paid off now.
Below are some examples of the day loan products our lender-partners may be able to offer:
| Personal loans | Approved |
| --- | --- |
| Loans in Brisbane | ✓ |
| Brisbane fast cash loans | ✓ |
| Cash loans in Brisbane | ✓ |
| Bad credit finance Brisbane | ✓ |
The information presented in the table above does not necessarily reflect the loan product you may be offered.
Where can I get fast loans in Brisbane?
While we don't like to beat our own drum, if you're looking for quick and easy loans in Brisbane, then you could consider applying with Monzi.
In short, as a Brisbane-based company ourselves, we understand all that comes along with living in the river city. As a result, we're here for you whenever you need.
With Monzi, there's no hassle or stress. Moreover, we work with lenders who may consider loan applicants with bad credit too.
So, seeking fast cash loans from $2,100 to $15,000?
Apply with Monzi today. We may be able to pair you with a lender offering personal loans in just 60 minutes.
Can I apply for small cash loans Brisbane?
Yes, absolutely. Small personal loans of $2,000 and under may be a convenient option for covering an unexpected expense.
After all, sometimes life can throw us extra sour lemons, despite our best efforts. In short, no amount of planning can prepare you for your car breaking down in the middle of nowhere.
Instant cash loans Brisbane: Monzi explores
Most capital cities are known for their hustle and bustle. In Brisbane, it's no different. Things move fast and many of us are just trying to hang on.
So, if you find yourself needing a quick loans or a loan at the last minute, then you might think an instant cash loan is the answer for you. While it may be a manageable way to cover your immediate costs, it's important to understand exactly what an instant loan is.
In short, you won't receive your cash the second you apply. Rather, lenders will assess your application to ensure that the loan that you've applied for is right for your circumstances. As a result, there will always be some time between your application and outcome.
With this, an instant loan simply refers to a loan where you receive an outcome so quickly that it feels like no time passed at all.
What are secured cash loans in Brisbane?
Lenders may require security for any loan over $2,000; these are known as secured loans.
Attaching an asset as security against the loan reduces the risk posed to the credit provider. This is because the security acts as a guarantee the borrower will fulfil their side of the credit contract. Consequently, if the borrower fails to repay their loan, the lender can repossess the security.
Because lenders can recover some of the losses they incurred, secured loans are seen as having a reduced level of risk. As a result, lenders are often willing to offer larger amounts, as well as better rates on secured loans.
What can I use as security?
The lenders Monzi has partnered with are generally able to accept the following assets as collateral:
Keep in mind, failing to repay your secured loan may result in the lender repossessing your asset. This is, however, the last resort for credit providers.
If your lender provides you with a default notice, get in contact with them immediately to reach a resolution.
Consult ASIC's MoneySmart for more information about the repossession process as well as your rights as a consumer.
Can I get a cash loan with bad credit?
Looking for bad credit loans Brisbane guaranteed approval? Unfortunately, lenders cannot offer loans no matter and all outcomes are subject to assessment. However, there are certain lenders within our network that may be able to offer bad credit cash loans.
All in all, a few bad credit listings may not have to stand between you and approval. So, if a default or two in your past is hanging around like a bad smell, consider Monzi. We cannot guarantee we'll find you a lender, but we'll do our best.
Here's how it all works:
Apply on our website.
Provide all the information we need.
Wait while we search.
If a lender approves your application and is able to make an offer, they'll get in contact.
Again, though, approval is never guaranteed. Your lender will assess your financial situation to determine your outcome.
Can I get cash loans Brisbane with a low credit score?
Yes, potentially.
However, as Monzi is a lender-finder service, we are unable to say exactly what credit score you may need for a lender to approve your application. This is because all lenders have their own qualifying and eligibility criteria. As a result, the minimum credit score requirement for a Brisbane cash loan may vary.
In addition to this, remember that lenders will assess more than just your credit score. While you may need to meet a minimum level, lenders may base your outcome on your income, expenses and employment status too. Moreover, keep in mind that personal loan approval is not certain.
Does Monzi offer payday loans Brisbane?
No, Monzi is not a lender. We are, however, a lender-finder. While we may not be able to match you with lenders offering payday loans Brisbane, we know dozens of great credit providers who offer personal loans instead.
As a guide, personal loans are often more flexible than payday loans. In short, the lenders that Monzi knows offer loans from $2,100 to $15,000. By comparison, payday loans are usually only available up to $2,000. In addition to this, personal loans may come with more manageable repayment terms too.
So, while payday loans Brisbane might help you cover a cost today, why not consider a personal loan instead. Apply now with Monzi.
Cash advance loans Brisbane: what are they?
Similar to payday loans, cash advance loans are often small amounts offered by some lenders. Typically, they're designed to help you get by for a brief period. Unfortunately, these loans may come with rapid repayment terms (e.g. just a few weeks) and high costs.
At Monzi, we may be unable to match you with a lender willing to offer a cash advance. In most cases, we aim to pair you with a lender offering personal loans. As a guide, these loans are usually much larger (e.g. $2,100 to $15,000) and may come with more manageable repayment terms.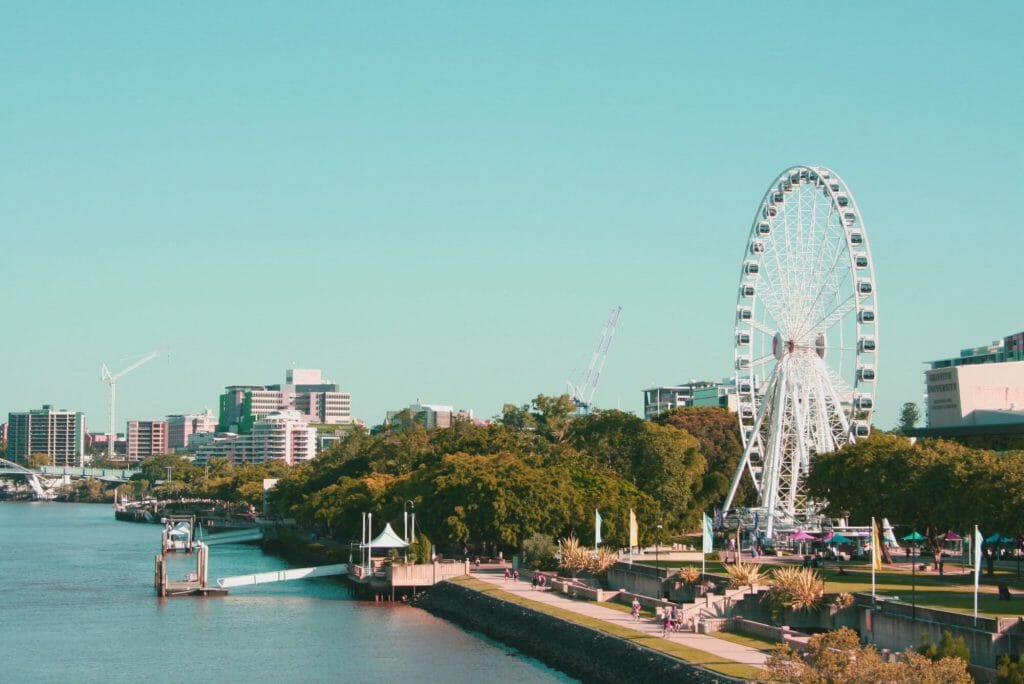 What can I use cash loans Brisbane to cover?
Our network of credit providers could potentially offer you a personal loan. Moreover, consumers can use personal loans to cover essentially any personal expense. Therefore, you could use your funds to cover anything from a rental bond, travel expenses, or even for your next holiday.
Are you a Brissy local and looking for new things to do around the city? We'll give you a few of our favourite less-known activities and attractions.
Cash loans Brisbane on the weekend
The weekend is your time to relax. Whether you're looking to complete a few projects around the house or planning to head up to the Sunshine Coast for a beautiful beach-side getaway, the last thing you want is to be stressed.
Luckily, if you find yourself needing a cash loan on the weekend, Monzi may be able to help. Our website is always live. So, it doesn't matter when you apply, we'll do what we can to pair you with an available lender.
Having said this, it's important to keep in mind that applications for weekend loans may encounter delays. While we endeavour to pair you with an available lender ASAP, if you apply for credit on the weekend, then you may need to wait until the following business day to receive an outcome.
What if I receive Centrelink?
The good news is anybody is welcome to apply with Monzi for cash loans Brisbane. Moreover, receiving government benefits will not automatically disqualify you from accessing loans online with instant approval.
If government benefits make up part of your income, we may be able to pair you with a potential lender.
It is important to note, however, all the lenders we work with are completely separate companies. As they are all individual companies, Monzi cannot speak on their behalf. Therefore, we cannot guarantee lenders will offer a small cash loan for Centrelink customers.
How can I get a loan without a credit check?
As we mentioned above, we cannot guarantee you will be offered a no credit check loan. Despite this, your poor credit history may not stand in your way.
When you lodge an application with us, we'll ask you to log in to your online banking. We do this so our system can access read-only copies of the last 90 days of your bank statements. Before you start stressing, let us tell you why.
Lenders look at these copies of your bank statements when assessing your application. Moreover, your bank statements allow lenders to quickly get an understanding of your current relationship with money. Specifically, lenders can see your regular income, expenses, and how you handle your other financial commitments.
Therefore, even if your lender does conduct a credit check, they can focus on your present financial situation. As a result, a few negative listings no longer have to stand in your way.
Cash loans Brisbane to consolidate your debt
Brisbane residents aren't immune to struggles with debt. That's why applying for a loan to consolidate your debt could be an option for you.
In short, debt consolidation involves borrowing money to repay your current, outstanding debts. As a result, you're left with one loan to worry about. That means one regular repayment, one interest rate and a fixed repayment term.
So, looking to simplify your debt repayments, consider applying with Monzi. We work with lenders who may offer debt consolidation loans from $2,100 to $15,000.
However, ensure that this is the right choice for you. Assess your current debts and financial situation and seek professional advice to determine if a debt consolidation loan would be a suitable option.
Can I use cash loans Brisbane to cover my rental bond?
Yes, bond loans Queensland are one of the more popular reasons that Brisbane residents just like you apply with Monzi.
So, whether you're a south-sider looking to cross the river or on the move to a new and improved home, Monzi might be able to help.
Apply today for bond loans from $2,100 to $15,000 and you might be paired with a lender in just 60 minutes. Scroll up and use Monzi's loan slider to begin your loan application now.
What information do I need to provide when applying for cash loans Brisbane?
When you apply with Monzi, there are several key pieces of information that you must provide. In short, lenders will use these details to assess your application. As a result, failure to provide any of the required details may result in your application being delayed or denied.
So, before you begin your online loan application, make sure that you can supply the following:
Your personal details (e.g. name, address, etc.)
Online banking details
An estimate of your current expenses
The amount you wish to borrow
Your preferred repayment term
Your reason for applying
MyGov details (if applicable)
Any other relevant information
I'm worried about providing my login details
Internet security is no laughing matter these days. After all, with cybercrime as prevalent as ever, it's no surprise Monzi clients are concerned about security.
With this in mind, we are pleased to inform you that your information is always kept safe. Specifically, Monzi employs the services of two cybersecurity companies:
Furthermore, our system permanently deletes your login details once copies of your bank statements are obtained.
Ultiamtely, Monzi is a legitimate organisation that you can trust. We take privacy and security seriously meaning your information is safe with us. If you need Queensland cash loans today,
What happens once I'm paired with a lender?
If Monzi pairs you with a lender, they will always first assess your application. If a lender feels they can make you an offer, they will get in contact.
Generally, you'll be sent a digital loan contract to read through and approve if you're happy with everything.
The first thing to be aware of is lenders may not offer the exact amount you apply for. Generally, lenders will do their best to offer the amount you apply for, but this is not always possible. As a result, you may be offered an adjusted amount.
Next, always look at the following when reading your loan contract:
Interest rate
Fees and charges (e.g. monthly fee)
Repayment terms
Finally, if you have any questions about your loan contract, get in contact with your lender directly. Generally, they will be able to walk you through any questions you may have.
Are there any guaranteed cash loans Brisbane?
Unfortunately, no lender should be offering approval no matter what, as this is technically illegal.
In fact, any lender offering bad credit loans Australia guaranteed approval is not taking their responsible lending obligations seriously.
What are the responsible lending obligations? In short, the third chapter of The National Consumer Credit Protection Act requires lenders to:
Make inquiries into the consumer's financial situation.
Take steps to confirm the consumer's financial situation.
Make an assessment as to whether or not the credit contract is suitable for the consumer.
Specifically, only consider a loan product suitable if:
Consumer's needs and objectives are met.
The consumer is able to reasonably afford the repayments.
Are Brisbane cash loans right for me?
In short, that's up to you to decide. While Monzi has tried to explain all that's involved, at the end of the day, you must consider your unique financial situation to determine if a quick cash loan is right for you.
With this, a few things that you must consider include:
The costs: a personal loan will come with interest as well as fees. As a result, you must repay more than you borrow. So, consider how much you will need to pay before applying.
Your budget: what's your income and what are your expenses? How would your loan repayments fit with this.
Your credit history: if you've got bad credit, then some lenders may be reluctant to offer you a loan. Moreover, bad credit loans often attract higher rates or fees.
Any other outstanding debts: accumulating debts rarely ends well. As a result, make sure that you have paid off or reduced your current debts before opening a new credit account.
Who do I get in contact with for questions about cash loans Brisbane?
If you have any questions about Monzi, you can reach out to our customer service team at [email protected]. Here, we can answer any questions you have about applying and how our service works.
However, if a lender is assessing your application, then you will need to get in contact with them directly. In short, Monzi cannot speak on behalf of another entity. Generally, you will have to get in contact with the specific lender for questions around:
Why do lenders offer less than I applied for?
Why is the lender taking so long to assess my application?
Are credit checks part of the lender's assessment policy?
Why did a specific lender decline me?
How do I repay my cash loans Brisbane?
Making your repayments is simple. However, before we get to that, we first need to look at the decisions you'll need to make.
When you apply, you'll have to select either weekly, fortnightly or monthly repayments. In addition to this, if you apply for a loan over $2,000, then you'll also need to select a repayment term of between 13 and 24 months (short term loans come with 12-month fixed repayment periods).
So, consider your financial situation to determine which option works best for you. As a guide, aim to repay your loan efficiently while also ensuring that your repayments are a comfortable fit with your current budget.
From there, making repayments is easy. You can establish a direct debit from your bank account and they'll be automatic. Just remember to keep enough money in your bank account on the relevant dates.
Warning about borrowing cash loans Brisbane
The Government Moneysmart website shows you how small amount loans work and suggests other options available to you. In short, a personal loan may not always be your best solution. Therefore, consult MoneySmart as well as Services Australia for information about other options. If you receive Centrelink, you may be eligible to receive an advance of your benefits.