Cash loans Sunshine Coast. Borrow from $2,100 to $15,000. Most outcomes in just 60 mins*. Easy applications for Sunshine Coast residents.
What are cash loans in Sunshine Coast?
If you live on the Sunny Coast, you already know how to protect your skin from that harsh Australian sun with a simple slip, slop, slap. Unfortunately, there are some things that sunscreen and a hat just can't prevent, like everyday financial stress.
Monzi works with a group of credit providers potentially offering fast cash loans for Aussies borrowers from a handy $2,100 up to a mega $15,000! So, if you want access to online lenders providing cash loans in Sunshine Coast, Monzi may just be your answer.
How do Sunshine Coast cash loans work?
Cash loans in Sunshine Coast function just like any other loan. You borrow a certain amount of money from a credit provider and reach an agreement on the terms of your repayment. The borrower typically repays their loan in weekly, fortnightly, or monthly instalments over the repayment term agreed upon.
This repayment term can range from several months to several years, depending on the agreement made between the borrower and lender. Your repayments will generally consist of the original loan amount, with the addition of any interest and fees incurred. These repayments often occur as a direct debit from your account, withdrawing automatically until you've successfully repaid your loan­­. Easy-peasy! Learn more about last minute loans here.
Where can I get fast cash loans in Sunshine Coast?
Though we try not to toot our own horn, Monzi is an straightforward and efficient service that could help you find easy loans on the Sunshine Coast.
As a Brisbane-based company, we understand everything that comes with living in the Sunshine State. As a result, we're here to help you find the cash loans you need today.
So, even though our headquarters are based 90 minutes away, you might be only minutes away from securing your next cash loan.
Cash loans near me might be on your mind, so, give Monzi a try. We're always happy to help residents on the Sunny Coast who are looking to find a lender. Apply now.
Can I apply for small cash loans in Sunshine Coast?
Of course! If you meet Monzi's eligiblity criteria then you are welcome to apply. However, before applying, it is vital to ensure that a cash loan is the right choice for you.
After all, there are various loan options to suit the many situations that life may throw at us. For example, small unsecured cash loan of $2,000 and under may be a convenient option for those dealing with a cash emergency.
What are instant cash loans in Sunshine Coast?
Even when living by the beachside, it can be easy for unexpected financial stress to drown out everything else. So, if you find yourself needing an instant loan, Monzi might be able to match you with a potential lender.
While it may be an effective way to cover your immediate expenses, it's important to understand that you won't receive instant cash the second you apply. Rather, lenders will assess your application to ensure that the loan that you've applied for is right for you. As a result, there will always be some time between your application and outcome.
In other words, an instant loan simply refers to a loan where you receive quick loan approval so fast that it feels like no time has passed!
What are same-day cash loans in Sunshine Coast?
Looking for cash loans in Sunshine Coast with same-day approval? Well, you've come to the right place!
While there is a chance that you might receive your Sunshine Coast cash loan on the same day as your application, we can't make any promises. In other words, whether you receive a same day loan is dependent on three things that Monzi cannot control:
The lender you are paired with
Inter-bank transfer times
Your individual circumstances
However, certain other factors may influence when you receive your funds. For example, the approval of your contract outside of business hours may result in a delay.
Additionally, you should aim to provide your potential lender with all necessary and relevant information in your initial application. Otherwise, lenders may have to put your application on hold to obtain extra information from you.
What can I use cash loans in Sunshine Coast to cover?
You can use cash loans Sunshine Coast to cover almost any personal expense. This could mean funding anything from your rental bond to a last-minute holiday. Other than that, cash loans in Sunshine Coast could assist you in covering:
Car repair
Medical emergencies
Unexpected expenses
Bills
If any of that sounds good to you, consider applying for a Sunshine Coast cash loan with Monzi!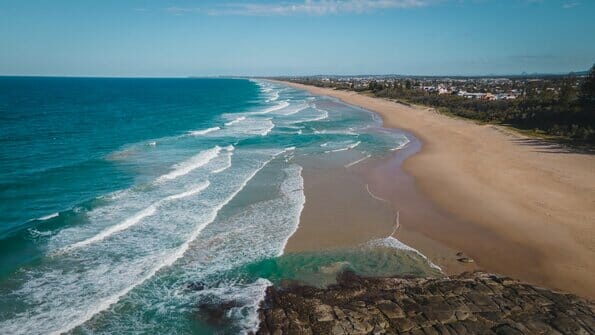 Are there any guaranteed cash loans in Sunshine Coast?
Unfortunately, Monzi cannot guarantee that you will receive a cash loan Sunshine Coast from one of our lenders. Moreover, no lender should be offering loans with guaranteed approval, as this is technically illegal in Australia.
In fact, please take caution if you happen to discover lenders offering loans with 'guaranteed approval', as they are likely not taking their obligation to lend responsibly seriously.
However, you may be wondering, what are responsible lending obligations? Well, the third chapter of The National Consumer Credit Protection Act requires lenders to:
Make inquiries into the borrower's financial situation;
Take steps to confirm the borrower's financial situation; and
Assess whether or not the credit contract is suitable for the borrower.
So, Monzi suggests that you should only consider a loan product if:
Your needs and objectives are met.
You are reasonably able to afford the agreed-upon repayments.
What about if I don't live on the Sunshine Coast?
That's OK.
Monzi's service operates Australia-wide. As long as you meet our eligibility criteria, then you're welcome to apply at any time.
So, whether you're down the road needing cash loans on the Gold Coast, out west requiring fast cash loans Toowoomba or you're somewhere a little further afield needing cash loans Cairns or cash loans in Bundaberg, it doesn't matter to Monzi. We're here to help all Aussies. Apply now.
Apply Now!
To start your application with Monzi today, simply scroll up to our loan slider. After all, Monzi may just find an available lender for you!