Motorcycle loan. Apply online from $2,100 to $15,000. Get your new motorcycle sooner with Monzi Personal Loans. 60 minutes* outcome. Apply now.
What are motorcycle loans?
Motorcycle loans are personal loans that can be put towards the purchase of a motorbike. Moreover, you can apply for these quick loans through Monzi's lender-finder service.
While Monzi does not offer motorcycle loan ourselves, we do work with a bunch of lenders that do. Therefore, apply on our site and we may be able to match you with a potential lender.
Finally, the lenders in Monzi's network are potentially able to offer motorcycle loan from $2,100 to $15,000.
Am I eligible for motorcycle loans?
There are four criteria you need to meet to be eligible for Monzi's lender-finder service:
18 years of age or older
Australian Citizen/Permanent Resident
Have personal contact number and email address
Have personal bank account.
You're free to apply once you meet all of the above.
Read more about motorcycle loans australia, motorcycle financing and personal loans for motorbikes in australia.
How do motorcycle loans work?
We've all fantasized, at least for a minute, about speeding down a tree-lined highway on a motorbike. The thing is, some of us wish to make this dream a reality. Unfortunately, however, motorbikes are expensive.
In short, most people do not have the cash for a motorbike just lying around. Moreover, it may take several years to finally save up enough for a bike. This is where motorbike finance comes in.
The first step is to apply online. Next, once you submit your application, lenders begin the assessment process. If you're approved, your lender will make you an offer. Furthermore, if you approve your contract, your funds are deposited into your account. From there, you're free to purchase whichever motorcycle you desire.
Finally, once you purchase your new set of wheels, it's time to start making repayments. You and your lender will reach an agreement on your repayment terms. Depending on the lender, you may be able to choose between weekly, fortnightly or monthly repayments.
Can I get motorbike loans with bad credit?
Yes! In fact, Monzi works with a bunch of lenders potentially able to offer bad credit loans. Moreover, while certain traditional lenders may be very wary of poor credit, Monzi works with lenders that do things a little differently.
When you apply on our site, we ask you for your online banking details. Don't stress, this isn't anything dodgy. We'll, in short, explain how it all works.
After you provide your banking details, our smart system pulls read-only copies of your bank statements. Monzi can then pass this information onto potential lenders. Moreover, lenders use this information to get an idea of your recent:
income
expenses
financial habits
repayment history with other lenders.
Finally, if you can show your current finances are on track, lenders may be able to look past the blemishes on your credit report. Read more about motorcycle finance here.
How to choose the right bike
While motorcycle finance is important, the main event is actually buying your bike. However, where do you begin if you aren't sure which bike you're after?
Here are, as a result, a few things to keep in mind while shopping around for a bike.
Bike type. Consider what type of bike you're after. Are you looking for a Harley Davidson cruiser? Maybe you just need an ex-postie bike to get you to work? We'll explore these more in-depth later.
Regulations. Check what law says around your licence-type in your state. For example, if you live in New South Wales, you will need to confirm the bike you're buying is listed by the Approved Motorcycles for Novice Riders guidebook.
Testing. Always take the bike for a test ride if possible. In short, make sure it feels right.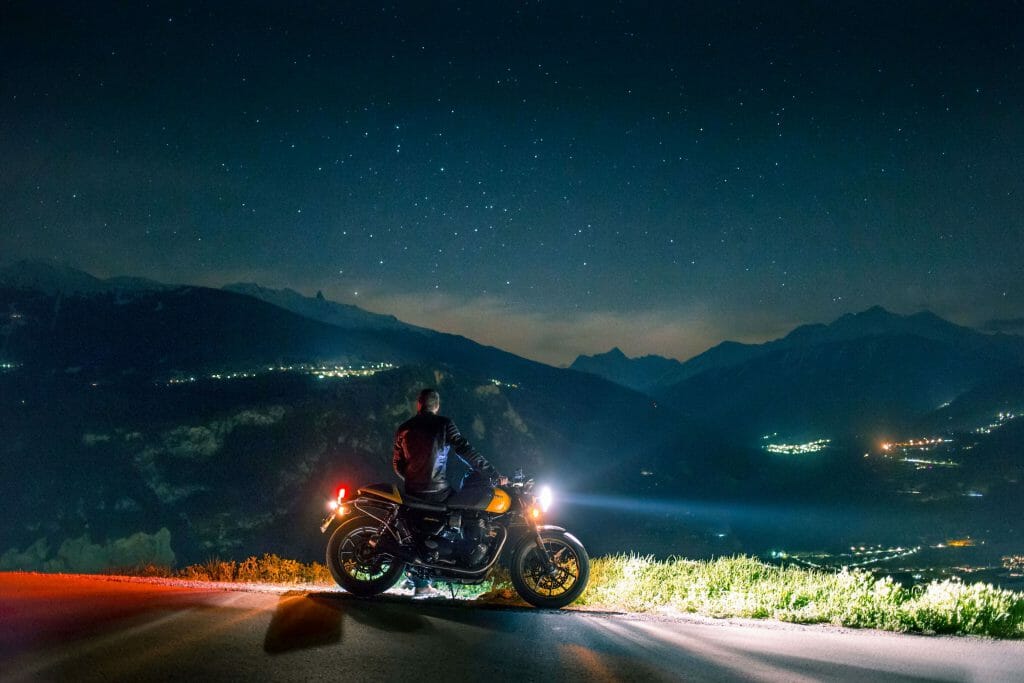 What are the different kinds of motorcycles?
Before you start applying for Aussie motorcycle loans, you need to figure out what kind of bike you're looking for. Moreover, there are a number of different bike types to suit a variety of roles and riders.
Naked bikes
As their name suggests, naked or standard motorcycles are stripped down bikes. In other words, they forgo things like windscreens or frames.
Pros
Lightweight
No frills thay you don't need
Affordable
Can use around town or on the motorway.
Cons
Not ideal for long journeys
Little protection against the elements.
Touring bikes
If you're looking to cover long distances in comfort, a touring bike may be for you. In short, touring bikes often come with more comfortable seats, windshields etc.
Pros
Protected against the elements
Large engine and fuel capacity
Comfortable
Plenty of storage.
Cons
Expensive
Not ideal for beginners
Not as fast
Heavy and bulky.
Sports bike
Sports bikes are built for one thing: speed. While the riding position on sports bikes may be uncomfortable, riders can enjoy being able to go maximum speeds with great breaking.
Pros
Very fast
Light and compact
Powerful.
Cons
Not good for beginners
Uncomfortable
High maintenance
Insurance can be expensive.
Motorcycle loan – Cruisers
The classic Harley Davidson-style bike; built for cruising on paved roads. However, cruisers may not be suitable for beginners due to their low height.
Pros
Classic look
Easy throttle.
Cons
Poor fuel economy
Little protection against the elements.
Off-road
Built for tackling rough terrain, off-road bikes are equipped with the suspension to handle anything. Remember, while beginners are able to learn on a dirt bike, there is an added element of risk without experience.
Pros
Acceleration
Great suspension
Manoeuvrability.
Cons
Dual purpose
As their name suggests, dual purpose bikes mix the fun of an off-road motorcycle with the functionality of a street-legal bike. These bikes can be taken on the highway, and may be suitable for beginner riders.
Pros
Cons
Too heavy for challenging off-road trails
Too slow for high-speed riding.
How do I compare motorcycle loans?
Motorcycles vary between brands; loans vary between lenders. Therefore, it is important you compare different lenders to find a motorcycle loan product that's right for you.
If you aren't sure how to compare personal loans, consider the following:
Amount. Confirm whether the lender is able to offer the amount you're looking for.
Term. Your repayment terms is how long you're given to repay your loan. The longer your term, the more you'll pay in interest overall but your regular repayments will be lower. On the other hand, a short term loan offers you less paid in overall interest, but potentially higher regular repayments.
Security. Are you able to apply for a secured loan? What kind of asset can you use as security?
Rates & fees. Lenders will charge interest as a fee for providing you the money, expressed as an annual percentage rate. In addition, fees
Motorcycle loan features. Are you able to make extra payments free of charge?
Can I get a secured motorcycle loan?
Yes! You may need to attach security to a personal loan valued over $2,000. Keep in mind, however, the secured personal loans available through Monzi's panel of lenders may not function like typical motorcycle finance.
More specifically, consumers cannot use the bike they intend to buy as security. Instead, you must already own an asset of adequate value. If you apply for a secured personal loan, lenders may be able to consider the following assets as collateral:
car
caravan
motorcycle
boat.
The below table contains examples of secured personal loans.
| Loan | Amount |
| --- | --- |
| Secured personal loan with bad credit history | $4,000 |
| Online personal loans secured | $6,000 |
| Secured loan | $15,000 |
What credit score do I need for a motorbike?
There is no minimum credit score required for motorcycle finance. While your credit score does matter, it is only one piece of the puzzle. In other words, lenders consider a wide range of factors when assessing your application.
Moreover, lenders access read-only copies of your bank statements to get an idea of your:
income
expenses
repayment history
financial habits
Therefore, you may be approved if you have a poor credit score but show good recent financial habits.
At the end of the day, each application is assessed on a case-by-case basis.
What interest rate can I expect?
That is impossible for us to answer. Specifically, there are too many variables that affect what interest rate you get. For example, the following influences what rate your lender may charge you:
Amount. The amount you apply for influences your rate.
Security. Secured loans often carry lower rates than unsecured loans.
Credit history. Lenders are more likely to offer lower rates to consumers with great credit history.
Lender. The lender you apply with will determine what rates you are offered.
What do I do if I'm unhappy with my motorcycle loan contract?
Lenders send through an offer if they approve your application. However, due to responsible lending obligations, credit providers may not be able to offer the exact amount you applied for on our site.
Moreover, your contract contains information on the rates, as well as the payable fees and charges associated with your motorcycle loan. Therefore, read through your contact carefully before approving it.
If you are unhappy with anything in your contract, do not sign it. If you do not understand anything in your contract, do not sign it. In short, get in contact with your lender directly.
Ultimately, your lender will be able to walk you through the details of your contract.
What happens if I fail on my secured loan?
Lenders may repossess the asset you used as security if you default on your motorcycle loan. Then, lenders sell this asset to cover their losses.
Keep in mind, however, repossession is often the last resort for most lenders. Moreover, the repossession process can only begin if:
you're behind on your payments;
you have received a 30 day notice to pay the overdue amount; and
you have not paid this amount, or negotiated a resolution, within this 30 day period.
For more information, head to the MoneySmart page on repossession.