Bicycle loan from $2,100 to $15,000. From mountain bikes to road bikes, Monzi explores your bicycle loan options. No paperwork, 100% online.
Can I apply for a bicycle loans with Monzi?
Yes.
Are you trying to get fit? Maybe you just want to swap your car to a bike to make travel more convenient and cost-effective. Whatever your reason, you can apply for personal loans with Monzi from $2,100 to $15,000.
One possible use for a personal loan could be to buy yourself a new bike. It could be a road bike or mountain bike. If approved, you'll receive your cash today and repay it via a series of even instalments. Easy, right?
To learn more about bicycle finance and how you can potentially purchase your new bike, read on. Monzi explores everything that you need to know today.
Loan for bicycle step 1 – picking the right bike
A pretty obvious place to start, right? Before you know what kind of loan you need, you need to figure out which bicycle you want.
Your decision will be based on what kind of riding you intend to be doing. Obviously, certain bikes will be more suited to a particular purpose than others. The most common types of bicycles in Australia include:
Mountain bikes. These rugged all-purpose vehicles are built to handle anything from bush trails, mud, rocks, fallen branches and other obstacles. As such, they are the perfect option for people intending to get their hands (and tires) dirty.
Road bikes. Lightweight and built for speed, road bikes are perfect for anyone looking tear up the tarmac. Due to their thin tires and light frame, however, these bikes are only suitable for sealed roads.
Hybrid bikes. Also known as commuter bikes, hybrid bicycles are, as you may have guessed, a mixture of both on and off-road bicycles. Combining the comfort of a mountain bike with the speed and maneuverability of a road bike, hybrid bikes are popular among beginners and city commuters alike.
Finally, remember that finding your correct bike size is crucial. A general rule of thumb is that the bike seat should be level with your hips when standing next to it. Despite this, most bike stores should have a sizing guide to help you find the perfect fit.
Loan for bicycle step 2 – finding finance
So you've decided which set of wheels you like? Awesome! Now it's time to find a loan that suits you.
Certain bike shops may let you finance the purchase of your bike in store. Alternatively, you may be able to finance your bike purchase through certain buy-now, pay-later schemes such as:
Afterpay. Repaid over four instalments. Repay the principal only if you pay in within the allotted timeframe.
Zip. Buy it now with Zip pay, and then make repayments over a flexible term.
On the other hand, you could apply for bicycle finance from a credit provider. Specifically, you may be able to apply for personal loans from $2,100 to $15,000. Learn more about buy now pay later no credit check australia here.
With a wide range of loan amounts available, personal loans may be an option for beginner cyclist looking for an entry-level bicycle as well as seasoned veterans looking for the latest and greatest in bicycle innovation.
If you aren't sure where to find a lender, you could consider using our lender-finder service. We may be able to match you with a potential lender in no time.
Step 3 – repayments
At this stage, you should already be tooling around on your new set of wheels. Having your bike sooner than you would otherwise is undoubtedly the best part of financing the purchase. Obviously, however, you need to repay your loan.
For personal loans, the lender is likely to set up a direct debit from your account. Therefore, your repayments are automatically deducted. Once your loan is settled, the repayments stop.
While this all sounds simple enough, you do need to pay attention to your repayments. Missed repayments can quickly add up if you aren't watching. Not only will this increase the overall cost of your personal loan (as they are interest-based), but repeated missed payments would quickly bring your credit score down.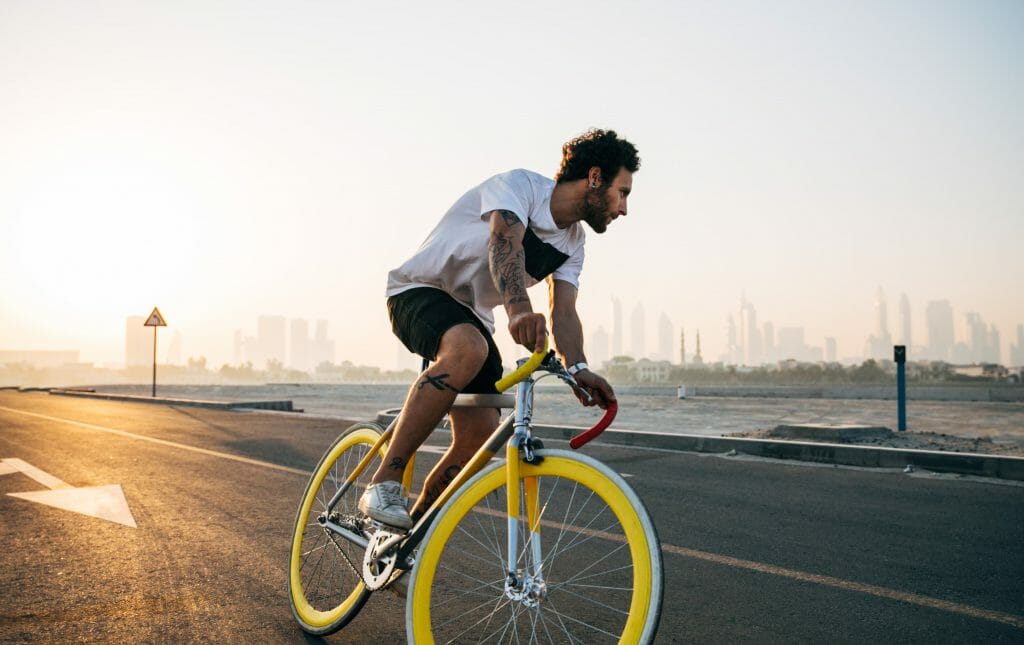 Loan for bicycle FAQs
We hope we've given you a thorough, albeit short, rundown of bicycle finance. Despite this, you may still have a number of questions left unanswered. We will aim to remedy this here:
Can you get a loan if you have poor credit?
Yes, you may still be eligible for loans if your credit report contains multiple missed payments. While there is no guarantee, plenty of alternative lender options are willing to consider offer bad credit loans.
Do bicycle loans come with a credit check?
Certain lenders may be able to offer you bicycle finance with no credit checks. These lenders, however, may only offer small loans of up to $2,000.
Keep in mind, people often look for finance with no credit assessment because they feel their credit history is so poor, they will not be approved any other way. This may not always be true. There are a number of alternative lenders willing to offer loans to people with lacklustre credit.
How old do you have to be to get finance on a bike?
Consistent with the vast majority of credit products in Australia, you must be over the age of 18 to be eligible for bicycle loans.
Do I need a downpayment?
Whether or not you need a downpayment will depend on where you purchase your bike. Once you've chosen your model, get in contact with your local bike shop and go from there.
Can I get road bike finance?
Of course.
Whether you're looking to get fit or simply need an easy way to travel, buying a road bike could be the answer. Through Monzi, you can apply for road bike finance from $2,100 to $15,000. Not only is a bike cheaper to maintain than a car, but it's also easier to park. Moreover, it can help you stay healthy too. So, why not give it a try?
What happens if I can't afford repayments anymore?
Let's pretend you've just run your new bicycle into the back of the car. While the bike has stayed stationary, you have continued forward and propelled yourself right into the hospital. Obviously, you're going to miss a while of work, but what happens to your repayments?
For personal loans, you can get in contact with your lender and let them know what's happened. Generally, you will be considered for a hardship adjustment if you provide enough evidence.
Monzi Personal Loans
Monzi's lender-finder service may make finding your new lender the easiest thing you do all week. Apply once on our site and we'll aim to do the rest. The lenders in our network are potentially able to offer cash loans from $2,100 to $15,000.
Sounds too good to be true, right? Well, we can assure you that Monzi is legit. Moreover, we're an organisation that you can trust. Apply now.
There's plenty more Monzi over on Facebook, Instagram, Twitter and Pinterest.
Finally, consider the MoneySmart website for more info on personal loans.