Furniture finance online with Monzi. Apply today for personal loans for furniture. Secured and unsecured furntiure finance $2,100 to $15,000.
What is furniture finance?
Put simply, furniture finance lets you purchase that couch you've been eyeing off for months while spreading the repayments over a short amount of time. In other words, they're short term loans.
Ultimately, furniture loans can cover the purchase of any piece of furniture, including:
Outdoor and garden furniture
Coffee tables
Chest of drawers
Wardrobe
Bookcase
Armchair
Dining room tables and chairs
Beds
Couches.
Furniture finance plan may be available from the vendor themselves, or through alternative options. Monzi is one such alternative option. Apply with us and we may be able to match you with a lender potentially offering personal loans of up to $15,000.
What kind of furniture finance plan does Monzi offer?
Technically, we do not offer finance ourselves; however, we have a wide network of trusted lenders that may be able to offer personal loans from $2,100 to $15,000. Moreover, you can use these personal loans to cover the cost of renovating your home.
The lenders we work with can potentially offer personal loans which can be sorted into three categories:
| Loan | Amount | Term | Security |
| --- | --- | --- | --- |
| Small personal loan | $2,100 to $2,000 | Up to 12 months | Unsecured |
| Medium personal loan | $2,100 to $4,600 | 13 to 24 months | Secured |
| Large personal loan | $5,000 to $15,000 | 13 to 24 months | Secured |
Bear in mind, the actual repayment terms of your loan may vary to what is presented above.
Is it a good idea to finance furniture?
It may, in certain situations, be a good idea to finance furniture. Ultimately, however, only you can answer this question.
A personal loan for furniture may be a good idea if:
it covers the cost of furniture; and
you can comfortably afford the regular repayments.
If you think a personal loan for furniture is a good idea, consider Monzi's lender-finder service. Apply from $2,100 to $15,000.
Is furniture finance no credit check available through Monzi?
No credit check loans for new furniture may not be offered through Monzi's network of lenders. Ultimately, they may be possible, but there is no way to guarantee you being offered one.
Performing a credit assessment is completely at the discretion of an individual lender. Moreover, Monzi cannot guarantee which lender you will be paired with. Therefore, avoiding a credit assessment may be possible, but never guaranteed.
If you wish to apply for these loans specifically, you may wish to consider an alternative to Monzi's lender-finder service.
Can you finance furniture with bad credit?
Yes, you can still apply for bad credit loans through Monzi that you may use to purchase new furniture. In short, we work with lenders willing to potentially offer loans to borrowers with bad credit.
After all, when you apply we ask you to enter your online banking logins. We understand this may seem weird initially, but hear us out.
After you enter your online banking logins, our smart loans system is able to securely access read-only copies of the last 90 days of your banking history. Monzi is then able to pass this information on to potential lenders.
Lenders then use these PDF copies of your statements to gain an understanding of your:
normal income
regular expenses
recent repayment history
saving habits
etc.
To sum up, lenders can quickly get an idea of your current relationship with money. Therefore, lenders may be able to focus on what you do well now, instead of the mistakes you made in the past.
Does financing furniture build credit?
A personal loan for home furniture will impact your credit report just as any loan would. In other words, if you handle your loan poorly, your credit score will negatively be affected.
Specifically, missed payments or defaults will hurt your credit rating. Furthermore, multiple applications for additional credit over a short period of time may hurt your score.
How to compare furniture finance plan
There are a number of things you should take into consideration when comparing furniture loans or lenders.
Amount. Does the lender offer the loan amount you need? Some lenders may only offer small loans, while others may offer larger secured loans.
Repayments. Are you afforded flexibility when it comes to repayments? For example, can you choose between a weekly, fortnightly or monthly repayment schedule?
Interest rates and fees. Always consider what interest rates and fees are applied to a loan, as they will quickly impact what you repay in total. Furthermore, check to see what happens if you miss a repayment.
What is secured furniture finance?
Secured furniture finance is simply a secured personal loan that covers the cost of furnishing your home. Secured personal loans are available from $2,100 and above.
Monzi works with lenders that may be able to offer you a secured personal loan. Generally, lenders are able to accept the following assets as collateral:
Note, you must be the registered owner of any asset you wish to use as collateral.
Security acts as a guarantee to the lender you will repay your loan according to your contract. If not, repossession may occur. Lenders then sell your asset to recover some or all of the losses they incurred on your loan.
Because lenders are able to recover their losses, secured loans are generally seen as less risky than unsecured loans. They are, as a result, available at larger amounts and with lower rates and fees.
When will I see my cash?
Processing times vary between lenders. There is, therefore, no set time between approving your contract and having the funds appear in your account.
Keep in mind, lenders only begin processing your funds after you approve your contract. If you approve your contract during normal business hours, your funds will likely appear the same day. Alternatively, approve your contract outside your lender's normal hours and your funds may not appear until the following business day.
Finally, be aware that no loan transfers take place over the weekend or on public holidays.
What do I do if I'm unhappy with the contract offered to me?
Get in contact with your lender before signing your contract if you're unhappy with what's been offered to you.
It is essential you read through your contract thoroughly before approving anything. Realising you're unhappy with your loan after you approve your contract can lead to all sorts of issues.
As you read through your contract, pay particular attention to the following:
amount offered (may not be exactly what you applied for on our site)
repayment terms
interest rates
additional fees and charges.
If you are unhappy with your contract, let your lender know. They will be able to explain everything in your loan contract.
Bedroom furniture on finance
Before you finance bedroom furniture, it is important you consider what kind of space you want to create.
Your bedroom will likely reflect you as a person. For most people, the bedroom is the most personal room in the house. Despite this, there are a few general rules we recommend following when it comes to furnishing your room.
Bed location. Naturally, your bed will probably be the biggest piece of furniture in the room. Picking the right location for your bed is important. For larger rooms, we recommend placing the bed in the corner; for smaller rooms, keep it against the opposite wall to the door.
Balance. With your bed at one end of the room, it is important you balance it out with another large piece of furniture on the opposite wall. If your room is small, keep the opposite wall free to maximise space.
Wardrobes. Taller wardrobes look great in the corner of a room, while smaller ones suit underneath a window. If your room is small, you may have to reconcile between having floor space or storage.
Bathroom furniture
Bathrooms are simultaneously about form and function. Not only do you want to create a space that's relaxing, inviting and clean, but also something well-organised. Therefore, bathroom furniture will generally revolve around storage.
The first thing to consider is the function of the room. Moreover, a bathroom for a young family is likely to look much different from a bathroom designed for pensioners.
Bathroom furniture can generally be divided into two categories:
Floor-standing. These cupboards and shelving units stand on the floor. This allows for large storage that is easily accessible. Too many floor-standing pieces can, however, reduce floor space and may leave your bathroom feeling cramped.
Wall-mounted. These smaller items like cupboards or mirrored cabinets are mounted on the wall. This leaves the below floor exposed, which in turn creates the illusion of larger floor space.
Living room furniture finance
Living rooms serve drastically different roles in different homes. For example, some families use this room as the main living space in the house; others, as an area reserved for guests or entertaining.
Regardless of the intended role of your living room, there are a few basic things to remember:
Focal point. Every living room needs a strong focal point, whether it be a fireplace, a large window or television. Once you establish the focal point, you can arrange the rest of your furnishings in relation to it.
Stimulate interaction. Arrange the furniture in your living room to promote conversation and human interaction. A good rule to follow is to make sure that people can talk to each other without needing to crane their neck.
Avoid pushing everything against the wall. Instead of having all your furniture flush against the walls, why not place them closer together to create a more personal arrangement?
Outdoor furniture finance
Australia's favourite room: the backyard. Creating an outdoor space that is inviting and comfortable will guarantee you and family get as much out of your backyard as possible.
Consider the following when furnishing your backyard area.
Pick furniture that is hardy against the elements and low maintenance. While we all love to be as comfortable outside as we are inside, nobody wants to add another room to their cleaning routine.
Don't be afraid to include an outdoor rug. A rug can quickly tie any room together, and your outdoor space is no different.
As outdoor furniture is permanently exposed to the elements, it is important you pick high-quality brands that will last.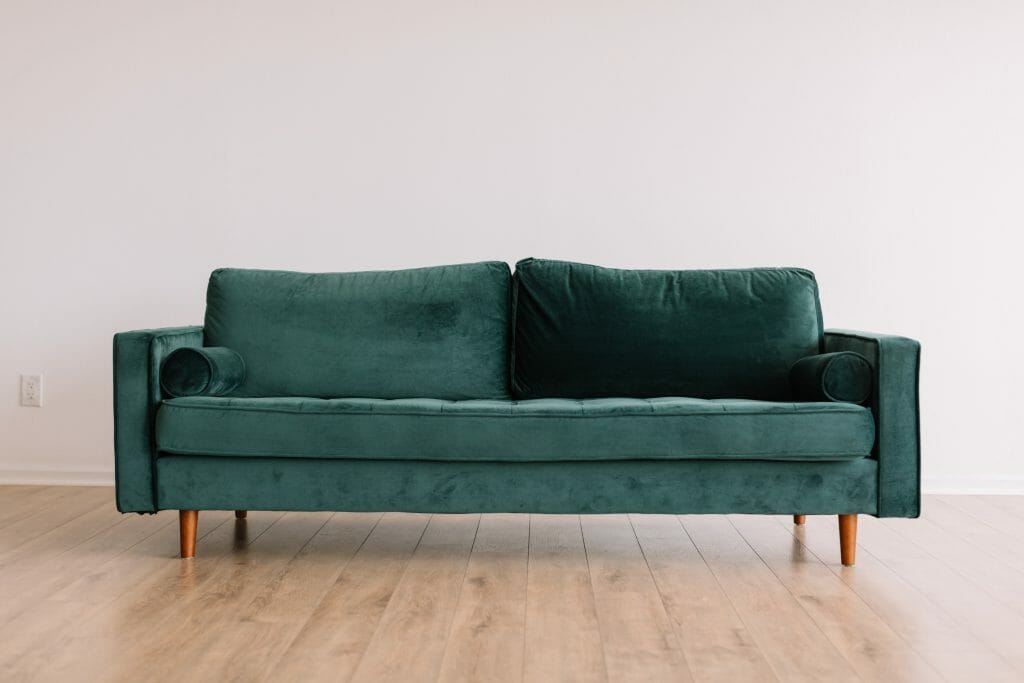 Are there any other furniture finance options?
While Monzi may be able to match you with lenders offering personal loans up to $15,000, this may not be your only option when it comes to purchasing a new couch. Another potential finance option could be renting to buy.
In short, renting to buy involves leasing a couch, appliance or white good from a rental agency for a defined time period (e.g. 12 months). With this, you'll then be required to pay weekly or monthly rental payments. Once your period has elapsed, you may then be given the option to purchase the item for a fee.
However, keep in mind that Monzi cannot recommend what's best for you. Instead, you must consider your financial situation to determine what option is right for you. Layby may be one other option to investigate too.
Why choose Monzi?
Monzi's lender-finder service has heaps of benefits for our users. Why do you think past Monzi customers keep returning?
Not convinced? No dramas. Here's why we think we're the best lender-finder in the game.
Free. Yep – Monzi is 100% free to use; no matter the outcome, you will never pay a cent for Monzi.
Fast. We get to work ASAP trying to match you with a potential lender. Depending on when you apply, you might get an outcome within 60 minutes.
Convenient. The 100% online application process is super simple and paperwork free. There are instructions at every step, so you should breeze through in no time.
Secure. Our system is protected by not one, but two internet security services: Comodo and McAfee. This means your data is always kept completely safe and secure.
What do I do if I can't afford repayments?
Lenders assess your application to ensure they make an offer you can reasonably afford. Obviously, however, things change. What was affordable a few months ago may now be causing you financial hardship due to unforeseen circumstances. For example, losing your job or splitting up with your partner may hinder your ability to afford your loan.
Luckily, you are not left to fend for yourself. You may, after all, be eligible for a hardship adjustment from your lender.
Get in contact with your lender directly to apply for hardship. Your application will be assessed, so remember to include all relevant documentation. This documentation must show evidence of hardship. This can, specifically, include copies of things like:
separation certificate from your employer
recent bank statements showing evidence of hardship
medical certificate.
Lenders may offer a payment holiday, adjustment, or both if your hardship application is approved.
Ready to apply?
Consumers begin with Monzi's lender-finder service by scrolling up to the loan slider and making a selection. Remember, the loan slider shows examples of repayments. These are just examples, and the actual cost of your loan may vary.
Monzi means flexibility. In short, you could use your personal loan to cover anything from medical supplies to new tires for your bicycle.
There's plenty more Monzi over on Facebook, Instagram, Twitter and Pinterest. Alternatively, check out our guide to buying, swapping and selling online if you're looking to score a bargain on secondhand furniture.
Finally, note that it can be expensive to borrow small amounts of money. Specifically, if you find yourself relying on small amount loans, consider the MoneySmart article on managing debt.