A bike loan is a personal loan used to purchase a bicycle or motorcycle. Monzi is here to give you the tools you need to purchase a new bike. Moreover, we'll explore how our lender-finder service may be able to secure you finance.
What is a bike loan?
A bike loan is a personal loan that can be used to cover the purchase of a bicycle or motorcycle. You can use Monzi to apply for up to $10,000 and we'll do our best to match you with a potential lender.
Moreover, you can use your personal loan to cover almost any expense, including:
maintenance
on-going costs
insurance
helmet, pads, etc.
As mentioned earlier, you can use your loan to purchase a pushbike or motorcycle; we'll explore both of your options.
Bike loan – choosing a motorcycle
Thinking of using your loan to purchase a motorcycle? Before you start shopping around, it's best you know what kind of bike you're after. We'll break the major types of motorcycles:
Standard/naked. Standard or naked bikes are motorcycles without the frills. Therefore, these bikes are great for beginners or people just looking to cruise around town.
Touring. These bikes are designed for long journeys on the open road. As such, they come with a comfortable seating and a windscreen.
Sport. Sports bikes are built for speed and performance. While the seating position is uncomfortable, these bikes are perfect for anyone feeling the need for speed.
Off-road. As their name suggests, off-road bikes are designed to tackle the toughest terrain. Whether you're looking to tackle the bush, grass, sand, mud or dirt, these bikes are for you.
Weigh up your options before making a decision.
Bike loan – choosing a pushbike
If you're keen to get a bit more active, a bicycle may be a great choice. Moreover, you could fit your commute into work everyday with your regular exercise. Not sure which bike you're looking for? Read our handy guide:
Mountain. As you can probably guess, these rugged all-purpose bicycles are built to handle anything from rocks, mud, bush, branches, you name it. As such, these bikes are perfect for the weekend warriors among us.
Road. If you feel the need for speed, these bikes are for you. Lightweight and aerodynamic, road bikes are perfect for tearing up the tarmac.
Hybrid. You may already know hybrid bikes as commuter bikes. These frames combine the comfort of a mountain bike with the speed of a road bike. As such,these bikes are very popular among beginners and city commuters alike.
Another tip worth noting is that finding the right size of bike is crucial. A general rule of thumb is to make sure the bike seat is level with your hips when you stand next to it. If you are still confused, most bike stores will have a sizing guide to help you.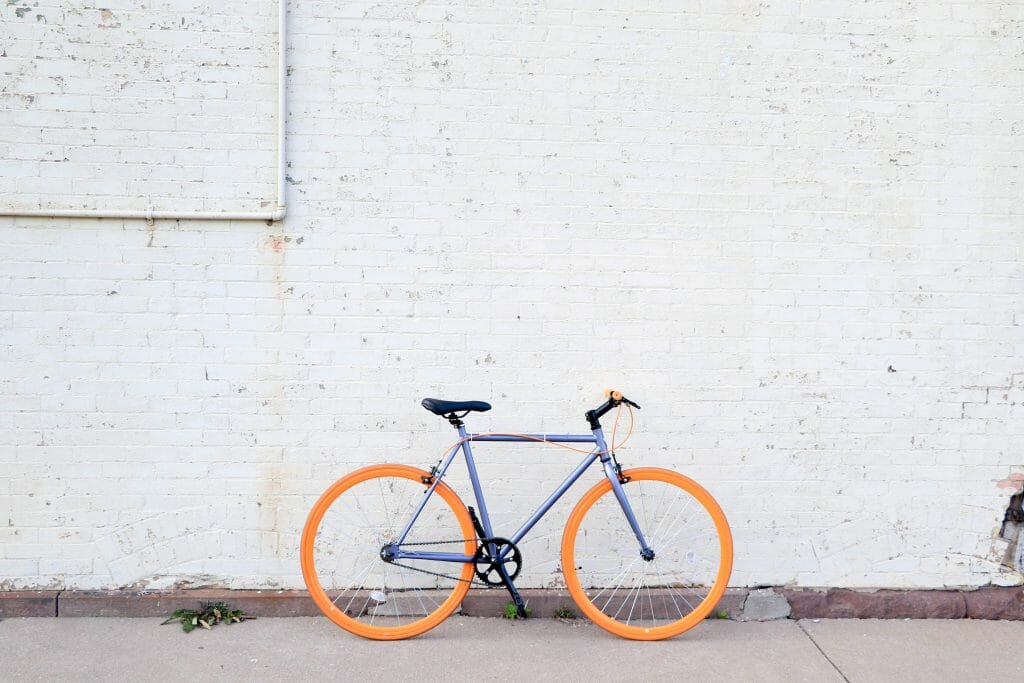 Can Monzi offer me a bike loan?
No, technically Monzi cannot offer you a loan. This is because we are a lender-finder service. Instead, we'll try to match your loan application with a potential lender.
Moreover, the lenders in our network are potentially able to offer personal loans from $2,100 to $10,000. In short, these loans can be sorted into three categories.
| Loan | Amount | Term |
| --- | --- | --- |
| Small unsecured loan | $2,100 to $2,000 | Up to 12 months |
| Medium secured loan | $2,001 to $4,600 | 13 to 24 months |
| Large personal loan | $5,000 to $10,000 | 123 to 24 months |
Applying for a bike loan only takes a few minutes. In addition, you could receive an outcome within 60 minutes if you apply during normal business hours.
Am I eligible for Monzi?
Potentially! We have aimed to keep our eligibility criteria as open as possible. In fact, consumers need only to meet these four simple criteria:
At least 18 years old
Australian Citizen or Permanent Resident
Have a personal bank account with online banking active.
Have a personal contact number and email address.
You're free to apply if you meet everything listed above.
How do I apply for a bike loan?
Applying for easy loans couldn't be simpler. It can be completed in a few quick steps. Here's how it all goes down:
Step 1
Consumers begin their application by using the loan slider. Specifically, use the slider to select the amount you wish to apply for, as well as your ideal repayment terms.
Next, click apply now once you're happy with your selection.
Please note: the loan slider gives estimates of your weekly, fortnightly or monthly repayments. Please be aware that these are only rough estimates; the actual cost of your loan may vary depending on the lender.
Step 2
The system takes you to the submission form after you click apply now. From here, we need you to provide a few pieces of essential information which we can pass on to our panel of lenders.
Luckily, our system is smart and is able to digitally access a lot of the information we need – meaning your application is usually 100% paperwork free.
Finally, we ask for you to provide your online banking details. Understandably, this may be concerning for certain consumers. However, we do this so we can securely rip read-only copies of the past 90 days of your banking history.
Monzi then passes this information on to our panel of lenders. In turn, lenders can quickly get an understanding of your current financial situation. Moreover, this means you may be able to access bad credit loans, if you have your current budget under control.
Step 3
This is where you can kick back. Once you submit your application, our system gets to work. In short, we compile your information into an application and try to pass it on to a potential lender.
If we successfully match you with a lender, they'll be in touch. The process isn't quite over though – your lender still needs to assess your application. If the lender approves your application, they send through a digital loan agreement.
What is in my bike loan contract?
Lenders send through a loan agreement if they can make you an offer. Moreover, it is very important you read through this contract carefully before approving it. Otherwise, if you approve your contact and then decide to change your mind, you may run into issues.
Therefore, confirm you are happy with the following before approval:
Amount. Lenders may not always be able to offer the exact amount you apply for on our site, but they'll do their best. Therefore, confirm you are happy with the amount on offer before approval.
Interest. Interest is what you pay on top of your loan principal. Moreover, interest is expressed as an annual percentage rate (APR) of the principal.
Fees. Confirm what fees and charges are applied to your loan. For example, are there upfront and ongoing fees?
Term. Are you happy with the loan term? A longer term results in lower regular repayments, but more paid in interest over time. Alternatively, a shorter term means higher regular repayments but less paid in overall interest.
Can I get a loan with no credit check?
Looking to access no credit check loans? Unfortunately, Monzi cannot speak on behalf of the lenders in our network and therefore cannot guarantee how your application is assessed.
Ultimately, if you are looking explicitly to avoid a credit check, you may want to consider an alternative to Monzi. In all likelihood, lenders will conduct some sort of credit check.
Despite this, you may still be offered a loan. Why's this? Well, Monzi works with a wide network lenders that are able to consider bad credit applications.
Bike loans for bad credit
You may be considered for approval even if your credit file is looking a little pockmarked. Moreover, if your credit report contains some or all of the following listings, chances are your credit score is looking a little worse for wear:
Missed payments
Defaults
Exceeding credit card limits
Bankruptcies
Multiple credit applications in a short space of time.
Multiple credit rejections is a short period of time.
Luckily, Monzi's network of lenders are open to considering bad credit applicants. Moreover, our system pulls read-only copies of your bank statements. By doing this, lenders may be able to look past your credit history and instead focus on your current:
income
expenses
saving and spending habits
repayment history with other lenders.
As you can see, lenders may still consider you for approval, even if your credit score is looking a little bruised.
When do I see my cash?
Everybody's favourite question; access to cash is dependent on a number of variables.
Moreover, lenders only process funds after you approve your contract. If you approve your contract during normal business hours, you may receive your funds the same day. Again, however, there are a number of variables that can affect access to funds.
Banking rounds. Lenders often have rounds of banking throughout the day when they process funds. Approve your contract after the final round and you may not receive funds until the following business day.
Inter-bank transfer times. It may be quicker to transfer funds between certain banks than others. Therefore, who you bank with may affect your access to your funds.
Weekends. In general, funds are not processed over the weekend or public holidays.
What security can I use for a bike loan?
You may need to attach security to loans valued over $2,000. This is known as a secured personal loan.
Attaching security to a loan reduces the risk posed to the lender. After all, if the borrower cannot repay their loan, the lender can repossess the asset to cover their losses. As such, it is often easier to qualify for a secured loan. Moreover, secured loans often have lower rates and fees than unsecured loans.
Lenders may be able to accept the following assets as security:
Finally, please note that repossession is often the final resort for lenders.
Can I get a bike loan if I receive Centrelink?
If you receive Centrelink, you may be considered for approval. In short, certain lenders may be able to consider Centrelink payments as income. Despite this, however, it can expensive to borrow small amounts of money and you may not solve your financial issues. Luckily, there are options out there for you.
For example, the No Interest Loan Scheme (NILS) provides low income Aussies with safe access to credit. Moreover, this credit incurs no interest. Moreover, NILS is offered by over 170 community organisations in 600 locations across Australia.
Alternatively, ASIC's MoneySmart provides alternative options to small loans. You can find out more here.
How do I repay my loan?
Lenders set up a direct debit from your account. As a result, repayments are automatically deducted until your loan settles. Finally, the direct debit stop.
Moreover, you may be able to choose between a weekly, fortnightly or monthly repayment schedule. It may be worth lining your direct debit up with your normal pay cycle.
Get in contact with your lender if you cannot afford an upcoming repayment. If you give your lender enough notice, they may be able to cancel or reschedule your repayment for a contractual fee.
If, however, your circumstances change drastically, you may be unable to afford your loan indefinitely. For example, you could lose your job or be badly injured at work. As a result, your ability to afford your repayments is severely affected. Luckily, you may be eligible for financial hardship.
Get in contact with your lender directly to apply for hardship. Next, provide evidence of hardship (bank statements, separation certificate etc.) Your lender will assess your claim. Finally, if you're approved, lenders may offer a restructured loan or a repayment holiday.
Monzi Personal Loans
Ready to begin? Consumers scroll up to the loan slider to start.