Cash loans Perth online up to $15,000. Monzi can help Perth residents access the cash loans they need. 100% online. Fast outcomes. Apply now.
Cash loans Perth explained
Has your car broken down? Maybe a pipe has burst. Whatever it is, if you've got an expense that must be covered today, then a cash loan could be an option for you.
In short, you can borrow the money you need now and divide the costs evenly over a fixed period of months or years. Best of all, if you're living in the beautiful city of Perth, then Monzi's here to help.
Apply today and you may be able to access cash loans in Perth from just $2,100 up to the hefty sum of $15,000. As a result, no matter your expense, there may be an option for you.
However, before you apply, make sure you consider the costs. Any money that you borrow now must be repaid with interest and fees.
Can I get instant cash loans in Perth no credit check?
It may be possible, however, Monzi cannot provide any guarantees.
In short, with cash loans in Perth no credit check, lenders may bypass an assessment of your credit history, to instead focus on your current financial situation. As a result, they're often seen as a loan option for borrowers with subpar credit.
However, no credit check loans are available on a limited basis. For most lenders, a credit check is a non-negotiable aspect of your assessment. After all, it's a pivotal tool to determine the likelihood that you will repay your loan.
In any case, it's good to remember that credit checks aren't the only part of your assessment. Lenders can consider your complete financial situation to determine your outcome. As a result, just because you aren't offered an instant online loan without a credit check, doesn't necessarily mean you will be unable to access the finance you need.
What about if I have bad credit?
Yes. If your credit isn't the best, we've got good news.
At Monzi, we work with lenders who understand that your credit history doesn't tell the whole story. As a result, if you've made a few mistakes in your past (e.g. defaulted on a loan), then we may still be able to find you a lender willing to offer bad credit loans for Perth residents.
In short, it's all about a change in perspective. While your credit history will likely be analysed, lenders will also assess your current financial situation. This means that your bad credit isn't necessarily the be-all and end-all. If you're in a secure financial position, then you may still be offered the cash loans in Perth bad credit you require.
Having said this, remember that approval is not certain and your application is subject to an assessment. As a result, while it may be possible to access cash loans for bad credit, lenders retain the right to approve applications where they see fit.
What are the drawbacks of cash loans Perth?
While it's easy to look at the benefits, before applying, you must consider the disadvantages too. Cash loans Perth may be a useful tool, however, if they are poorly managed or applied for without thought, they can lead to financial troubles or damage to your credit score.
With this, the first drawback is that all loans must be repaid with interest. Moreover, lenders may apply fees too. As a result, even though your costs are divided into a comfortable amount, you will always repay more than you borrow.
In addition to this, if you borrow more than you can afford and end up missing repayments or defaulting on your loan, then you may see your credit score drop. Unfortunately, once you have a low credit score, it can be difficult to raise it and may limit your ability to access credit in the future.
What can I use my Perth cash loans for?
One of the main advantages of a cash loan is that they can cover most personal expenses. In other words, they can be used just like cash. As a result, you could use them to pay for travel costs, new appliances or white goods, renovations, or even your trip to the dentist. However, in most cases, you can't use them to cover necessities such as food or rent.
On a more positive note, you could also use them to pay for the costs of a holiday. So, to get the ball rolling, we've compiled a quick list of some of our favourite spots to get away in Western Australia:
The Margaret River
We're not breaking any news here, but Margaret River is the perfect spot for holiday-makers looking to get out of the rat race. Explore the numerous wineries and gourmet restaurants or head out on an adventure along the white-sand beaches or through the forests and national parks. Design your getaway however you like.
Broome
The gateway to the Kimberley, Broome is one of Australia's most popular tourist destinations and we can see why. While perhaps best known for Cable Beach, there are plenty of other attractions that will blow you away and ensure that you have a holiday like never before. Our tip, make sure you're there to see the Staircase to the Moon.
The Ningaloo Coast
Situated approximately 1,200 km north of Perth on Western Australia's north-west coast, Ningaloo is the perfect destination for those wanting to experience unmatched biodiversity. With over 500 species of fish, 300 species of coral as well as whale sharks, dolphins, manta rays and dugongs, you're almost certainly going to enjoy the experience of a lifetime.
To get there, you'll usually need to head to Exmouth. Renowned as one of the top fishing destinations of Australia, it's the main starting point for many reef adventures.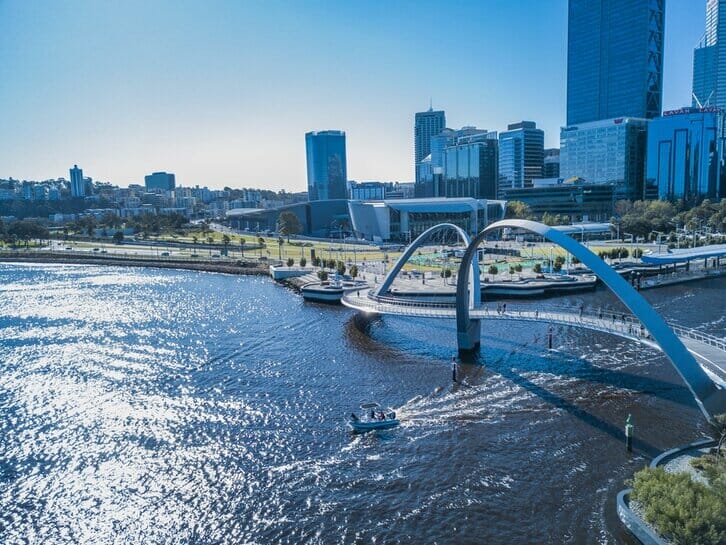 Can Monzi find me lenders offering payday loans Perth?
In short, no.
Payday loans typically refer to loans of up to $2,000 with brief repayment terms. Not only that, but payday lenders also work fast and are often accepting of a range of different circumstances (e.g. low-income or bad credit). However, these loans are often expensive with high rates and fees applied.
At Monzi, we instead aim to pair you with lenders offering personal loans, an alternative to payday loans. As a guide, these loans cover amounts ranging from $2,100 to $15,000 and may come with more management repayment terms. As a result, if you're seeking a payday loan or cash advance loans Perth, you may need to do your own research.
How do I compare cash loans Perth?
Not all loans are created equal. As a result, if you shop around, it may be possible to access lower rates or more favourable terms.
As a guide, here's a quick personal loan comparison guide:
The terms: Monzi's lenders may offer terms ranging from 12 to 24 months, depending on your loan amount. Before agreeing to a loan, ensure the repayment term you are offered suits your budget.
The costs: All loans will have interest and fees applied. As a result, aim to find the lowest rate and fewest fees. A small saving here or there can add up over time.
Who is the lender: As with all industries, lenders aren't all the same. Given this, it's always a good idea to read user reviews online to get an idea of past borrower experiences.
How quick are fast cash loans Perth?
At Monzi, we work with lenders who pride themselves on their speed. As a result, if you apply for a cash loan today, we may be able to pair you with an available lender who will waste no time assessing your application with the aim of providing instant loan approval. If everything goes to plan, then you may receive a same day loan just hours after applying.
Having said this, keep in mind that many factors determine the speed of your outcome. In any case, to give yourself the best chance then there are a few things you can do.
Above all else, you must apply during business hours. In addition to this, you must provide all the necessary information when you apply. This will ensure lenders don't have to waste time chasing up missing information that will only delay your outcome.
By doing these two things, it may be possible to receive same day cash loans Perth. However, Monzi cannot guarantee if this will always occur. As a guide, aim to account for a waiting time of up to one business day.
What are the best cash loans Perth?
Unfortunately, Monzi can't say with certainty what the best Perth loans are. This is not only because we work with a network of great lenders, but also because the best loan for you may not be the best loan for someone else.
For instance, maybe you just need a small loan to cover a pesky little expense. As a result, you'll only be after a loan of up to $2,000.
On the other hand, another person may have suffered significant damage to their car. As a result, they need a large loan to cover the repairs. Given this, the best loan for them will be much different from the best loan for you.
In any case, with Monzi, it doesn't matter. Whatever your expenses, we'll do what we can to pair you with a great lender from our high-quality network.
Can you get cash loans Perth with a 550 credit score?
Yes, it is definitely possible.
If you are unaware, credit scores typically range from 0 to 1,000 or 0 to 1,200 depending on the reporting agency that you are dealing with. In short, they're a numerical representation of your reliability as a borrower. As you'd expect, the higher your score, the better.
With this, if you've got a 550 credit score then many lenders may consider offering you a loan. However, it's important to remember that lenders base your outcome on more than just your credit. In other words, they may assess your income, expenses, employment status and a range of other factors too.
So, while you can get a loan with a 550 credit score, you must ensure that you're in a secure financial position too. Moreover, you can check your credit score online to get an idea of your creditworthiness too.
How much of a personal loan can I qualify for?
In short, Monzi cannot say.
If you apply with us then we may connect you with a lender who can offer cash loans from $2,100 to $15,000. For loans that are larger or smaller, you may need to do your research.
Your eligibility will be determined by a range of factors related to your income, credit history and employment status. While lenders will do what they can to offer you the loan that you apply for, it's not uncommon for them to modify terms or amounts to better suit your circumstances.
If you are unhappy with terms offered by your lender, you are not obligated to accept it. Simply inform your lender that you no longer wish to proceed and your application will be cancelled.
Monzi: available Australia-wide
While we're here for the great people of Perth, our lender-finder service is available Australia-wide. So, it doesn't matter if you're in the far corners of Western Australia or the thriving metropolis of Sydney. If you've got an internet connection and a little bit of time on your hands, Monzi can help you.
Apply today for quick easy loans from $2,100 to $15,000 wherever you are. We'll do what we can to have you matched with an available lender from our network quick-smart.
Contact us
We pride ourselves on our customer service. So, if you have any questions about Monzi or what our service involves, get in touch.
Send us an email at [email protected] or submit a contact form through our website and one of our customer service team will get back to you with a response.
However, remember that we can only answer questions about our organisation and service. As a result, contact your lender directly for questions that relate to loans you've taken out.
Apply for cash loans Perth today
When you're ready to begin, scroll up to the top of the page or hit the 'Apply Now' icon. We're ready and waiting to receive your application now. So, why wait?
Apply for cash loans Perth from $2,100 to $15,000 with Monzi now. We may match you with a lender in just 60 minutes. It could be a quick and easy option for you to access the loans you need today. Let's go.
In the meantime, if you want more Monzi, you can follow us on Facebook, Instagram, Twitter and Pinterest. Let's be friends.
Finally, remember that you can apply for WA loans all across the west. We'd love to hear from you whether you're in Perth, Broome, Bunbury or anywhere else.