Find 4×4 accessories to take your ute or truck to the next level. Whether you need them for work or just to get offroad, there may be a range of accessories to add to your vehicle. Keen to find out more? Monzi's comprehensive guide explores your options. Looking for cash loans too? Apply from $2,100 to $10,000 with Monzi today.
Please note, certain ideas and products presented in this article may not be offered by Monzi nor the lenders we work with. This article presents only general information. Consider seeking professional financial, taxation, legal or other advice to check how the information and ideas presented on this website relate to your unique circumstances.
4×4 accessories with Monzi
First things first, what are 4×4 accessories?
In short, these accessories are a range of extra components and features that you may add to your ute or SUV. In some cases, these accessories will be necessary for your job (e.g. to help haul equipment). However, in others, they'll be optional extras that you may add to make your life easier when you're going off-road or heading out on a camping trip. As a result, 4×4 accessories may come in many forms.
So, given this, are you interested to learn more about 4×4 accessories? If you are, then read on for Monzi's all-encompassing guide covering the information you must consider. Moreover, we'll touch on fast loans from $2,100 to $10,000 that you may use to purchase 4×4 accessories today. Let's go.
4×4 accessories Australia: what do they include?
So, you're looking into 4×4 accessories to make your ute the ultimate driving machine. That's great. However, if you're unsure of your options, then that's OK too because Monzi is here to break it down for you.
See below for some of the must-have 4×4 accessories:
12V fridges
Roof racks
Storage and drawers
Bullbar
Snorkel
All-terrain or off-road tyres
Driving lights and spotlights
Suspension upgrades
However, keep in mind that there could be other accessories too. Do your research to find the accessories that fit your needs and objectives.
How do I find the right 4×4?
Before you purchase your accessories, you first have to purchase the right 4×4. Whether you're looking for a ute for work or an SUV to cater for the family and your offroad adventures, it's important to take the time to compare and consider your options.
So, when you're looking to buy a new car, make sure you look at the following:
The price: by far the most important factor. Ensure you're looking for vehicles within your budget.
New or used: a new car comes with less wear, but it will be more expensive and will lose value almost immediately.
Reliability: will this 4×4 do what you need it to do?
Financing options: if you're buying through a private seller, what are your car loan options. Dealerships may offer finance on new cars. Aim to find the lowest car loan rates possible.
Make and model: read reviews online to get an idea of how other drivers have found the performance and reliability of the car.
Added features: can you pick the colour and other accessories you might want?
How safe is it: if you're going offroad, you want to know that you're safe if an accident occurs. Check each vehicle's safety rating and other technology designed to protect you.
What should I do before buying a 4×4?
Once you've found your dream car, your work isn't done. There are still a number of checks that you must conduct to ensure that you're purchasing the right vehicle.
Firstly, take it for a test drive. While a car might look pretty, if it handles poorly or doesn't provide a smooth ride, then you might change your mind. However, you will only discover this if you actually get behind the wheel.
Next, give it a thorough look over. Beforehand, read reviews to get an idea of the model's past reliability. Then, when you go to inspect it, check the tyre tread, oil and engine and keep an eye out for any damage. Read over the service history as well to find out if there have been any problems in the past.
Finally, if you are buying secondhand, then you should always get a full pre-purchase inspection. A qualified 4×4 mechanic will run their eye over it for a few hundred bucks. While that may seem pricey, it's worth it for the peace of mind knowing that you haven't bought a lemon.
What are the benefits of driving a 4×4?
When you're trying to purchase a new car, sifting through the endless options is almost always a hassle. Should you get a large car or a small car? Petrol or diesel? Are you buying a car for you business? Do you really need a 4×4?
Well, to help you out and to make things a little clearer, we've assembled a list of some of the key benefits that come with driving a 4×4. Check them out:
Space: the key selling point of a large 4×4 is that you'll have plenty of room. So, whether you're taking the family on a road trip or have a load to carry, a 4×4 will be the right car for the job.
Adaptability: you can take a 4×4 offroad or cruise the streets of your neighbourhood. Either way, it will get you where you need to go.
Gets the job done: whether you're towing a boat or hauling supplies to work, a 4×4 should be able to do what you need it to do.
Safety: as a general rule, large cars are safer than small cars. However, this may not always be the case.
Note that there may be other benefits too, depending on what you need in a four-wheel drive. This is just a quick list designed to provide you with a starting point.
What are the downsides?
While a big car can undoubtedly be more comfortable to drive, there are some downsides to consider too. As a guide, drawbacks of 4x4s may include:
Your car insurance premiums may be higher.
You'll use more fuel, meaning running costs will be higher.
It may not handle as well as a small car making it more difficult to drive on tight city streets.
It will take up more space, so check the size of your garage before purchasing to ensure it will fit.
Given this, it's up to you to weigh up the pros and cons. Consider what you need to use your car for and from there, determine which make and model suits your needs.
Should I add any 4×4 accessories?
Now that you've purchased your new SUV or ute, you can think about adding some accessories. Generally speaking, accessories will either be necessary or optional. As a result, it's up to you to decide what you need.
Starting with necessary accessories, these will typically relate to your job. For instance, if you've bought a new ute for your job as a plumber, then you may need roof racks, drawers or storage to ensure that you can get your tools to and from the site each day. As a result, these accessories may be a no-brainer for your vehicle and needs.
On the other hand, there are a ton of optional accessories that you may add to your 4×4. For instance, if you want to get off-road, then you may need to look at winches and snorkels. If you're going camping, you could look at adding lights, canopies or an extra battery to run your fridge. It's totally up to you and what you're looking for.
If you need cash to cover the cost of necessary accessories for your business vehicle, then you could apply for quick cash loans. At Monzi, we may be able to match you with lenders offering loans from $2,100 to $10,000. Just remember that you must repay any money you borrow with interest.
4×4 accessories online: should I get them professionally installed or do it myself?
In short, it's up to you. However, the answer may depend on the accessory as well as your experience with 4x4s.
On the one hand, if you know a thing or two and feel like you can get the job done, then you may be able to install accessories such as roof racks or winches yourself. With this, you can save money on installation costs and experience the accomplished feeling of doing it yourself.
On the other hand, if you're less experienced or the installation will be tricky, then it's usually a better idea to get the work done by a qualified professional. With this, there is less chance of something going wrong and you will have the peace of mind knowing that the job will be done correctly.
Ultimately, though, it's up to you. Consider the costs, risks and complexity to determine whether or not you should do it yourself.
Where can I get cheap 4×4 accessories?
One great way to find cheap 4×4 accessories could be to shop secondhand. While we all love things that are brand new, if you're willing to compromise a little, then you can potentially access a range of products with a bit of wear and tear at a great price.
These days, secondhand shopping couldn't be any easier. With websites such as Facebook Marketplace, Gumtree and eBay, you can easily connect with sellers in your local area or anywhere around the country who may be looking to offload the accessories they no longer need. Best of all, prices are often negotiable too, so don't be afraid to haggle for a better deal.
However, if you'd rather buy products new and avoid the risks associated with wear and tear, then that's understandable. However, Monzi cannot say where you may be able to find cheap accessories. You'll simply have to compare retailers based on the prices they offer or wait for the sales to come around.
How do I find 4×4 accessories near me?
When you're shopping for 4×4 accessories near you, the easiest thing to do is harness the power of the internet. With a few clicks of your mouse, a few taps on your keyboard, or a quick search on your mobile, you should be able to find a list of all the best retailers in your area who can sell or install the accessories and modifications you're after.
With this, make sure that you compare your options. While one shop or mechanic may be closer, don't be afraid to look around. Sure, it may be convenient, but if you can save on price somewhere else, then it may be worth travelling a little bit further.
Finally, remember if you need cash to pay for your accessories, then one choice could be to apply for fast loans online. Get the cash you need now and repay it over a manageable, fixed period. Apply today with Monzi.
What are 4×4 tyres?
While they are often overlooked as an accessory given that they are a necessity, 4×4 tyres are not all the same. As a result, you may be able to select the option that suits your needs and objectives the best.
As a guide, 4×4 tyres are often slightly different from standard on-road tyres. In short, they may come with a little extra tread, given that manufacturers anticipate that you will be using them both on-road and off-road. While this may give you added grip when off-road, it's worth noting that these tyres may wear down a little faster than usual.
To give you an idea, manufacturers will typically divide 4×4 tyres into three categories:
On-road tyres: primarily for drives who stick to the roads. May have deeper tread to account for some off-road use. Manufacturers may refer to them as highway terrain tyres.
Off-road tyres: these are tyres that you can get out and explore with. They're designed to help you manage loose terrain when you're off the beaten track.
All-terrain tyres: combines the benefits of on-road and off-road tyres to find the right balance. However, they will not be specialised.
Consider where and how you will be using your vehicle to determine the best option for you.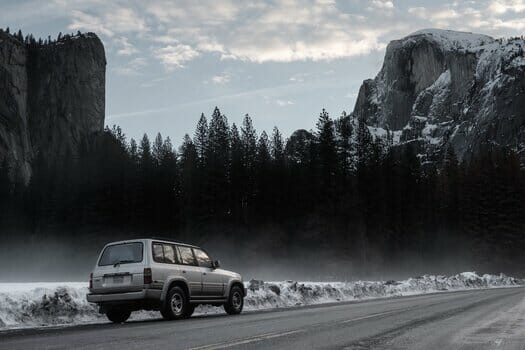 How long will 4×4 tyres last?
As we've discussed, 4×4 tyres will usually be designed to take more punishment than traditional on-road tyres. That said, how long they last may still depend on how they are used. In other words, if you're racking up the miles and getting off the beaten track, then they may not last as long as if you're just driving to and from work.
As a guide, manufacturers typically estimate that your tyres will last for approximately five years. With this, they may last for between 50,000km and 80,000km. However, make sure that you inspect them regularly or have a professional assess them to ensure they're still safe.
If you need new tyres for your car but don't have the required cash, then car repair loans through Monzi may help. Use Monzi's loan slider to apply from $2,100 to $10,000 today. You can purchase tyres on finance today.
Can I get interest free 4×4 accessories?
Buying a ute or truck alone can be a costly exercise. By the time you add a bunch of accessories to take it to the next level, you might find that your budget has been stretched to the limit. In these situations, you may be on the lookout for interest-free finance to help ease the burden.
With this, some retailers may offer lay-by or finance options you can take advantage of. With lay-by, you will have to pay for your item before you receive it. However, you'll be able to put money towards it whenever you have a little extra cash lying around. In addition to this, some shops and 4×4 specialists may offer payments plans. However, check with the retailer to determine if this is an option.
Finally, your other option for interest-free finance to purchase roof racks, bullbars, winches, tow bars or other accessories may be buy now pay later companies such as Afterpay. That way, you won't have to pay the full price upfront. However, retailers may only offer Afterpay as an option for online purchases. Check out our guide to Afterpay for 4×4 accessories below.
Can I buy 4×4 accessories on Afterpay?
Afterpay has revolutionised the way that Aussies shop online. If you're unfamiliar with Afterpay, the idea is that you purchase your item today and then pay for it in instalments over a few weeks or months. In other words, it's simply the option to buy now and pay later.
Given this, if you're looking to buy 4×4 accessories online, then check to see if the relevant retailer offers the option to use Afterpay. Alternatively, they may allow you to purchase your item through other buy now pay later companies too. That said, if you do have the cash to pay for your item now, then using Afterpay may be redundant anyway.
Finally, if you need 4×4 accessories for your job but don't have the funds to cover the costs, then a personal loan could be an option too. Read on and we'll explain how you could apply with lenders online today.
Personal loans? What are they?
If you've never considered borrowing money before or you'd like to know more, allow us to explain. In short, a personal loan is a type of loan where you can borrow the money you need today and then repay it via a series of even repayments over a fixed period.
At Monzi, we work with lenders who may offer repayments terms ranging from 12 to 24 months, depending on your loan amount. As a result, there could be a manageable and affordable option for you. However, it's important to note that the downside of personal loans is the costs involved. Lenders charge interest and fees, meaning you'll always repay more than what you borrow.
Finally, the best thing about personal loans is that you may use them to cover an innumerable number of personal expenses. In other words, it's almost as if they can be spent like cash. So, whether you're looking to consolidate debt, pay a bill or purchase some necessary 4×4 accessories for your job, you may be able to access personal loans fast.
Apply for online personal loans from $2,100 to $10,000 with Monzi today.
Am I eligible to apply with Monzi's lender-finder service?
Before you begin your application, make sure that you check the four boxes listed below. If you don't, then your application may not progress.
Australian citizen or permanent resident.
At least 18 years old.
Have an active email address and mobile number.
Hold an online bank account, where your income is deposited, with at least three months of transaction history.
How do I apply?
Do you think an instant cash loan could be the cash option you need today? That's great. If this is the case, give Monzi a shot. When you're ready to apply, just follow these quick and easy steps:
Use the loan slider to select your loan amount and repayment term.
Enter the necessary personal and financial details, then submit your application.
Settle in while Monzi attempts to pair you with an available lender from our network.
We'll contact you with an outcome. If we successfully match you with a lender, they'll be in touch to begin the next steps.
However, note that approval is not certain. Moreover, lenders will charge fees and interest, meaning these loans can be expensive. As a result, it may be a good idea to only apply if your options are limited and the expense is necessary. Otherwise, it may be more appropriate to wait and save up until you can afford the item.
Should I use Afterpay or apply for a loan for 4×4 accessories?
Great question!
However, you must decide based on what's best for your financial situation. Given that both Afterpay and cash loans online may be viable options to help you pay for 4×4 accessories in some cases, you will have to weigh up the pros and cons.
If you are buying online, then some lenders may offer the option to use Afterpay. The advantage here is that you won't pay any interest. You'll simply have to pay for your item in a number of instalments over a short period. If you are buying in person, though, finance or Afterpay may not be offered.
In these situations, you may consider quick loans as an alternative. With Monzi, you can apply from $2,100 to $10,000 and you may be able to spend the money like cash. However, you must remember all loans are repaid with interest. As a result, costs can be high, meaning cash loans may only be a reasonable choice if you must buy the item and you've exhausted all other options.
Can I get personal loans for 4×4 accessories with bad credit?
Yes, you may. However, approval is not certain.
At Monzi, we know more than a few lenders who will look at the bigger picture. While your credit history reflects your past, it doesn't tell the whole story. In other words, your current budget may be just as important too. After all, that demonstrates how you're managing your money today.
With this, if you do have a few marks on your credit report, all may not be lost. If you have your budget under control and apply, then a lender may consider offering you bad credit loans for you to purchase 4×4 accessories for your work. However, just remember that lenders may vary in their attitudes towards loans for people with bad credit. As a result, your outcome may depend on the lender that you're dealing with.
What about last-minute loans for my upcoming camping trip?
So, you're heading off on a camping getaway. It's just you and the great outdoors. The peace, tranquillity and total detachment from the hustle and bustle of modern life is hard to beat. However, at the eleventh hour, you notice that your winch is broken. Without it, there's a chance you could get stuck, so it must be replaced.
While initially, you may panic, in these situations, Monzi may be there to help. All you have to do is log onto our website and apply. Just choose your loan amount and enter the necessary information. From there, we'll take over and will do what we can to match you with a lender ASAP.
If it all goes to plan, your application may be assessed and approved by an available lender from our network. At that point, they will transfer your cash to you, meaning you can buy that new winch to keep you safe if something goes wrong.
So, if you need last minute loans up to $10,000 for 4×4 accessories, Monzi's lender-finder service could help you. Apply today.
Any more questions? Contact us
While we've done our best to explore the world of 4x4s and the accessories you can add, matching Aussies with great lenders online is our true domain. So, if you've got questions about Monzi or what our service may do for you, then reach out.
You can contact us at [email protected] and we'll do our best to hit you with a response ASAP. However, just remember that we can only answer questions about our organisation. So, if you've got questions about roof racks, bullbars or winches, your best bet may be to contact a 4×4 specialist. They should be able to provide you with the answers you need.
Alternatively, for more information, visit Moneysmart's guide to personal loans.
Get 4×4 accessories today
Take your ute to the next level. Whether you need a loan on your farm to upgrade your work vehicle or a winch for when you're heading out bush, there could be 4×4 accessories to suit your needs. However, if you don't quite have the cash, then one option could be to apply for fast cash loans with Monzi today.
Apply from $2,100 to $10,000 now. We may pair you with a lender in 60 minutes. Monzi can make it quick and easy for you. Avoid the hassle. Hit the 'Apply Now' icon to begin your application today. Let's go.
Get a few dents on your new 4×4? Monzi explores your dent repair options here.
Keen to stay informed of Monzi's latest updates? You can follow us on Facebook, Instagram, Twitter and Pinterest. We'll see you there!
Finally, for more Monzi, check out our guides to reusable face masks or budget pet products.