Cash loans Townsville from $2,100 to $15,000. Cash in Townsville today. No paperwork, no hassle. Good & bad credit welcome. Apply now!
Please note, certain ideas and products presented in this article may not be offered by Monzi nor the lenders we work with. This article presents only general information. Consider seeking professional financial, taxation, legal or other advice to check how the information and ideas presented on this website relate to your unique circumstances.
Cash loans Townsville: what are they?
As you may or may not have guessed from the name, cash loans in Townsville are simply loans offered to Aussies living in the idyllic, North Queensland city of Townsville. Easy, right?
Generally, lenders offer these loans from $2,100 to $15,000. Moreover, they'll take the standard principal and interest structure, meaning you must repay any money you borrow via a series of even repayments with interest added on top. Given this, there are always costs associated with taking out a loan.
In any case, if you're in Townsville and find yourself short on cash, Monzi's top-notch lender-finder service is here to help. Apply today and you may be paired with an available lender before you know it. Access cash loans up to $15,000 now. Let's go.
How quick are fast cash loans in Townsville?
You need money in a hurry. The deadline is fast approaching and you don't have enough to cash to cover the costs. At one time or another, we've all found ourselves in a situation like this. One option in these situations may be fast cash loans.
Unfortunately, though, at Monzi, we cannot say with precision exactly how long it will take for you to receive your loan. After all, we don't conduct assessments, we're simply here to try and pair you with a lender. Moreover, receiving your loan hinges on your application being approved too.
In any case, Monzi works with plenty of lenders who can operate fast. However, to give yourself the best chance of receiving a quick outcome, you must apply during business hours and provide all the required details. That way, your application may go off without a hitch.
So, when you need a fast loan, Monzi could set you on the right path. Just keep in mind that it's often wise to account for some processing time between your application and outcome.
Small cash loans Townsville
Does your 4×4 need some minor repairs? Maybe you've got an upcoming trip to the dentist? Whatever the case may be, expenses come in a range of different forms.
While we'd all love to have the cash available to cover them, unfortunately, that's not always possible. So, if your budget won't quite stretch, then small loans Townsville could be one option for you.
With Monzi, you can apply for small loans from $2,100 to $15,000. Moreover, with repayment terms of just 12 months, you're only locked in for the short-term.
Use Monzi's loan slider to apply now. We could put you in touch with a lender offering the small loans fast for you today. Let's go.
Payday money Townsville
When you need money fast, payday loans may seem like a reasonable option. In short, these loans typically refer to small cash amounts up to $2,000 approved fast by payday lenders. However, these loans may come with short repayment terms. As a result, they may be difficult to manage.
An alternative to these credit options may be a personal loan. At Monzi, we work with lenders offering personal loans online up to $15,000 with repayment terms of up to 24 months. As a result, you may divide your costs over a period that suits your budget. Just ensure you take into account any fees and interest.
Best of all, many of the lenders we know work fast so that you may receive an outcome before you know it. In other words, you won't have to sit around for days waiting to find out if you've been approved.
So, when you need cash fast, Monzi's here to help. While we may not be able to help you access payday loans, personal loans may be a reasonable option instead.
Cash loans in Townsville for your next getaway
Looking to get away without travelling too far from home? The Townsville region is home to some of Australia's best tourist destinations. Moreover, you may be able to use a cash loan to cover some of your holiday costs.
To get you started, some of Monzi's favourite places to visit include:
Magnetic Island
Situated just 8km on the coast, Magnetic Island is the perfect local holiday getaway. Just jump on the ferry and you'll be there before you know it. Once you're there, you can take advantage of the sandy beaches, walking trails, stunning resorts and even access the unrivalled Great Barrier Reef. Check it out today.
SS Yongala
If you're up for an adventure and don't mind getting wet, the SS Yongala is Australia's biggest and most intact shipwreck. While the ship met its unfortunate end in a 1911 cyclone, it has since become a thriving dive site home to an abundance of marine life. Best of all, it's an easy day trip from Townsville.
Paluma Range National Park
If walking trails, endless stretches of rainforests and flowing creeks and waterfalls are more your speed, then the Paluma Range National Park could be for you. Just a short drive north of Townsville, the national park is the perfect escape if you're looking to reconnect with nature.
Secured and unsecured cash loans Townsville
We're all different. Whether that's in our appearance, personality or financial situation. With this, cash needs can vary greatly. For some borrowers, a small cash amount will suffice, while for others, they may need to borrow a significant amount.
Given this, it's important to understand the difference between secured and unsecured credit. On the one hand, unsecured cash loans are typically offered from $2,100 to $2,000 and do not require you to provide security. On the other hand, secured loans may range from $2,100 to $15,000. However, you must attach an asset (e.g. your car) as security to guarantee the loan.
At Monzi, we work with lenders who offer unsecured and secured loans from $2,100 to $15,000. As a result, you may apply today for the quick loan that suits your budget. However, just ensure you're aware of which loan you need before you begin.
Can I get loans in Townsville with bad credit?
Yes, potentially.
Historically, bad credit loans were often avoided by lenders. After all, if you had been an unreliable borrower in the past, then lenders were understandably hesitant to let you borrow money again, given the likelihood that it may not be repaid.
These days, though, things are a little different. At Monzi, we know more than a handful of lenders willing to consider Aussies with bad credit. With this, while they will take your credit into account, they also look at your current income and expenses as well to determine your outcome.
So, if you're a Townsville resident and your credit isn't the best. Why not apply with Monzi? We may put you in touch with a lender offering loans for bad credit from $2,100 to $15,000. Apply today.
Online cash loans Townsville made easy
Townsville is undoubtedly a thriving Australian city. However, just because it's a good place to live, doesn't mean that things can't go wrong. So, if you find yourself in a bind and need a loan today, then you might start to look online for a lender who can help.
While that may be one option, you may also consider applying with Monzi. In short, with our lender-finder service, you might avoid the hassle of trying to find a lender yourself. After all, rather than perusing endless search results, you can just apply with Monzi.
From there, we'll do our best to match you with an Aussie lender potentially offering online cash loans from $2,100 to $15,000. Best of all, as we're a 100% online service, there's no paperwork required. Just complete Monzi's easy online application.
So, when you're trying to get a loan today, turn to Monzi. While approval is never certain, we'll always try our hardest to find a lender who may be able to help. Scroll up and apply today.
Is a credit check always necessary?
At Monzi, we're lender-finders. In other words, we act as the bridge between you and a network of Aussie credit providers, meaning we won't conduct a credit check as part of your application. However, it's important to note that if you are successfully matched with a lender, then they may conduct a credit check as part of your loan assessment.
That said, lenders may vary in their attitudes towards these credit checks. In most cases, a credit check will be an unavoidable step in the assessment process, given that lenders use it to determine your creditworthiness. However, in certain situations, some lenders may bypass a credit check and will instead focus their attention on your current financial situation.
Ultimately, Monzi cannot guarantee if you will be offered a cash loan without a credit check. It may simply come down to the lender you are dealing with.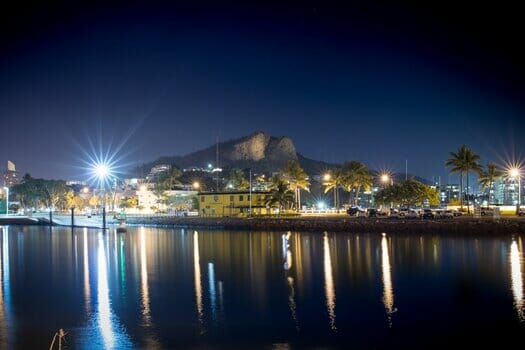 Can I get cash in Townsville on benefits?
If Centrelink benefit payments account for a significant portion of your regular income, you may feel that most lenders won't be willing to work with you. While this may be the case, at Monzi, we know a few lenders who could potentially offer the Centrelink loans you need today.
In short, these lenders may consider benefit payments to be a source of income. As a result, if you apply for the loan and can demonstrate that the repayments are affordable, then you may still be considered for approval. That said, approval is not certain and is ultimately at your lender's discretion.
Finally, note that lenders may vary in their policies regarding these payments. While some may accept them as income, others may not. Moreover, not all payments (e.g. Youth Allowance) will be eligible. As a result, your outcome may depend on the lender you are dealing as well as your financial situation.
Facts you didn't know about Townsville
Nestled on the Queensland coast, Townsville is a beautiful, tropical city with weather you can't beat. However, if you're living there, then you probably already know that. In any case, here are a few more facts about Townville that you may not be aware of:
Townsville has over 300 sunny days each year. In other words, it's beautiful one day and perfect the next.
Townsville is home to a major Australian military base.
The city was named after its founder, Robert Towns, a British man who moved to Australia in 1843.
Castle Hill, which overlooks the city, is approximately 285m. Unfortunately, though, that means that it falls just short of being classified as a mountain.
Cash loans with Monzi
Monzi is an Australian lender-finder service. In other words, when you apply with us, we won't lend you money. Instead, we'll do what we can to pair you with a licenced Australia credit provider who may offer instant cash loans from $2,100 to $15,000.
The best part? The lenders we work with may offer manageable repayment terms ranging from 12 to 24 months. As a result, a personal loan may be one option if you need cash now. However, remember that you must repay any money that you borrow with fees and interest, meaning cash loans may be an expensive choice.
In any case, to get the ball rolling, examples of loan products that may be offered by our lenders can be seen in the table below:
| | Amount ($) AUD | Approved |
| --- | --- | --- |
| Unsecured loans Townsville | $2,100 | ✓ |
| Quick cash loans Townsville | $1,500 | ✓ |
| Secured loans Townsville | $5,000 | ✓ |
| Loans near me Townsville | $6,000 | ✓ |
Note that we have provided this table for demonstrative purposes only. If you are matched with a lender, then the terms of your loan may differ from those listed above.
Am I eligible to apply?
If you've got your heart set on applying with Monzi, then we're glad to hear it. That said, before you dive in, you must ensure that you meet our eligibility criteria. See below for more details:
At least 18 years of age.
Australian citizen or permanent resident.
Can provide an active mobile number and email address.
Have an online bank account, where your income is deposited, with at least three months of transaction history.
Note that if you do not check these necessary boxes, then your application may not progress. In other words, Monzi may not be able to match you with a lender from our network.
How do I apply?
When you've signed off on your eligibility, you're welcome to move onto applying. With this, you'll discover that Monzi has made it easy for you. A few clicks here and a few taps of your keyboard there and your application may be completed before you know it.
All you need to do is follow these easy steps:
Select a loan amount and repayment term. However, remember that loans under $2,000 come with fixed 12-month repayments.
Complete Monzi's online application by providing the necessary personal and financial information.
Stop and take a breath. Monzi takes over from here and we'll do our best to match you with an available lender from our network.
We'll contact you with an outcome. If we pair you with a lender, then we'll hand your application over and they will be in touch to begin the next stage.
That's all there is to it. Simple, right? Just remember that approval is never guaranteed.
I have questions: can I contact Monzi?
You sure can.
At Monzi, we pride ourselves on our customer service and commitment to assisting our users in any way we can. So, if you've got any queries on concerns, then don't hesitate to reach out at any time.
Send your questions to [email protected] and we'll do our best to get back to you with a response ASAP. Just remember that we only monitor this account during business hours. Moreover, we can only answer questions regarding our organisation and service.
Finally, remember that Monzi operates Australia-wide. So, while we've covered cash loans for those in Townsville extensively, you're welcome to apply from wherever you are in this great country.
Should I apply for a personal loan?
In short, it's up to you. After all, Monzi is unable to provide advice tailored to your unique financial situation. That said, there may be a few things that you can do to answer this question.
As a guide, ask yourself some of the following:
How much do I need to borrow?
What would the repayments be?
How would that fit with my current financial situation?
Do I have any other options?
What are the costs associated with borrowing money?
Can I cut my spending to reduce the amount I borrow?
In addition to this, don't be afraid to make a budget. One way to do this could be to access Moneysmart's free and easy online budget planner. By breaking down your financial situation and seeing where your money goes, you may be able to determine if an instant loan is a reasonable choice for you.
What other loans in Queensland are available?
At Monzi, we work with lenders offering
cash loans all over Queensland
. Some examples include
cash loans on the Gold Coast
,
cash loans Mackay
,
cash loans in Toowoomba
and
cash loans Rockhampton
for those in Central Queensland. In other words, geography isn't an issue.
Moreover, keep in mind that Monzi operates Australia-wide. While we may be based in Queensland, our reach stretches far and wide. Apply today.
Apply for cash loans Townsville today
Living at the foot of Castle Hill on the shores of the majestic Coral Sea? You can apply for cash loans near you from $2,100 to $15,000 with Monzi. Apply now or whenever you like. We're 100% online, meaning we're always ready and willing to accept your application. Just scroll up to Monzi's loan slider to get started now. Let's go.
Not ready to apply? That's OK. You can stay up-to-date with all the latest news and happenings at Monzi by following us on Facebook, Instagram, Twitter and Pinterest. We're always looking for new pals. Click the follow button today.