Low doc personal loans – Monzi explains all. Accessible personal loans for self-employed. No Paperwork. Borrow from $2,100 to $15,000. Apply.
What are low doc personal loans?
Low doc personal loans are an alternative credit option that may be accessible for individuals who don't have the information needed to apply for a standard personal loan.
Typically, this will relate to their income or their lack of credit history. For individuals who are self-employed or receive their earnings from investments, it may not be possible to supply payslips or other standard documents used to verify income. Moreover, they may earn their income on an irregular basis too. As a result, they may be ineligible for a quick personal loan.
That's why low doc personal loan were conceived to allow these individuals to still access the credit they need. With this, they may need to provide a range of alternate information that lenders may use to get an idea of what their income might be. This could include tax returns or bank statements.
While that covers the basics, there's much more to know and consider. Read on as Monzi breakdowns down all the information that you need to know. Let's go.
Who can apply for low doc personal loans?
Generally speaking, the main consumers of these loans have been self-employed individuals.
Whether small business owners or independent contractors, these people often have difficulty providing standard financial details given that their income may be irregular or contingent upon their business revenue. As a result, they often find it difficult to pass standard income verification procedures applied by most lenders.
However, for most people, there won't be any need to apply for a low doc personal loan. As long as you earn a regular income then all you need to do is apply for a fast cash loan through a lender or bank. In other words, low doc personal loan are only appropriate for a small segment of the population.
What are the features of low doc personal loans?
Low doc personal loans will come with many of the same features that you will experience with a standard cash loan. However, there will obviously be a few differences, the main one being that they may be accessible for applicants with non-traditional incomes.
In any case, some of the key features will include:
Interest rates and fees: all loans must be repaid with interest. This is simply the cost that you must pay for the right to borrow money. In addition to this, lenders may apply one-off or regular fees that will be added on top of your repayments. These may include administrative fees or late payment loan charges.
Fixed repayment terms: your loan costs will be divided evenly over a fixed period of months or years. However, keep in mind that you may have the option to make additional repayments or repay your loan early. Just consult your loan contract to make sure.
A range of loan amounts: lenders may offer low doc personal loan from as little as a few hundred dollars all the way into the thousands. Compare lenders to determine how much you can borrow based on your circumstances.
How have low doc personal loan changed?
In the past, low doc personal loans differed significantly from standard cash loans in the requirements and assessments. In other words, they could be accessed with minimal documentation.
However, the global financial crisis in 2008 bought with it a raft of changes. The most notable was the fact that the Australian government introduced new responsible lending legislation which requires lenders to take reasonable steps to verify a borrower's financial situation in order to determine if they should be offered a loan.
As a result, these days, low doc personal loans will be almost identical to standard fast approval loans. As an applicant, you will need to supply a range of personal and financial documents that lenders can use to verify your income. However, if you cannot provide the usual information then lenders may be willing to accept a range of alternate information (e.g. tax returns or business cash flows). This is the only minor difference.
Low doc home loans
Just like personal loans, low doc online home loans may be an accessible mortgage option for self-employed individuals. Having said this, they may be hard to come by.
In short, home loans are a significant risk to lenders. Moreover, offering low doc personal loan are too given that lenders cannot necessarily verify or project your income with certainty. As a result, if you are applying for these loans then you may find it difficult to receive approval.
Having said this, these are only general statements. Lenders will assess all loan applications on a case-by-case basis meaning that ultimately, your outcome will be based on your financial situation and credit history. As a result, availability of your first home loan may vary.
Low doc home loans: fixed or variable
Both fixed rate home loans and variable rate home loans may be offered for self-employed individuals. However, as we already mentioned, you will need to do your research to determine what products are offered by lenders.
As a handy guide, consult with both banks and online lenders. While traditionally banks have been the major source of home and land loans, these days there are now a handful of specialist online mortgage lenders who may be able help.
So, compare eligibility criteria as well as the home loan rates and terms on offer. Given that home loans often come with terms of up to 30 years, a slightly lower interest rate may save you thousands in the long run.
What do I need to apply for low doc personal loans?
Exact requirements will vary between lenders. This is due to the fact that low doc loan don't necessarily have standard procedures like those applied to instant cash loans. As a result, there may be a range of alternative financial documents that you may be able to provide that lenders can use to verify your income.
So, as a guide, make sure that you have access to and can provide at least some of the following:
Bank details and statements
Business profit and loss statements
Tax returns
Proof of investment or rent payment income
Your Notice of Assessment
Personal identification (e.g. Driver's licence)
Low doc personal loans: can I apply if I'm self-employed?
Yes!
After all, as we've already mentioned, you're the reason that these loans exist in the first place. With uncertain incomes, low doc personal loans provide you with an ability to access credit that previously otherwise wouldn't have been an option.
As a guide, being self-employed can range from being a small business owner to a freelancer and even an independent contractor. Moreover, there are a number of other examples that may apply in this case too.
So, are you self-employed and struggling to access the cash you need now? A low doc personal loan could be an option. However, do your research to determine which lenders offer these products.
What about if I have bad credit?
Some lenders may be willing to consider bad credit applicants. In short, while your credit history will be assessed, lenders will focus their attention more so on your budget to determine what repayments might be affordable for you.
Having said this, remember that offering loans for bad credit is risky. Moreover, when this is combined with irregular incomes, lenders may be concerned about your ability to make your repayments. As a result, they may charge higher rates or additional fees to compensate for the risk. Or, in a worst case scenario, your application may be denied.
Low doc personal loans no credit check
Lenders use credit checks to assess your creditworthiness. That is, what is the likelihood that you will repay the money you borrow?
If you've got a good credit score and a strong repayment history then lenders will assume that this will continue in the future. On the other hand, if you've got a few missed payments or loan defaults lingering from your past then lenders may be hesitant to offer you a loan based on your track-record.
Given this, in most cases lenders will not offer cash loans without a credit check. However, there may potentially be some lenders who could offer no credit check loans. In short, the availability of no credit check loans instant approval will simply depend on the lender's individual assessment policy. Although, remember that lender's always retain the right to conduct a credit check.
Low doc vs no doc loans
The difference is relatively straightforward.
On the one hand, low doc loans will require you to provide a few documents that verify your income and financial situation. While these may not be standard payslips, there may be other documents that could be used. Lenders will then base their assessments on this information.
On the other hand, you won't need to supply any evidence with a no doc loan. In other words, there will be no income verification.
Unfortunately, lenders typically cannot offer no doc loans due to Australia's responsible lending legislation. In short, lenders must make reasonable inquiries into your financial situation (including your income) to determine if the loan you are applying for is suitable for your circumstances.
For further responsible lending information, visit the Australia Securities and Investments Commission website.
Can you get a car loan with few documents?
The answer is potentially. However, Monzi cannot guarantee if any lender will be willing to offer you these products.
In short, car loans tend to be one of the largest loans that you will apply for. As a result, lenders will typically prefer to deal with borrowers in a secure financial position given the reduced risk.
Given this, if you're after a low doc loan to purchase a vehicle then you will need to do your own research. Find out what products are offered to determine what you may be eligible for. However, remember that approval and availability is never certain.
Low doc personal loans online
The rise of online lending has made your life so much easier. Rather than heading to a bank, you can now simply just apply online. Best of all, it might take you just a few minutes and there's no paperwork required.
As with most other loans these days, lenders may offer low doc personal loans online. As a result, you can apply and receive an outcome all from the comfort of your own home.
Having said this, keep in mind that you will need to do some research to find a lender prepared to offer the low doc loans you need. After all, lenders will deem these loans to be riskier than standard personal loans and as a result, not every lender will offer them.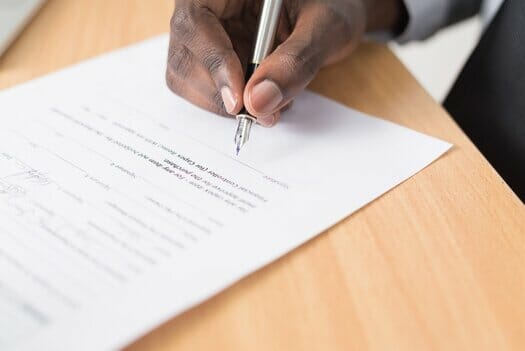 What are the benefits?
From a positive perspective, low doc loans may provide an accessible credit option for borrowers who may typically struggle to access regular loan products. In other words, individuals who are self-employed or even those who earn their income from investments.
In addition to this, the fact that there is less documentation involved means that there may be fewer checks required. As a result, it's possible that your lender will be able to process your application in a hurry so that you can receive an outcome fast.
Beyond these two points, the benefits are similar to those you will experience from other online cash loans. You receive the cash you need now and can repay it over a fixed and manageable period.
What are the downsides?
The drawbacks of these loans relates to the level of risk. As a rule, low doc personal loans are riskier for lenders given that they often have to process your application based on limited information. Moreover, borrowers may have irregular incomes.
In order to account for this, there is a high likelihood that you will need to pay higher interest rates or additional fees. This is simply to compensate the lender for taking on a higher level of risk, however, it will result in your total loan costs being higher.
In addition to this, these loans may be more inflexible or lack certain features (e.g. additional repayment options or offset accounts on home loans) that are often added to standard loans.
How do I get a loan with no income?
In short, you can't.
While some lenders may be willing to accept applicants with irregular incomes or even borrowers who receive benefit payments, if you do not receive any income then your application will be denied.
This makes sense. If a lender is going to offer you a loan worth a few thousand dollars then they will want to ensure that you have the capacity to repay it. Without a regular income, this will not be possible.
What should I consider before applying for low doc personal loans?
Before taking out a personal loan, you must have a complete understanding of your financial situation. That way, you will know exactly how much you need to borrow as well as what repayments you can afford.
Given this, before applying it's crucial to examine your finances. As a guide, aim to ask yourself the following questions:
What's my income?
What are my current day-to-day expenses?
Do I have any current outstanding debts?
What is the exact amount that you need to borrow?
Could you cut costs anywhere to reduce the amount you must borrow?
What repayment amount would fit comfortably with your budget?
What will lenders assess?
In short, lenders are trying to assess your ability to make the repayments associated with your loan.
Given this, they will typically focus on two things: your credit history and your budget.
Firstly, your credit report and history reflects your creditworthiness. That is, how reliable are you as a borrower? Lenders will assume that borrowers with a good credit history will be more likely to meet their repayment obligations than borrowers with a history of defaults or missed payments.
In addition to this, your budget reflects your capacity to afford your loan. In order to be approved, you must be earning a sufficient income so that your repayments on top of your regular expenses won't result in you facing financial hardship.
Finally, note that if your lender offers you a loan, it may differ from the loan you applied for. This is because lenders may modify the loan in order to suit your circumstances. However, if your lender offers you a loan that you are unhappy with then you are free to decline it.
Low doc personal loans and Monzi
While we've covered low doc personal loans in-depth, unfortunately, Monzi cannot offer these products. What we can offer, however, is one of Australia's best lender-finder services.
In short, if you're hunting personal loans, just submit one simple application. From there, we'll do what we can to match you with a wonderful lender from our extensive network offering cash loans bad credit from $2,100 to $15,000. It's the easy and convenient way to find credit providers online.
However, keep in mind that these lenders may not offer low doc personal loans. While some may, their availability may depend on the lender that you are dealing with. In most cases, lenders will typically only offer standard personal loans.
Am I eligible to apply with Monzi?
If you want to take advantage of Monzi's lender-finder service, that's great! However, before you begin your application, ensure that you are eligible. If you are not then your application will not proceed.
At Monzi, we have four boxes that you must tick. Don't worry, they're quite straightforward. After all, we're here to help as many Aussies as possible. So, check them out:
At least 18 years of age.
Australian citizen or permanent resident.
Have an active email address and contact phone number.
Have an online bank account with at least three months of history.
Now that you've confirmed your eligibility, it's time to move onto Monzi's easy application process.
How do I apply?
Applying with Monzi is as simple as can be. You can apply in minutes and get on with your day before you know it.
To apply all you need to do it:
Select your loan amount and repayment term using Monzi's loan slider.
Enter the required personal and financial details. Submit your application.
Our automated system will then attempt to pair you with an available lender from our network. We aim to provide you with an outcome in just 60 minutes.
We'll let you know the results of our search. If we match you with a lender then they will be in touch to conduct an assessment.
What information do I need to provide?
At Monzi, we cannot offer low doc personal loans. Moreover, the lenders we work with require that you provide a host of personal and financial details so that they can assess your instant bad credit loan applications.
So, before you begin, ensure that you can supply the following:
Personal information including your name, date of birth and contact information.
Online banking details.
Proof of income.
An estimate of your current expenses.
Your loan purpose and the amount that you wish to borrow.
Any other relevant information (e.g. Centrelink benefit payment information).
Why do I need to supply my bank details?
Yes.
While for some low doc loans you may not need to supply your bank details, if you apply with Monzi then it is a requirement.
In short, we will use these details to access read-only copies of your bank statements. Lenders will then use this information to assess your income and expenses to get an idea of your spending habits and budget. Based on that information, they can determine if your loan repayments would suit your financial situation.
While it's understandable if you are hesitant to share these details, rest assured that your information will only be used for its intended purpose. Moreover, your details will not be stored in our system once we've accessed the statements.
How much can I borrow?
At Monzi, we work with lenders offering personal loans from $2,100 to $15,000. Given the wide-range of cash amounts on offer, lenders typically divide them into three categories: small, medium and large.
Each loan-type will have slightly different features meaning it's important to understand what you will be applying for before you begin. See below for details.
Small loans
Medium loans
$2,100 to $4,600
Secured
Repaid over 13 to 24 months
Large loans
Why should I use a lender-finder service like Monzi?
Sure, you could do your own research to find a lender. However, why bother?
In short, Monzi's lender-finder service can make it simple and convenient to access a range of great online credit providers. All it takes is one easy application and you could be paired with a licenced lender from our network in just 60 minutes.
Not only that, Monzi is 100% online and available 24/7. As a result, you can apply whenever or from wherever you like. You could be kicking back enjoying your weekend or on the train to work, it doesn't matter with Monzi. However, keep in mind that if you apply outside of business hours then your outcome may be delayed.
These points are why we believe that you should apply with Monzi. Sounds good, right?
Contact us
Do you have questions about Monzi or our service?
Email us at [email protected] or contact us here and we'll try to get back to you with a response that addresses your queries and concerns. However, keep in mind that we will only monitor this account during business hours. If you do reach out on the weekend though there's no need to worry. We'll respond as soon as we're back in the office.
Finally, remember that we will only answer questions about Monzi. Contact your lender directly for questions about products they offer or loans that you've taken out.
Apply today
Think Monzi's lender-finder service is right for you? Scroll up and begin your application now.